County of Los Angeles Registrar-Recorder/County Clerk
CASE STUDY
The results are in, nation's largest county revolutionizes voting with help from Cherwell, acquired by Ivanti
3,000+ chain of custody transactions
80,000 voting devices tracked
Time to perform the chain of custody reduced from hours to minutes
With nearly 10 million residents spread across 4,084 square miles, California's Los Angeles County has the largest population of any county in the nation. The Los Angeles County Registrar-Recorder/County Clerk (RR/CC) is tasked with making sure the county's 5.3 million voters have easy and equitable access to voting. For decades, Los Angeles county was relying on manual voting technology that originated in the 1960s. It lacked flexibility and it wasn't equally accessible to all LA County voters. The entire voting system was replaced and is now known as Voting Solutions for All People (VSAP).
The voter experience was at the center of the VSAP design. It had to be convenient and accessible, with expanded voting options. With VSAP, voters are no longer tied to a specific precinct, they can vote anywhere in the county, a boon for Angelinos who battle the infamous LA traffic every day. Elections are now held for 11 days, instead of the traditional one day, and election materials are offered in 13 languages.
A digital solution on a tight timeline
VSAP was first used during the 2020 Presidential Primary Election, a monumental shift from a strictly paper-based process to an electronic experience. One of the major challenges in that transition was tracking the 80,000 voting-related devices distributed across thousands of polling places. The equipment needed to be accounted for when it left the warehouse, tracked throughout the 11-day election cycle, and then logged at check in at the end of the process.
In designing and implementing VSAP, it became very clear how limited the election technology industry is, with just a handful of key players. In addition to that, the regulatory environment in the United States has an inhibiting effect on voting system innovation. That meant that the Los Angeles County RR/CC had to build its own system from the ground up, including a platform for tracking all of the voting devices in the field.
Los Angeles County RR/CC decided to test out a paper-based chain of custody process in a mock election, and they were glad they did because the results were less than ideal. In a large voting location, there can be up to 100 devices. Performing paper-based chain of custody on those devices once a day was taking up to two hours. The chain of custody had to happen three times per day, meaning that at some locations the process was taking six hours. And that process generated massive amounts of paperwork to review, audit and store.
Through that pilot, it became apparent that a digital chain of custody was a must. The paper-based process was not only cumbersome, it didn't provide real-time tracking and transparency. And so the countdown began, the Los Angeles County RR/CC team had only six months to design, test and roll out a digital process in time for the 2020 Presidential Primary Election.
There were no readily-available digital chain of custody solutions on the market, so Los Angeles County RR/CC turned to longtime partner Cherwell acquired by Ivanti . Cherwell Service Management (CSM) allowed for the real-time tracking of all key assets, including smart carts, electronic pollbooks, ballot marking devices, routers and UPS power back ups. The system was rolled out in record time to support the March 2020 election and it worked flawlessly. Feedback from users – election workers, field service technicians and warehouse workers – was positive across the board.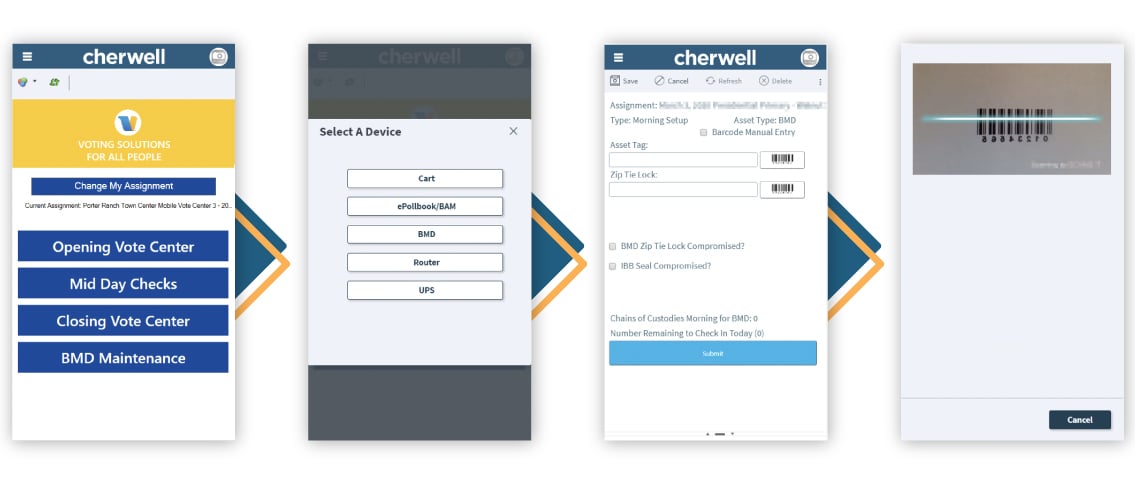 Tracking voting devices through a digital platform was all the more crucial in an election that had been expanded to 11 days. In total, the system handled more than 3,000 chain of custody transactions over the election period. And the two hours it had taken in the mock election to perform chain of custody was reduced to 20-30 minutes, allowing staff to focus on running the votes rather than tracking the assets.
Security was, of course, paramount in the VSAP planning and execution. The Los Angeles County RR/CC prides itself on not just meeting, but exceeding, all regulatory security standards. The digital chain of custody allowed for full accountability of device locations and automatically captured any instances of suspected tampering. If bar codes and seals didn't match, the system was automated to immediately escalate the issue to security experts, creating a security incident to be investigated.
Los Angeles County RR/CC is committed to continuous improvement and plans service management additions to its digital chain of custody solution in a Phase 2 roll out. This includes internal set up and assignment of service requests, the expansion of incidents to include IT and Election ops and third-party vendors, and the addition of warranty and special event requests.
Business Impact
A comprehensive digital chain of custody solution rolled out in record time
Accessible electronic experience for LA County's 5.3 million voters
Streamlined election process that allows workers to focus on voters, not assets
Automated chain of custody security