AppSense Kicks off 13-City Ultimate Workspace Tour with Stops throughout Europe
*This post originally appeared on the AppSense blog prior to the rebrand in January 2017, when AppSense, LANDESK, Shavlik, Wavelink, and HEAT Software merged under the new name Ivanti.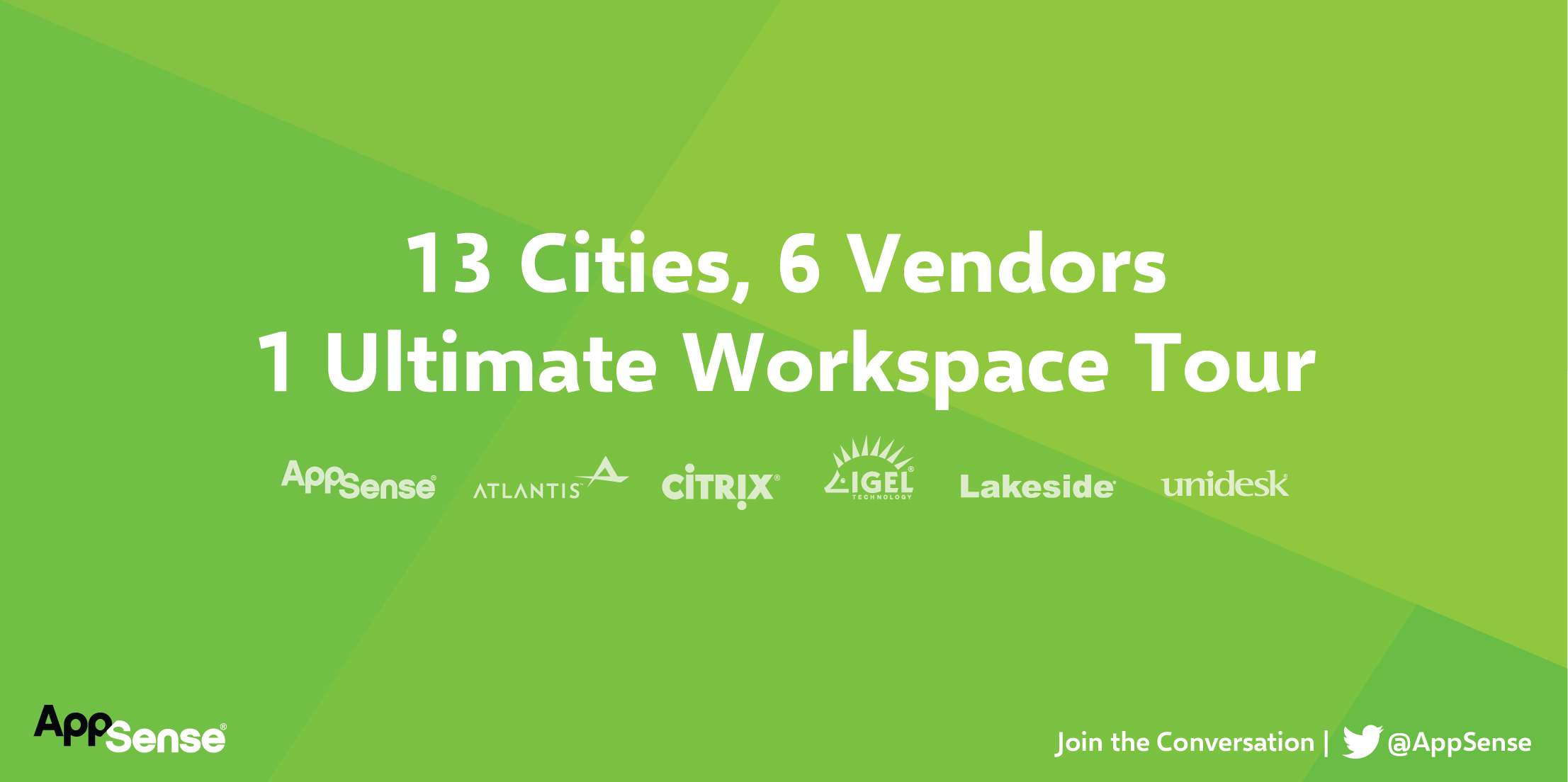 AppSense, together with Atlantis, Citrix, IGEL, Lakeside Software and Unidesk will kickoff a roadshow starting tomorrow with plans to visit 13 cities across Europe. The roadshow has been designed to help IT professionals answer the question: "How do you deliver the ultimate workspace?"
The "Ultimate Workspace Tour" will be hosted in cities throughout Europe and will feature presentations, panel discussions and technical roundtables on how organizations can achieve the ultimate workspace they need to realize greater user security, productivity and performance.
Executives from the sponsoring vendors agree that it will be an event you simply can't miss, stressing the value of this roadshow.
"When building the ultimate workspace, organizations need to consider how each component of the desktop – from end-to-end – contributes to the essential desktop experience that will deliver a secure yet productive employee experience," said Simon Townsend, Chief Technologist, EMEA, AppSense. "The Ultimate Workspace Roadshow will explore each element in detail so that attendees have a clear view into the most effective way to achieve the ultimate desktop that will drive employee, and business, productivity."
"Atlantis is focused on helping organisations drive down the cost of their storage whilst maximising the performance they can achieve from their infrastructure. This approach and vision utilises flash but at a fraction of the cost of traditional providers," commented David Cumberworth, Vice President of International Sales for Atlantis Computing. "Our software-defined storage solutions offer customers freedom of choice, removes vendor lock-in and boosts the efficiency of their workspaces and data centers. This helps enterprises to respond to changes quickly and simply, whether it is with our software solution or through our hyper-converged appliances. We are looking forward to visiting each city on the roadshow itinerary and collaborating with the other organisations involved to revolutionise and create the ultimate workspace."
"Today, work happens from many locations and devices. As employees increasingly expect to be able to do their jobs outside the office on their choice of device, IT is struggling with the new security and management challenges this mobility introduces," said Luca Marinelli, Vice President, Partner Sales & Strategy and Field Marketing, EMEA, Citrix. "Mobile workspaces help solve this problem by providing a portable, always on environment that follows employees no matter where they go, on any device, over any network. The Ultimate Workspace Roadshow is an excellent opportunity for organisations across Europe to experience first-hand the positive impact such technology can bring to the workplace."
"Unidesk is delighted to be participating in the Ultimate Workspace Roadshow as we continue to build out our presence in EMEA," said Roger Baskerville, Regional Director, Northern Europe, Unidesk. "Organisations are now able to adopt Windows and application management using best of breed technology that can deliver a better user experience at a price point that is lower than the cost of a traditional PC. This roadshow allows us to showcase this."
The Ultimate Workspace Roadshow starts on November 10 and runs through December 1, 2015:
London, November 10
Hamburg, Germany, November 10
Frankfurt Germany, November 12
Zurich, Switzerland, November 17
Antwerpen, Belgium, November 17
Newport, UK, November 17
Glasgow, UK, November 19
Utrecht, Netherlands, November 19
Birmingham, UK, November 24
Paris, France, November 24
Stuttgart, Germany, November 24
Vienna, Austria, December 1
Stockholm, Sweden, December 1
For more information and to register for this exclusive event, visit the registration page.