GOPPINGEN, GERMANY — September 26, 2023 —
TeamViewer, a leading global provider of remote connectivity and workplace digitalization solutions, today announced they are teaming with Ivanti, the tech company that elevates and secures Everywhere Work. This collaboration will leverage Ivanti's leading mobile device management capabilities (Ivanti Neurons for MDM) to enhance TeamViewer's remote monitoring and management (RMM) offering, providing businesses with a wholistic overview of their desktop as well as mobile IT assets with designated security, compliance, and management features at a scale.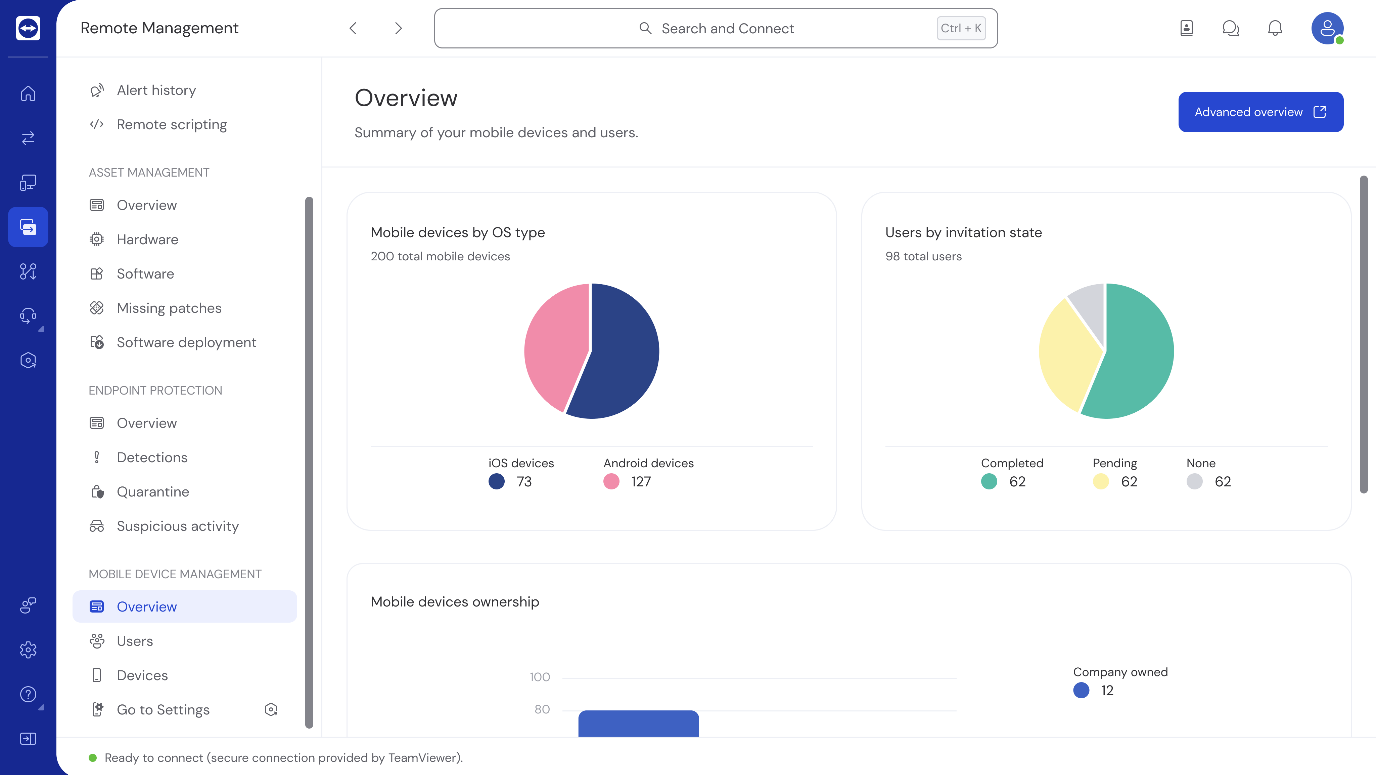 The partnership allows TeamViewer Remote and TeamViewer Tensor customers to manage their diverse device-fleet out of one unified platform. It will empower IT professionals with:
360° Device Management – Holistic large-scale onboarding, management, and monitoring of mobile devices running iOS or Android by remotely rolling out company profiles with designated access rights and predefined apps. Simplification of the whole inventory, configuration of devices, identification and solving of IT-related issues before they result in downtime.
Increased security – Remote roll out of policies and patches to a global device-fleet, enforcing security measures like PIN, biometric authentication, or two-factor-authentication. Reliable backup or wiping of data, locking of devices remotely, staying in control, independently of the location of the device.
Enhanced compliance – Mitigation of legal pitfalls by tracking and logging device-location and usage for full auditability.
"This partnership represents a significant step forward in simplifying the complex task of managing and securing remote devices. Ivanti's mobile device management capabilities, when integrated with our existing RMM offering, will empower IT teams to effectively control and monitor their mobile devices, ultimately leading to enhanced productivity and reduced operational challenges," said Frank Ziarno, Vice President Product Management at TeamViewer.
"We are thrilled to join forces with TeamViewer to enable IT teams to manage even more devices and operating systems," said Michelle Hodges, Senior Vice President, Global Channels and Alliances at Ivanti. "By combining TeamViewer's proven remote monitoring and management capabilities with Ivanti's award winning mobile device management, we are poised to deliver an unparalleled experience for businesses seeking comprehensive IT oversight."
Ivanti Neurons for MDM will complement TeamViewer's existing Remote Monitoring and Management (RMM) offering, which is already a leading choice to manage a multitude of devices, independent of operating systems and manufacturers. By adding all iOS and Android devices to the mix, TeamViewer RMM now covers all kinds of equipment, like classic IT devices, mobile phones and tablets as well as wearables and edge devices, providing a truly holistic view on the entire IT landscape. The added MDM solution is available for all TeamViewer customers in three different tiers: Essential, Advanced and Enterprise.
About TeamViewer
TeamViewer is a leading global technology company that provides a connectivity platform to remotely access, control, manage, monitor, and repair devices of any kind – from laptops and mobile phones to industrial machines and robots. Although TeamViewer is free of charge for private use, it has more than 630,000 subscribers and enables companies of all sizes and from all industries to digitalize their business-critical processes through seamless connectivity. Against the backdrop of global megatrends like device proliferation, automation and new work, TeamViewer proactively shapes digital transformation and continuously innovates in the fields of Augmented Reality, Internet of Things and Artificial Intelligence. Since the company's foundation in 2005, TeamViewer's software has been installed on more than 2.5 billion devices around the world. The company is headquartered in Goppingen, Germany, and employs more than 1,400 people globally. In 2022, TeamViewer achieved a revenue of around EUR 566 million. TeamViewer SE (TMV) is listed at Frankfurt Stock Exchange and belongs to the MDAX. Further information can be found at https://www.teamviewer.com/.
About Ivanti
Ivanti elevates and secures Everywhere Work so that people and organizations can thrive. We make technology work for people, not the other way around. Today's employees use a wide range of corporate and personal devices to access IT applications and data over multiple networks to stay productive, wherever and however they work. Ivanti is one of the only technology companies that finds, manages and protects each IT asset and endpoint in an organization. Over 40,000 customers, including 88 of the Fortune 100, have chosen Ivanti to help them deliver an excellent digital employee experience and improve IT and security team productivity and efficiency. At Ivanti, we strive to create an environment where all perspectives are heard, respected and valued and are committed to a more sustainable future for our customers, partners, employees and the planet. For more information, visit www.ivanti.com and follow @GoIvanti.