Backing Up Our Technology and Our Customers
Once you've purchased Ivanti solutions, the last thing you want is a software vendor that trumpets its technology but falls silent on support. Rest assured, we stand behind our products and our valued customers. In fact, our customers have given our support services a satisfaction rating of 92% over the last two years. What's more, our expert service and support representatives are all Ivanti Certified Engineers. Many also have other manufacturer and/or industry certifications, such as Microsoft Certified, Cisco Certified, etc., so you know your call will be answered and addressed by a highly qualified expert with proven credentials.
Overview of Ivanti Customer Support Services
Ivanti offers a range of customer service and support levels to meet your operational requirements. Customers who purchase a maintenance contract get to participate in a tiered support program. The levels of the program have been carefully designed to ensure that customers receive the service they need and deserve. If additional support is still desired, upgrade options are available.
Support Levels
Three levels of support are available: Standard, Enhanced, and Premium. All support levels include software upgrade protection, proactive technical support updates via email or RSS feeds, and access to the Ivanti Community.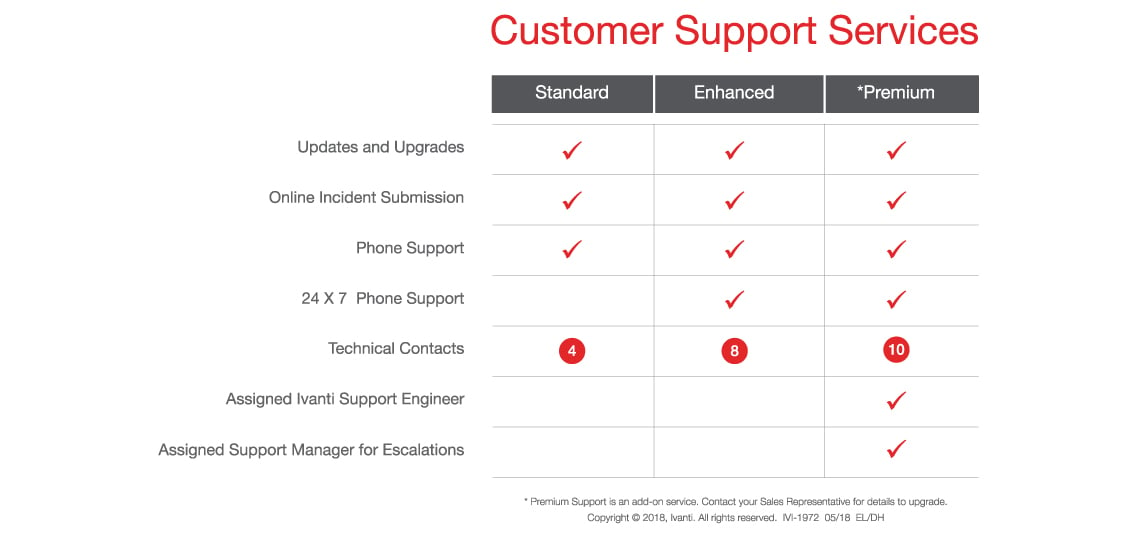 Support Program Details
Standard Support
Ivanti Standard Support is a renewable annual support agreement that provides software upgrade protection and self-directed support through the Ivanti Technical Community and available online documentation, including knowledge articles, white papers and forums for interaction with other Ivanti customers. Customers are also entitled to an unlimited number of incidents and can initiate a phone or web incident through our Customer Portal for processing during local business hours of the regional support center to which the Incident is initially reported.
Enhanced Support
Ivanti Enhanced Support is a renewable annual support agreement that improves upon the features and benefits of Standard Support. If you are an Enhanced level customer and you report a Priority Level 1 Incident that is not solved during Business Hours of the regional support center to which the Incident is initially reported, and the Incident requires around-the-clock work, Ivanti will transfer the Incident to other Support sites in the United States, Asia, and/or Europe as needed—as long as you have dedicated resources working alongside Ivanti on a 24x7 basis towards resolving the Incident. Phone support is also available outside of business hours including weekends and company holidays for Priority Level 1 issues.
When notifying Ivanti of any Incident, you must provide Ivanti with detailed information about any suspected Error(s), including an example, the context in which it was encountered, details of your system configuration, and the steps necessary to generate or reproduce the Error. The priority level of an Incident shall be determined by Ivanti in its sole discretion (using the priority definitions described in these terms).
Premium Support
If you are a Premium Support customer, you will be assigned a Support engineer who is skilled in supporting the Ivanti product for which you have purchased Premium Support. The Support engineer will be available during your normal business hours and be responsible for solving submitted Incidents. In case the Support engineer is not available for any reason, Ivanti will provide a backup engineer.
Premium Support customers will be provided direct access to a Support Manager who is available to manage escalated incidents, or to coordinate incidents across time zones for customers with multiple sites in different geographic locations.
Ivanti Smart Service Portal
A centerpiece of Ivanti Customer Support Services is the Smart Service Portal. Customers access this convenient online portal through the Ivanti Technical Community at https://success.ivanti.com/customers. Once logged in, self-directed customers benefit from key functionality, including the Solution Adviser.
The Solution Adviser assists customers who need quick and proven solutions to their problems. Using drop-down menus to answer a brief list of questions, customers are provided with a set of recommended solutions and resources, including:
The top-rated solutions for a particular issue as determined by Ivanti experts and successful outcomes when used by other customers.
Search results that direct a customer to relevant postings in the Ivanti Technical Community.
Key articles such as Best-Known Methods (BKMs) and white papers with high-value content pertinent to the issue submitted.
Should the Solution Adviser not lead to the desired outcome, customers in the portal can submit a new case to the Ivanti customer support team electronically and track its resolution. Notes and attachments can be added to the incident and customers can request that Ivanti respond by phone or email.
Management Escalation
Ivanti is committed to delivering high-quality products and technical support services to our customers and partners. If at any point you're not fully satisfied with the quality or level of service that you're receiving from Ivanti Support, then you should request that the support case be escalated for review by our Management team.
Customer Satisfaction Surveys
Customer feedback is an essential way to measure how well we are meeting expectations. Our Customer satisfaction surveys give you, the customer, the opportunity to provide Ivanti with valuable feedback to help us improve and evolve our offerings so that they match your needs. After a Support request is closed you are invited by email to complete a short survey about your recent support experience.
Available Support Upgrade Options
The default Ivanti maintenance program is Ivanti Standard support. Customers requiring the additional features of the Ivanti Enhanced Support offering may purchase an upgrade for a fixed fee.
Premium Support
Ivanti Premium Support offers customers a unique opportunity to be assigned to work directly with a specific support engineer and support manager as technical issues arise. This is an add-on service feature and can be purchased through your Account Sales Representative.
Ivanti Software Upgrade Protection (SUP)
Stay current with the latest advances in Ivanti asset management, service management, security management, unified-endpoint and user-workspace management, and identity management technologies through a Software Upgrade Protection (SUP) service agreement. This worry-free solution is a simple product update service, designed to maximize your investment in Ivanti solutions. As new products are released, you are notified and given immediate access to the latest major and minor product updates.
Benefits:
Convenient access to Ivanti Support professionals
Efficient process for limited support needs
Online Resources
Once you become a Ivanti customer, you'll enjoy access to the following online resources:
Support Community
The Ivanti Support Community is the place to find and share information about the Ivanti solutions you use in your environment. You can peruse technical articles, post questions in the forum, subscribe to notifications of new articles, and even contribute your own documents. The forum offers posts and feedback from peers, other Ivanti customers, and Ivanti developers and engineers. Top contributors are recognized and rewarded regularly.
Momentum Webinars
Momentum offers a variety of technical product webinars as well as the ability to share ideas, concepts, and designs with other IT experts, and more. Our series of technical webinars focuses on explaining and demonstrating how you can employ the tool to solve the common challenges you face in IT today. In addition, you can access on-demand webinars on how to use different product features and/or how to implement particular tips and tricks in your environment. As part of Momentum, Share IT enables our talented customers to share their ideas, concepts, and designs—plus leverage the knowledge of a broad base of IT experts. For more information https://www.ivanti.com/momentum.
Ivanti Global Academy
Ivanti® Global Academy is a comprehensive and self-paced training environment—a 24x7x365 learning "ecosystem" that places the power of learning in the learner's hands.
Cloud-based, multi-device, and blended, our learning environment helps Ivanti customers train on the things they want to, when they want to, where they want to, and how they want to, to benefit from training as quickly and easily as possible.
Browse our catalog to purchase training offerings or contact your account sales manager for more information how you can sign up for training.
Enjoy Superior Support Beyond the Sale
As you contemplate investing in Ivanti solutions, consider also the business advantages of quality support services delivered by experts with proven credentials. Discover for yourself why customers give Ivanti such a high satisfaction rating. To learn more please visit us at https://success.ivanti.com/customers or visit our contact page.