A Walk Through Cache Walker's Journey at Ivanti (In Ivanti Red Nikes)
Some people make a huge impact on a company for the work they did that drove the business forward. Others shape the company culture with their dynamic personality.
Cache Walker did both.
He started Ivanti in the fall of 2016 as the customer advocacy manager. In just over two years, Cache had several notable accomplishments, including:
Creating the Ivanti Insiders program and growing it to 1400+ members. These Insiders produced 850 online reviews in 2018 and participated in nearly 20,000 acts of advocacy on behalf of Ivanti. They also contributed to several blog posts for events and holidays, such as Interchange, Valentine's Day, and Christmas.
Leading the PAC (Product Advisory Council) in 2018.
Launching the Customer-Powered Champion initiative, which recognizes one employee per month for being exceptionally user-focused.
THE SHOES: Cache designed and distributed both the Ivanti Nikes (2018) and the Ivanti Vans (2019). Insiders and employees alike raved about the shoes Cache designed, and anyone wearing them won some serious swag points.
Aside from his professional accomplishments, Cache also brought his outgoing personality and hilarious quick wit to the office culture. Whether it was team building activities such as axe-throwing, "tea-thirty", Pizza Friday… the list goes on as to the number of Cache-instigated events and shenanigans.
And as you can expect, where there was an office prank, Cache was not far behind.
But not everything was as light-hearted as it appeared to be at the office.
"Brains Shouldn't Bleed"
Just four months into his time at Ivanti, Cache suffered his third brain hemorrhage in four years' time. It was the most severe stroke he'd ever had, prompting his neurosurgeon to schedule a high-risk surgery to remove the cavernous malformation in his brain stem.
"The initial brain bleed took place the day before I was to fly to San Francisco for a work conference," he says. "I contacted my boss, Leslie Bonsteel, who immediately refocused all attention on my recovery and didn't even give thought to the missed conference."
There is never a "good time" to have a serious medical emergency. Interchange, Ivanti's biggest event of the year, was just around the corner. Cache was able to attend the conference just before his surgery.
Although the surgery itself went well, it was not the cure he had hoped for. He continued to experience symptoms for two months following the procedure, and shortly thereafter, he was officially diagnosed with MS.
"You don't ever expect to hear your brain is bleeding. You don't ever expect to be diagnosed with not one, but two rare brain diseases. You don't ever expect to go through brain surgery and come out with no improvement. You don't ever expect to battle each and every day to try and live a normal life. And you don't ever expect your boy to grow up worried about the health of his father."
Ivanti Family
Ivanti understands that life is about more than job titles and corporate ladders. It's about people.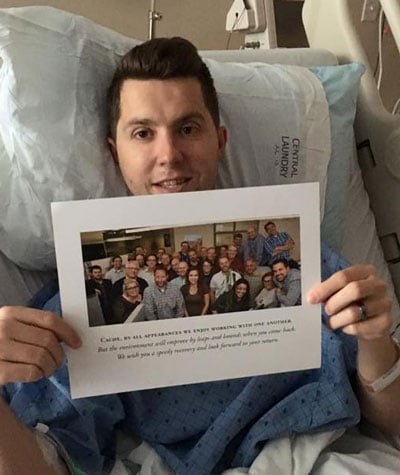 "When one of us suffers, we all suffer," says VP of HR Sue Urses regarding Ivanti's recent partnership with 5 For The Fight. "Our employees are excited to take care of one another."
In the case of Cache, the team really banded together in support. Where other enterprise software companies may have shrugged off one employee's health issues, Ivanti does not let its people hang out to dry.
"The day following surgery, the team visited me in the ICU," he says. "They had written a 'get well' note and taken a picture of themselves crammed into my cubicle back at the office."
Cache recounts the multiple phone calls and texts he received from coworkers during his months of recovery and physical therapy. "When I returned to work, I even had coworkers pick me up at my house and drive me to the office. The support never faltered!"
Cache Roaming (to a new opportunity)
While Cache will always be a part of the Ivanti family, he has recently decided to pursue an opportunity elsewhere. But because of his impact on the company, we couldn't let him go without giving us a few final takeaways.
What is most important to you in life?
CW: My family, but additionally, those who I am lucky enough to call my friends. In my case at Ivanti, the 1400+ members of the Ivanti Insiders became an extended group of friends.
How have your health issues changed your perspective?
CW: They have definitely changed my perspective on the importance and value that people and relationships hold in my life. Everyone has something they are battling; it's up to us to help one another through those battles, whatever they might be.
What did you learn from your time at Ivanti?
CW: I learned to love whatever I was doing. Sometimes we get distracted and focus only on the results, but then we miss out on experiencing the process. Another thing I learned is just how incredible the possibilities become when we surround ourselves with awesome people. I truly feel my successes were directly related to those around me.
We wish you all the best, Cache!
Please consider supporting RUN and Angioma Alliance.