User Workspace Management, the Cloud, and 2019
It goes without saying that 2018 was a very interesting year, not only in cloud computing, but also for the complimentary technologies that rely on the cloud. In line with this, the confidence displayed by organizations in using cloud-based technologies has increased.
With this ever-increasing confidence, organizations are looking to avoid 'vendor lock-in' by using different cloud providers to solve their business problems with as much flexibility as is possible. The recent RightScale 2019 State of the Cloud found that 84% of enterprises now have a multi-cloud strategy.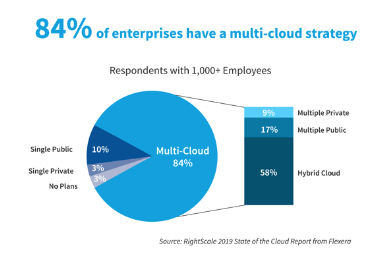 Furthermore, the Forrester Predictions 2019: Cloud Computing report expects that in 2019 the global cloud computing market will expand at more than 20% and exceed $200 billion.
So what are Ivanti, and in particular the User Workspace Management (UWM) products, doing about this? Are our products going to remain in their on-premises heartland? The simple answer to this is - No!
Let me explain, but before I do, rest assured that our product strategy will not mean we neglect our on-premises technology and customers. Quite the opposite in fact, whilst we are going to be developing our cloud platform, our innovation and features will continue as they do today.
The past was yours…
As you may already be aware, you can already deploy the UWM Management and Environment Manager (EM) Personalization servers using Microsoft Azure and Amazon Web Services virtual machines. You can also use Azure SQL Services for the Management and Personalization databases, removing the need for costly infrastructure and licenses.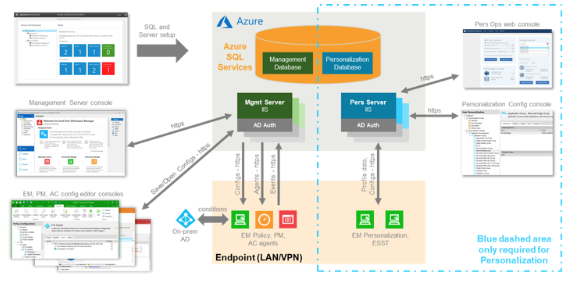 However, whilst this makes UWM, in the very loosest sense of the word, cloud-friendly we know we are far away from being a native cloud product. We don't, for example, currently support user attributes within Azure Active Directory or allow for the deployment of agents or capabilities from the cloud without using a virtual machine to run our servers.
The future's mine….
Okay, so what does 2019 and beyond look like for Ivanti UWM in the cloud?
Ivanti Real-time Intelligence
Are you a Chief Information Security Officer (CISO)? Do you know someone who is? Do they worry about who has local admin rights on their endpoint? Does your hardware procurement team constantly question why they have to procure expensive, high spec servers to run a few published applications?
Ivanti Real-time Intelligence – which uses aspects of the former AppSense Insight technology – is one of the first capabilities of Ivanti Cloud. It allows you to get the answers to CISO and Procurement headaches in (as the name suggests) real-time. To learn more and see this in action take a look at this recent webinar.
Using Internet of Things (IoT) technology, it is now possible using Natural Language Processing (NLP) to interrogate all online endpoints, giving you the power to understand why the users in HR are complaining that their employee system is running slow, for example.
Once you know the root cause you can then use the power of Performance Manager to introduce Thread Throttling, for example. Resolving the issue, improving customer satisfaction whilst at the same time reducing the number of expensive Service Desk tickets.
Sounds cool? It is! Even better, it is available – and being used in organizations across different industries – today!
Want to know more? Read our page about Ivanti Cloud.
Azure Active Directory
Globally, there are more than 10 million Azure Active Directories (AAD) with over 750 million user accounts managed within them. However, at present we have no way native way within an Environment Manager configuration to use the information in AAD within our condition engine, unless it is synced with on-premises AD. For example, we can check if 'Alan' is a member of a particular OU in on-premises Active Directory, but we cannot check if he is also a member of the 'Accounts' Security Group in AAD. Likewise, our Management Server is integrated into AD but is unable to use AAD Security Group membership to deploy and monitor our agents.
So, do we continue to successfully integrate with AD or do we bring new solutions to the problems faced by almost all of our customers and add support for AAD? Obviously, we add AAD support to work alongside our current solutions! By doing this we will enable the Environment Manager condition engine, for example to reference AAD attributes, whilst also continuing to use the current existing AD method to ensure that policy actions are delivered to the right users.
Environment Manager Group Policy Import
Okay, so I hear you already asking why does importing Group Policies (GPO) into Environment Manager help to provide a cloud solution?
Well, you know those hundreds of GPO's you currently have deployed to your endpoints? How are you going to use them on your devices that are managed via Intune, for example? Yes, you could manually recreate them using the Environment Manager console and then save your configuration to Intune. With the upcoming 2019.1 release of Environment Manager, you can now import them without the need to recreate them one at a time.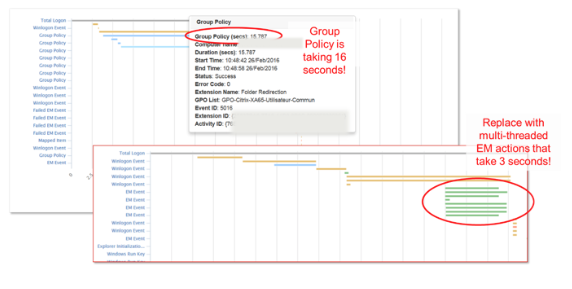 Link this in with the AAD support are coming to UWM and you can then target GPO's at remote users who are not a member of an AD domain for example, all via the cloud.
File Director
As you may already know Ivanti File Director provides connectors to Microsoft OneDrive storage enabling IT to benefit from the free 1TB of storage available with Office 365. All without impacting the end user or providing an area of storage with no control over what data is stored within it.
In 2019, we are going to be extend our cloud storage connectors to include the same seamless end user experience and IT control when using Google Drive, and with support for Box storage also under consideration, there are exciting times ahead for File Director.
Ah, but this all depends on an on-premises appliance, I hear you shout! Yes! But wait… In addition to the cool cloud storage connectors described above, we also plan to enable File Director to be deployed within a cloud tenant, helping you move more of your workloads to the cloud.
Microsoft Intune
As I wrote in the summer of last year, we are continuing to enable the deployment of our agents and configurations to end points that are managed via Microsoft's Modern Device Management platform – Intune.
The increasing popularity and adoption of this platform is something we are very much aware of and as such, we continue to monitor any new functionality and how this may impact our solutions.
This is the one…
As I write this I have literally just left a review where we demonstrated saving Environment Manager policy configurations to the Ivanti Cloud. Providing the capabilities of EM policy via a completely native cloud platform is the first step towards a complete UWM solution provided from within the Ivanti Cloud.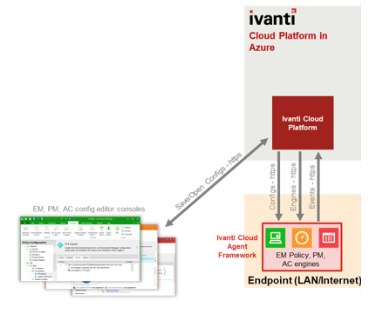 We are at the very early stages of a long journey, but it is something we are all very excited about.
Not only will this remove the need for Microsoft IIS servers or virtual machines within Azure, for example but it also allows us to bring the Ivanti Unified IT vision to fruition. By providing UWM capabilities such as Performance Manager in this way, we can start to spot performance issues on an endpoint or session before the end user does. Then in turn we can use our IT Service Management and Asset Management platforms to automatically raise incidents and update configuration items to reflect the change. All from within one platform and all with one agent deployed to the endpoint!
No longer will the administrator be tied-up monitoring an environment, they can now be deployed strategically to the projects that help drive the business forward.
As I said, it is early days in terms of our move into the Ivanti Cloud, but the product team continue to make real positive progress with each week. If you are interested in helping us with discovery items such as:
UX designs
Testing of assumptions
Prioritising of functionality
then please get in touch with me:
Don't stop….
Okay, so I think it is fair to say that 2019 and beyond are going to be somewhat of an exciting time for UWM and the cloud!
As is the UWM Product Team way, we will continue to press ahead at a rate of knots, only now, we will have the power of the cloud on our side. Ensuring we continue to solve the problems faced by you, our customers.
Finally, if you have not already visited our ideas portal please take a look. Your input will help shape the future of Ivanti User Workspace Manager, both on-premises and in the cloud.