User Workspace Management and the Future of AppSense DesktopNow and RES ONE Workspace
UPDATE: November 28, 2018
Since Ivanti acquired RES Software in July 2017, our story has continued to evolve as we have talked with customers and partners, and we have published a series of blog posts with more updates. You can find the latest (at the time of writing!) from August 2018 here: https://www.ivanti.com/blog/res-workspace-and-ivanti-user-workspace-manager-merger-update
We continue to invite your feedback as we work through the process of combining these great technologies. You can see some of our handiwork here: https://www.ivanti.com/blog/from-ivanti-workspace-control-to-ivanti-environment-manager and here: https://www.ivanti.com/blog/from-res-one-workspace-to-ivanti-environment-manager-just-in-time-app-v-5-x-apps. We have much more to come!
__________________________________________
Since Ivanti acquired RES Software in July, the number one question has been: "What is the future of the RES Workspace product?" Since Ivanti (then Landesk) had already acquired AppSense in April 2016, there is clear overlap in product functionality. We posted an interim answer in July, and we are now ready to provide more detail on the next phase of integration.
It is worth noting that, in addition to the Workspace product, RES also has Automation and Identity Director product lines that align well with our service management offerings and will receive strong investment within Ivanti, but that's not the focus of this piece.
No End of Life, Business as Usual, More Solutions
We understand that IT projects leveraging AppSense or RES products are highly strategic, and that deployment of either AppSense or RES products often includes baking the technology into IT infrastructure. So, don't worry, we have no plans to End of Life either product line!
Customers and partners with investments in any AppSense or RES product can continue with their chosen solution and will receive support, maintenance and feature updates.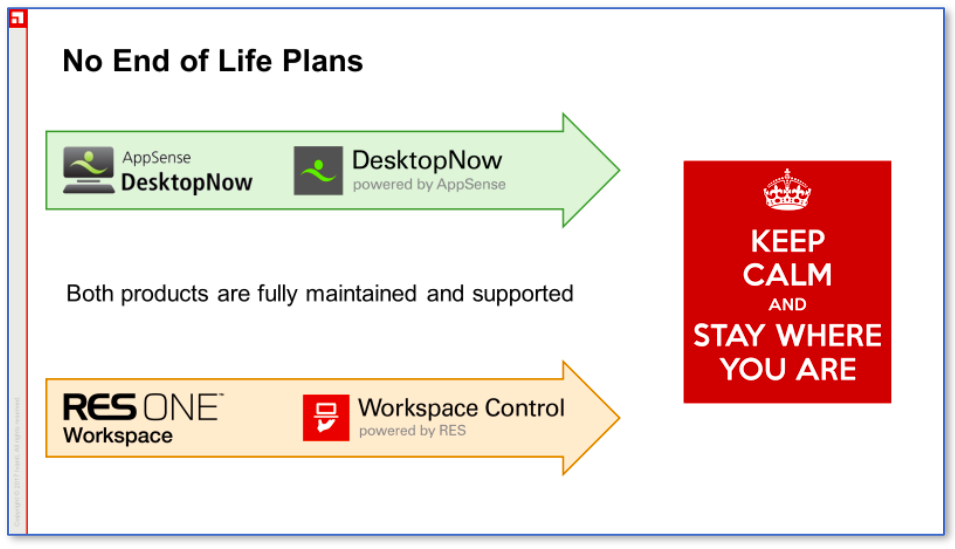 RES and AppSense customers can also take advantage of new and emerging Ivanti product offerings that will add new capabilities and value to existing implementations:
For AppSense customers:
Integration between the AppSense products and RES Automation and Identity Director so that customers can automate a wide range of IT workflows and provide end users and service desk staff with web-based action portals for self-service and tiered approval.

The "reverse seamless" Virtual Desktop Extender (VDX) product that provides additional integration between a physical Windows PC and virtual desktops and sessions.

Cloud reporting that extends on-prem offerings with additional insights and consolidates data from other sources and Ivanti products.
For RES customers:
Ivanti File Director, with best-of-breed file access, Windows 10 migration capabilities, and a transparent user experience that requires no training.

Extended reporting capabilities through both cloud and on-prem solutions, to provide more visibility of user activity, application performance and ways to optimize them.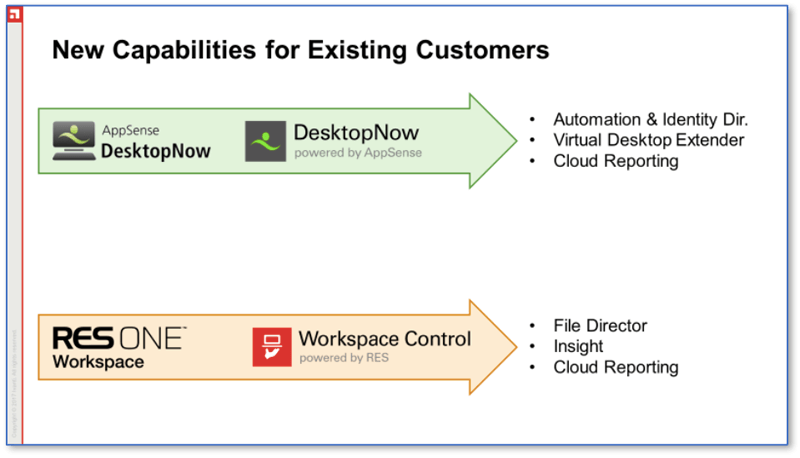 Of course, both AppSense and RES customers can leverage the entire range of Ivanti solutions, with leading products in the areas of Endpoint Security and Device Control, Patch Management, Asset Management, Service Management, and Endpoint Management.
Blending the Best for What's Next
So what happens next? First, we will merge the best features of both product lines into Ivanti User Workspace Manager.
Beyond that, we know that many organizations are assessing the best path for their migration to the cloud, influenced by three three significant market trends—control planes in the cloud (e.g. Citrix Cloud), infrastructure moving into private cloud (private AWS/Azure instances), and SaaS. So, the "best of the best" Ivanti User Workspace Manager will be available as:
An on-premises solution

Deployed in a private cloud (customer or partner-hosted)

In future, as a SaaS offering
Our goal is to give our customers the full range of deployment choices, including a hybrid on-prem/cloud mix with a private tenant, or full SaaS. How much control you want, and how much of the infrastructure you want to host, is up to you.
When you are ready to make your move to the cloud we will make it smooth and easy for your users – and you – with Ivanti User Workspace Manager. Conceptually, we think of it as something like "iCloud for your Windows desktop" – everything personal about that desktop should roam with the user, and it can all be done from the cloud.
With this plan for Ivanti User Workspace Manager, we are also choosing a platform that will:
Leverage emerging endpoint management tools including Microsoft Intune and AutoPilot.

Allow our customers to easily accommodate changes in Windows application technology resulting from Microsoft's efforts to drive adoption of the Universal Windows Platform (UWP).

Offer the quickest path to delivering policy and personalization using secure web services, to both domain-connected desktops and those outside of traditional IT control.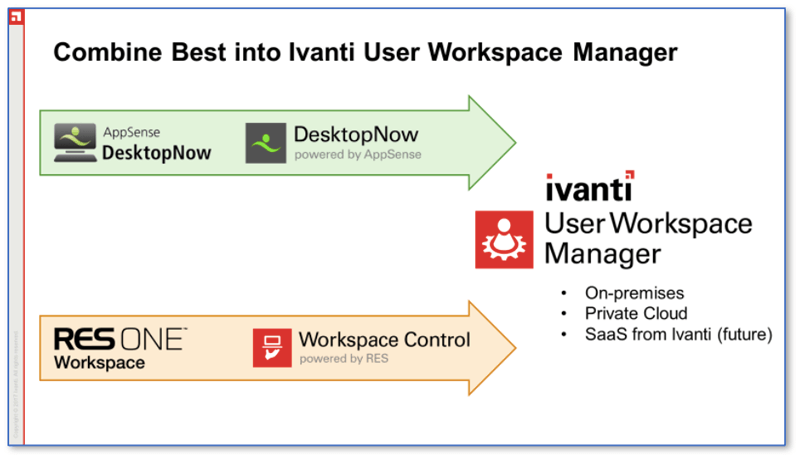 Product Benefits for All Customers
This combined strategy brings benefits to customers of both product lines. Our combined product and engineering team will have more resources, deliver global support, draw from a wider range of technology, expand localization and offer more licensing and hosting options.
Specifically for customers of RES ONE Workspace, the Ivanti User Workspace Manager product will immediately bring these benefits, and many more:
Expanded reporting options – both on-premises and cloud-hosted.

Advanced security features including: granular whitelisting, Windows Store (UWP) app support, control over DLLs and OCX files, extended privilege management with child process control and self-elevation, browser control and local administrator restrictions.

An extensive API for all management and client functions.

Configuration rollback and version control, delegated by user group.

Centralized reporting and visibility of Personalization data, with a dedicated web console for the Service Desk with delegated control and bulk edits to personalized data.
Subscription (aka Term) Licensing option. We will introduce Ivanti User Workspace Manager subscription licensing in Q4 2017, reflecting the shift in the market towards software delivery as a service. We will, of course, still offer perpetual-and-support licensing for customers who prefer a traditional purchase model.
FAQ
Q: If I choose to migrate, what will it cost me?
If, and when, customers choose to migrate from Workspace Control to Ivanti User Workspace Manager, we'll provide pricing that will make migration as cost-neutral as possible, and will also give the partner community an incentive to assist. More news to follow.
Q: What will happen to my Feature Requests?
Ivanti is standardizing on the same Product Idea portal used by RES, and we will be merging the instances in the coming months. Feature requests, votes and comments will all be maintained in the combined system.
Q: What will happen to Support for RES ONE Workspace?
We are committed to continuing the high standard of Support from the same core team you have dealt with in the past. From January we will be updating our offerings and aligning the RES support levels with Ivanti Support. More details will follow as we get closer to the new year.
Where do I go with more questions?
Your first point of contact should be your Ivanti account representative or partner manager. They can redirect to the Product Management and Integration teams if they need more information.