International Women's Day Spotlight: Brooke Johnson
For our final International Women's Day spotlight, I'm so excited to get the chance to write about Brooke Johnson. Brooke is Ivanti's Associate General Counsel and has been with Ivanti for two years.
Brooke is one of those people in the office who everyone gushes about. In fact, at Ivanti's annual Sales Kick Off event in January, one of the keynote speakers highlighted Brooke as someone at Ivanti who is the definition of a team player. The applause Brooke received was further confirmation that she has positively impacted every department at Ivanti.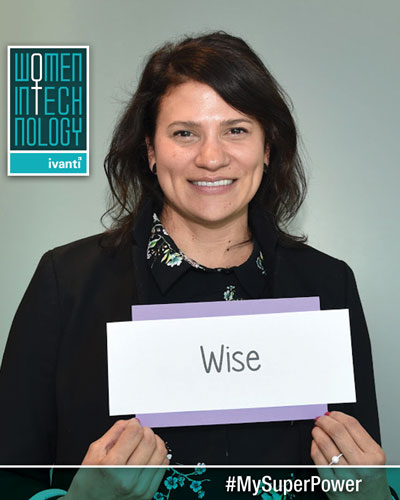 When I asked John Jensen, Brooke's manager and Ivanti's VP General Counsel, about Brooke, he had nothing but wonderful things to say about her. "Brooke is a dynamo. The volume and variety of projects she manages on a daily basis is nothing short of amazing. I'm impressed by her ability to assess complex dynamic problems and implement solutions cross-functionally. She regularly identifies and solves problems before anyone else is aware they exist."
It's clear that everyone loves Brooke. Get to know her better in the interview below.
Getting to Know Brooke
When you were a child, what did you want to be when you grew up?
BJ: I wanted to be President of the United States. Aim high!
What does your day-to-day look like at Ivanti?
BJ: I support sales by negotiating license agreements, partner agreements, and helping facilitate deals. I also manage litigation and support other business units like privacy, facilities, HR, finance, etc. There is always something new crossing my desk.
Who inspires you?
BJ: My friends. I have an amazing group of high-achieving women in my life who encourage, education, mock, console, and laugh with me. I am the lazy loser compared to the rest of them – but it's great to be surrounded by people who make you want to be better.
What are you currently reading or bringing on Netflix?
BJ: Totally obsessed with Russian Doll on Netflix. I'm also reading a collection of Zadie Smith's essays called Feel Free and it's like reading your best friend's diary, in a good way.
What are you passionate about?
BJ: Happiness. Life is too short to be miserable. So, things that make me happy: my family, friends, good food, wine, connecting with people, music (good and bad), movies (good and bad), oh, and dancing.
As part of the #MySuperPower campaign we ran in the summer, you picked "wise". Tell us more about why you chose that word to describe yourself.
BJ: Being a lawyer is about more than knowing rules or case law. It's about understanding people, what they need, how to help them, and figuring out creative ways to resolve problems. So, being able to provide (hopefully) wise advice is a necessary piece of my job.
We talk a lot about Women in Tech at Ivanti. Can you tell us more about what it's like being a woman in the legal field? What are some of the challenges you've faced?
BJ: First, I'm thrilled to be a woman in tech, even if it is on the periphery. I left private practice to join Ivanti and have been very happy with my decision to move in-house with a software company.
Regarding the challenges of being a woman in the legal field, it's not an easy job for anyone, and I have experienced conflict related to my gender. Some of the stories are hilarious and some would make you think we time-traveled back to the 1950s. Early in my career, I learned to deal with it by working harder, staying later, and always being prepared. It's hard to give up weekends, nights, and vacations, but I'm a better attorney now because of those years of hard work.
Do you have advice for women considering a career in law?
BJ: Absolutely do it. Law school is empowering and life changing – whether you go into private practice, business, or anything else. I have never regretted my decision to go to law school. I mean, I gave up the White House for it ;)
Anything else you want readers to know?
BJ: I think this is a great company and believe in the people. I'm here to help and genuinely care. So, stop by and say hi when you are in South Jordan.
I hope you've enjoyed our blog series highlighting amazing women at Ivanti. Christine, Sally, Stacey, and Brooke are only four of hundreds of incredible women at Ivanti who continually inspire me. Don't forget to follow @TheTechieGirls on Twitter to get involved in the conversation and stay up-to-date on Women in Tech events, news, and initiatives.
Join the social media campaign!

International Women's Day is promoting a global social media campaign that Ivanti is taking part in. Join the movement by taking a selfie with a #BalanceForBetter selfie card, post it on your social media using the #BalanceForBetter hashtag, and tag @TheTechieGirls so we can see your resolution to promote more balance!