International Women's Day Spotlight: Stacey Slowiak
For day three of our countdown to International Women's Day, we're highlighting Ivanti Customer Success Manager, Stacey Slowiak.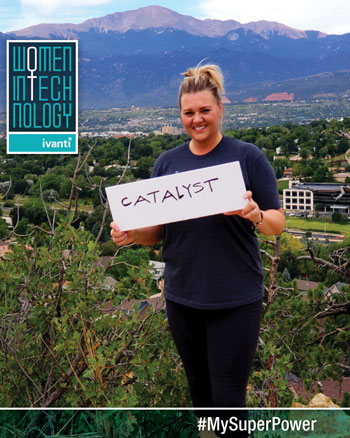 Stacey started with Ivanti in 1998, over 20 years ago! She started her career working with the help desk doing tech support for our legacy call logging application. She loved working with customers to help solve their problems and was especially drawn to the data and reporting aspect of the role. This niche role helped her earn the opportunity to work as a content developer, where she worked on Ivanti's ITSM application.
Next, Stacey moved to a QA position. Throughout her career, she has focused on keeping the customer top-of-mind. She tries to put herself in the customer's seat and see things in their perspective to help drive change in the products and processes. Because of this focus, Stacey moved into customer success, which she describes as the role she was born to do.
Stacey balances technical knowledge, a passion for the products, and her ability to relate and empathize with customers, which has helped her be so successful as a customer success manager. Learn more about Stacey in the interview below.
Interview with Stacey
When you were a child, what did you want to be when you grew up?
SS: A marine biologist. I've always loved sharks, the ocean is a very mysterious place and it seemed like a fun and interesting thing to do since I love water.
I also have fond memories of my sister and I playing office. We each had our own desks with hanging folders, carbon copy papers, and a phone. We'd talk to each other creating and fulfilling orders, although I don't recall what for, LOL!
What first got you interested in technology?
SS: Technology is embedded in my DNA. I grew up loving computers and technology. I grew up in Wisconsin with a single mother who worked at Cray Research with Supercomputers and their move to Colorado Springs is eventually how we migrated West. My grandparents had a Texas Instruments computer that I was able to code different basic programs into, and I liked the end result. Although I never went into certain levels of tech, I was always built up to have a technical career.
What's it like working for a company for 20 years?
SS: There have been a lot of changes at Ivanti since I started. I'm still here because of the fact that I can really roll with the changes. You have to be resilient in a career, because it is ever-changing.
When I started in 1998, I was using my first cell phone, the internet was new, software applications were evolving making business functions easier and easier through each interaction. From then to now, there has been a lot of change in the world and at the company, most of it for the better! And through it all, I've continued my passion for the company, my fellow employees, and a belief in what we are creating and how it can help our customers.
Give me a day-in-the-life of Stacey Slowiak.
SS: The thing about customer success is it is different every day, which I love. It never is monotonous. My work is focused on the customer—building a trusting relationship—and 95% of what I do is directly for them or on behalf of them. I have recurring check-in calls with my assigned accounts to ensure they have what they need from Ivanti and that we're helping them meet their business goals. This can include things like identifying and relaying sales opportunities, promoting trainings, assisting with escalations, working with Ivanti support to ensure customer expectations are met, setting up reference calls, setting up calls with product management to discuss roadmaps and migration paths, relaying helpful Ivanti Community and Momentum links to guide the customer and introduce them to self-serving, and the list goes on and on.
One of the great things about being in customer success is getting to work with pretty much every department in the organization. I enjoy building relationships internally and helping my coworkers. With my tenure I can easily help fill gaps for someone that may be newer to the organization or newer to a product line that I have experience with.
Outside of work, I love to spend time cooking, boating, hiking, and spending time with my husband, family, friends, and dog Kylo.
What sparked your desire to be involved in Ivanti's WIT campaign?
SS: It's so important to get involved in something bigger than yourself that's helping to shape generations and help create valuable messages for young women. I think it's great what Ivanti is doing to empower women. I'm only in the beginning stages of involvement and see myself becoming more involved over time.
Within my realm, I try to inspire and encourage others to simply "become involved" where people may tend to keep more to themselves. For example, during the Ivanti #MySuperPower campaign, I encouraged the women of the Colorado Springs office to participate and share their strengths. I just walked around with my camera, some paper and markers, and tried to make it fun.
Speaking of the #MySuperPower campaign, you chose the word "catalyst" to describe yourself. Can you tell us why you chose that word?
SS: I think of "catalyst" as something that creates a reaction, a change agent. I want to promote change and encourage or inspire others to the same, ultimately knowing the outcome will be ok. I'm fairly outspoken on subjects I'm passionate about, so I try to represent my peers and use what I've learned through building relationships to bring people out of their shell and participate.
What is a hurdle you've experienced as a woman in technology?
SS: The biggest hurdle is definitely self-doubt. Another hurdle is a lack of female mentors. In past years we've had a few women in leadership positions who were strong mentors that I was able to learn from. Unfortunately, they weren't around long enough for that to continue as long as I would have hoped. Hearing their advice and getting reassurance on how I dealt with a situation or would like to deal was very valuable for me. I'd love to see more women in leadership in general—we have so many capable women in the tech industry.
Why do you think so many women face self-doubt in the workplace?
SS: I heard once that if you have a man and woman considering a career opportunity, a woman isn't going to apply unless she has 100% confidence she's qualified to do the job, whereas a man will apply if he's 60% confident. I think that is so true. I second guess myself even when everything inside of me knows I could do it.
Women need to work more on relying on their instincts. My advice for women is step back and try to see the situation outside of the lens of your doubt. Ask yourself, "What is the worst that could happen if I follow my gut?" Even if things don't go your way, you'll get feedback and learn so you can grow. Putting yourself out there can be a great thing. Trust in yourself and your life experience, understanding that you've earned where you are in life right now.
Who inspires you?
SS: There are too many to count. In general I'm inspired by people who take chances, who are intelligent, self-driven, thoughtful, and patient. My mother is an amazing woman who worked hard to give my sister and I a great life and I admire her for the sacrifices she made to be her own person.
Join the social media campaign!

International Women's Day is promoting a global social media campaign that Ivanti is taking part in. Join the movement by taking a selfie with a #BalanceForBetter selfie card, post it on your social media using the #BalanceForBetter hashtag, and tag @TheTechieGirls so we can see your resolution to promote more balance!