Windows 10 Migration Accelerator – 2018 Edition!
At Ivanti we regularly talk to our 29,000+ customers about the state of their Windows 10 migrations and there is a huge range in their responses. We see a few who are complete (yes!), some who have barely started, and the majority who have partial deployments but are still working out how to cope with the continual state of migration that comes with Microsoft's Windows-as-a-Service model.
We have a range of tools to help with Windows 10 Migrations:
So, in summary, we can deliver the OS, the apps, and migrate everything that makes the Windows desktop unique and personal to the user. This is a great story we have covered before – here! (OK. And here and here). However, for 2018 we decided to change it up a little with a simplified offering:

Where is File Director, I hear you cry? And how has Environment Manager's role changed?
First, File Director is a best-of-breed solution for continuous sync of files between devices (Windows, Mac, iPad, iPhone, even Android) and on-premises storage. If users continually roam between different Windows versions and between physical and virtual desktops, then it provides unparalleled functionality and a seamless experience. However, most Windows 10 migrations tend to be point-to-point for a single device – Windows 7 to Windows 10, or from Windows 10 1511 to Windows 10 1703.
In addition, we looked at Environment Manager's Personalization feature, which provides continuous sync of user profile data between Windows desktops – physical and virtual, Windows Server and desktop, and any version – and again we saw that a lot of migrations are actually point-to-point.

Introducing the new Windows 10 Migration Accelerator!
So, while the previous Windows Migration offering is still available and provides excellent functionality for those use cases where users roam between multiple Windows desktops and versions, for 2018 we decided to offer a simpler, and lower cost version for point-to-point transfers of user profile and file data, which get stored temporarily on a file share.
The Windows 10 Migration Accelerator is a collection of configurations and documentation for Endpoint Manager, Environment Manager and Xtraction. Each component is optional but use them together for the most complete solution!
Point-to-point migration use cases include:
Hardware Refresh – new Windows 10 device replaces old Windows 7 device, for example
Central Windows 10 Image Management – where a fresh master Windows 10 image is deployed to existing desktops that will effectively be "wiped"
When USMT does not provide enough control – the configuration used by the Migration Accelerator is configurable. The out-of-the-box settings will get you a long way but you can easily customize them however you like through Environment Manager's graphical console
When In-Place Upgrades are too Risky! – some IT departments trust Microsoft to do a smooth upgrade of Windows 10 in-place, but if it goes wrong you are starting all over again!
Some other key points of note:
Works with System Center Configuration Manager (SCCM) or any other Client or Device Management solution

The Xtraction web console dashboard drives and tracks your entire Windows 10 migration project, indicating which desktops are ready to migrate and which are complete: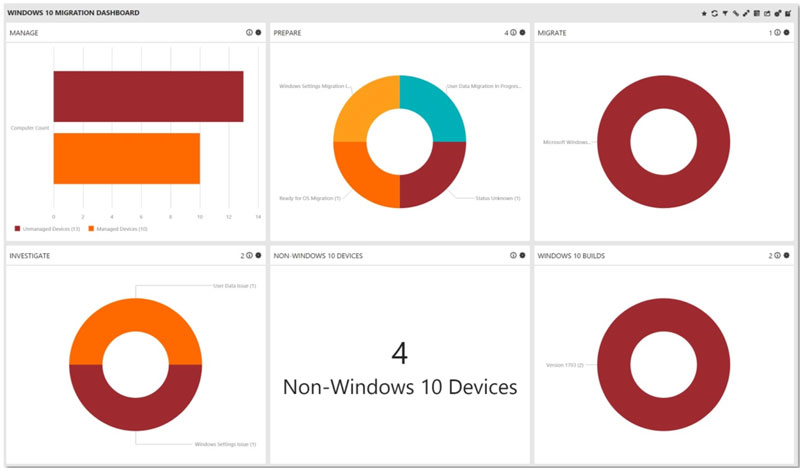 You can find the new Windows 10 Migration Accelerator on the recently-announced Ivanti Marketplace.
And, finally, it works with the new Environment Manager Policy edition! This is a lighter, lower-cost version of Environment Manager that does not include the Personalization features and does not require SQL or web servers. We have a special deal for Endpoint Manager customers who want to add Environment Manager Policy into their environment. Talk with your partner or sales rep to learn more!
We'd love to hear what you think of our latest Migration Accelerator! Join in the discussion on the Ivanti Community UWM forum.