Product Newsletter Blog for October 2017
Product updates and releases covered in this blog:
IT Asset Management
Operational Security
Service Management
Ivanti Automation

Ivanti Identity Director

Ivanti Service Desk

Ivanti Service Manager
Unified Endpoint & User Workspace Management
Ivanti DSM

Ivanti Endpoint Manager

Ivanti Environment Manager

Ivanti LANrev

Ivanti Management Center
IT ASSET MANAGEMENT
Ivanti Announces License Optimizer for Clients/Servers 2017.3
Ivanti License Optimizer for Clients and Servers 2017.3 delivers an enhanced UI experience which includes benefits to:
License Optimizer for Clients
Simplify cluster and user management

Increase software library accessibility

Expand license record visibility
Data Center Discovery (Bundled in License Optimizer for Servers)
Enhance SNMP Reports

Elevate diagnostic activity

Improve searching and rest API functionality

Increase product stability (AKA bug extermination)
More Information
Get insight on our latest release
OPERATIONAL SECURITY
Check out the part you played in Ivanti Application Control 10.1 FR3
Customers have been sharing their ideas for product enhancements. Check out the updates we've made!
Our latest Application Control release is particularly compelling for us here at Ivanti, because it's heavily influenced by our User Voice feature on the Community. Customers have been using that feature to share their ideas on the updates they'd like to see made, and in addition to product bugfixes, we've implemented many of their suggestions in this release.
We've updated the endpoint dialogs so you can include more data to help users and support teams better understand why applications have been blocked—We've removed the 255-character message limit. You can now communicate everything you'd like to so the appropriate action can be taken easily.
We've added the ability to whitelist specific URLs—You now have the flexibility to control access within a single domain (for example, to deny access to www.company.com while allowing access to www.company.com/resources) or restrict access to all websites except those that have been explicitly whitelisted. • Audit logs now include details of child processes elevated by privilege management—Application Control audits elevated child processes alongside the primary process, for complete visibility into which applications are being launched by those processes.
You can now create and use PowerShell scripts within Custom Conditions—The Custom Conditions feature allows you to get very creative with the ways in which you use Application Control. We've added to that flexibility by building on the support we currently have for VBScript and Jscript with support for PowerShell scripts.
Learn more about the updates we've made in our latest product Release Notes. Also, please continue to submit your ideas or vote on ideas others submit, so we have a better understanding of the improvements you'd like to see. We'll keep the thoughts that get the most votes top of mind as we plan each release.
Read Release Notes
October brings a big bugfix update to Ivanti Device Control: 5.1 Update 1
Don't miss this bugfix announcement! We know many of you have been waiting for it.
Recently we've been making quite a few architectural updates to Ivanti Device Control. We're happy to announce you'll find it easier to get the most out of the work we've done because we've fixed 13 customer bugs in this release. We've worked hard to deliver a very stable product in Update 1 that capitalizes on our recent improvements.
Check out the Release Notes for a complete list of the bugfixes in this update.
SERVICE MANAGEMENT
Ivanti Automation 10.2
Ivanti Automation 10.2 became generally available on October 5, 2017. Some highlights for this release include:
Support for our customers' cloud journey: Customers maximizing their investment in cloud can now leverage Microsoft Azure SQL databases for the implementation of Ivanti Automation.
Continued streamlining of the admin experience: Following up on previous releases, admins will find more improvements within the Management Portal. They can now build out specific Modules, Projects and Run Books from their browser with a modernized look and feel. They can also import and export Building Blocks within the portal. These improvements will make it easier for them to set up and manage Automation in their environments.
Enhanced data security: An AES-256 conversion tool is available for customers that want to encrypt their data in existing installs using this industry standard.
First phase on Ivanti branding: Customers will begin to see the Ivanti brand in this release. Complete re-branding will be in place in the next release.
Check out the blog post to learn more about Ivanti Automation 10.2: The release is available for download on the RES Success Center.
Ivanti Identity Director 10.2 is now generally available
Customers with solution assurance can download the latest release from the RES Success Center. This release delivers new enhancements including:
Improved end user experience: Upgrades to the newly designed storefront continue in this release. Now end users can tag apps and services through a favorites function, making it easy for them to find key apps and services they want to request.

Branding updates: Customers see Ivanti branding across the product in 10.2.

New triggers and Workflow Actions: Expanded support to trigger workflows based off of multiple attributes. Workflow actions now support assigning and un-assigning of other services.
Ivanti Service Desk 2017.3 Now Available
We're continuing a strong roadmap and releases for existing customers of Ivanti Service Desk You'll see new enhancements as well as many requested fixes. Get better experiences that help users achieve what they need to faster with 2017.3.
Analysts wear many hats; one day they'll work on first line tasks another delve deep into second line, and the information associated with it. We've improved Workspaces to work the way you work. Now, an analyst can change the user group they are working in. That means, dashboards, shortcut groups, the content of workload lists and other group dependent queries -it all changes with one click. Continuing the theme of what you need in Workspaces, we've also extended the query options to export and download Microsoft Excel.
When you're swamped with work, every little time-saving trick counts. For example, when you fill out an online form, isn't it faster and less tedious that some fields populate automatically based on others? That's equivalent to our copy rules. Introduced to Workspaces in 2016.3, we've extended the functionality. You can even chain copy rules together such that it updates more than one field – look no hands!
Your analyst may sweat over an incident resolution or service request and would love to shout about all the things they did to solve it to their end users. Unfortunately, most end-users just want to know it's done. Visual History in Workspaces was one of our most appreciated additions of last year for ITSM professionals, but now it's available by default to analysts only. Of course, some of you will need your end users to see behind Oz's curtain. Don't worry you still have the option to switch on the view for those end users that need it.
These and other enhancements to Service Desk are waiting for you. Register for the upcoming Momentum webinar, November 9 to hear more.
Ivanti announces Service Manager 2017.3
Ivanti announces Ivanti Service Manager for the Cloud (formerly HEAT Service Management) 2017.3. Service Manager 2017.3 continues offering the capabilities ITSM teams, along with the rest of the enterprise, need to maintain timely delivery of high quality services.
Have your users asked for more engaging experiences when looking for help? We get that so Service Manager 2017.3 introduces more UI enhancements to improve your users' experience. This release provides more flexibility to customize and modify the background images of Service Manager. Also, the Home Page now has more available design options, letting you offer a more responsive UI that takes into account users' device and environment. Your users will enjoy a more consistent and satisfying experience no matter what device they use.
Been looking for easier ad hoc reporting within Service Manager? Then check out RapidReports for a self-service approach to easily create and share your reports. Using a visual designer and data from Saved Searches, you can now easily create your own reports, choose desired outputs and share in a variety of formats, like PDF or HTML. Now generate your reports when you want without needing to understand the underlying data scheme or asking for additional data sets.
Automation is still key to reducing your workload from repetitive tasks, including tasks where users need help with their devices. 2017.3 delivers more integration and automation with Ivanti Endpoint Manager to provide a 'no touch' approach when users ask for new software, for example to fulfill self-service requests with required approvals from the Service Catalog. Leverage automation to remove any manual steps still left, freeing up more of your time while making it easier for your users to get what they need to stay productive.
Additional highlights of Service Manager 2017.3 include:
Better visibility of people's availability to work on key tasks by having a clear calendar view of their schedule.

Improved performance for default searches when creating a Role or Workspace, by defining other searches beside "All Records" as the default.

Higher uptime during release updates in the cloud by now separating the application update from clients' database updates to better mitigate risks during the overall update process.
These are some of the exciting new capabilities coming with Service Manager 2017.3. Learn more about the release by viewing the "What's New" webinar here. Stay on top of news for the release by checking for updates in the Ivanti Community.
UNIFIED ENDPOINT & USER WORKSPACE MANAGEMENT
Ivanti DSM 2017 provides higher endpoint visibility and productivity enhancements
We're excited about the new version of DSM that will be released end of November. It delivers various new capabilities and improvements. Here just a few examples of how DSM can help.
Imagine an end user calls and your support desk analyst can remediate within seconds? Wishful thinking or reality?
With the intuitive Web UI included in the DSM 2017 release, organizations can view device information and compliance status within the web UI dashboard enabling your support desk analyst to identify the issue and take action for remediation. The Web UI features responsive design for all your devices.
Linux powers most of the webpages you view every day. We can help you manage and secure your Linux endpoints and servers.
DSM has long been providing expertise in managing and securing your Windows environments. With the latest release, we plan to enhance our Linux support to deliver the great management experience to Linux on endpoints as well as Linux server farms. With DSM 2017, we are providing enhanced support for more Linux flavors such as Ubuntu and Debian.
Branches, Rings, Channels? I'm confused, how do I get to Windows 10 and how do I keep my Windows 10 environment up to date?
Ivanti DSM provides zero-touch easy Windows 10 migration. Additionally, the Migration Manager add-on allows you to automatically backup and migrate your user profiles including desktop layout, personalized adjustments, document templates, network connections, and file and folder structures to be up and running with Windows 10 in no time with the settings you are used to. Updating Windows 10, also no problem with DSM. We'll help you keeping pace with the updates. With DSM 2017, benefit from more IPv6 support.
DSM 2017 will also provide an Xtraction connector with various out of the box dashboards to ease decision making and patch management updates to the PatchLink and Shavlik content engines.
These are just a few of the highlights coming with DSM 2017. To learn more, register for the What's New Webinar on November 14th:
User Voice: please note that the idea portal User Voice is now available for DSM. If you have ideas for new features and capabilities, please submit these here.
Ivanti Endpoint Manager, Ivanti Endpoint Security for Endpoint Manager 2017.3
Ivanti Endpoint Manager and Ivanti Endpoint Security for Endpoint Manager 2017.3 released first week of October. In the September blog, we discussed Enterprise Mobility Management, IoT , the cloud, and automated remediation. Today we would like to highlight the various out-of-the-box Xtraction dashboards that are now part of the 2017.3 version.
Cut through the mass of data to the critical insights that matter to you. Spot trends, risks, and financial impact to respond at the speed of business.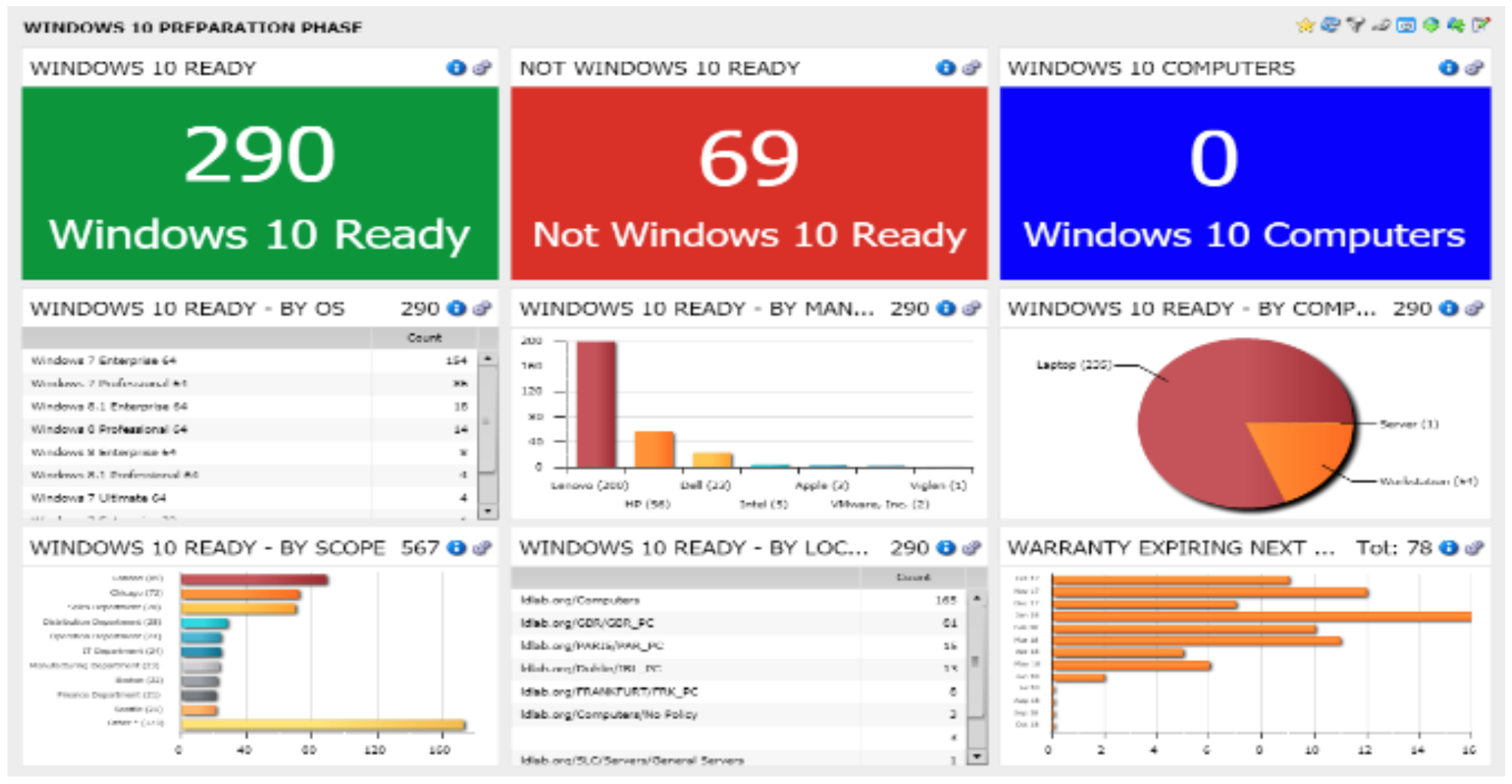 The out-of-the-box dashboards for Endpoint Manager range from giving you a view of your Windows 10 migration status, to patch dashboards, and detailed views of your device environments with asset data, OS information, license position, and more. The Xtraction connector consolidates the data from multiple sources and tools for you and presents it in one place. No coding, no BI gurus, and definitely no spreadsheets. View your data in context and make smarter, faster decisions with ease.
If you have not already, take a look at the new 2017.3 version, check out the on-demand what's new webinar, and download the latest product documentation. Find it all on the What's New Area on the Community.
Ivanti Environment Manager 10.1 FR3 Microsoft Edge Browser Personalization—A World First for Ivanti!
As Ivanti Environment Manager (EM) customers migrate end users to Windows 10, the ability to personalize the Microsoft Edge browser is key to delivering a great Windows 10 user experience, which drives user acceptance and project success.
Environment Manager 10.1 FR3 now personalizes Edge browser items such as Favorites, Reading Lists and Browser settings, so that they follow the user as they roam between desktops or sessions. This is essential in virtual desktop environments, hot desks and in break-fix scenarios where customers are adopting Edge because of its security rating.
Ivanti is the first company to deliver personalization of a new application class—Universal Windows Platform (UWP) apps—on which Microsoft is standardizing all new applications, including Edge.
Administrators import the Microsoft Edge Personalization template using the familiar, existing console workflow, then assign Edge personalization to the appropriate groups—no need to configure settings. EM 10.1 FR3 also supports profile archiving and rollback for Edge personalization.
To see this new feature in action, watch the demonstration here.
Ivanti LANrev 7.4.1 available to be downloaded from the Ivanti Community
Ivanti is excited to announce the availability of the latest update to Ivanti LANrev (formerly HEAT LANrev): LANrev 7.4.1. This update brings a number of exciting improvements including:
Additional options for AirPlay, AirPrint, Cellular, Exchange ActiveSync, Mail, Restrictions and Wi-Fi payloads are available in iOS configuration profiles

AirPlay Security and Restrictions are supported in tvOS configuration profiles

New payloads and options available in configuration profiles for iOS and tvOS

macOS 10.3 (High Sierra) and the new APFS file system are now supported

Added support for tvOS 11 and iOS 11

Various other improvements and bug fixes
Please note: LANrev downloads are now available on the Ivanti Community
As part of the download file, you'll find the release notes that detail the various enhancements.
Ivanti Management Center 10.1 FR3 Management Database Scheduled Event Maintenance
Ivanti Management Center 10.1 FR3 Scheduled Event Maintenance is an extension of a feature released in 10.1 FR2.
The FR2 feature enabled system administrators to control the number of events stored within the Management Server database by removing events. Managing the size of the events database boosts performance, lowers costs, and creates an ideal Xtraction reporting repository for keeping management informed on end user computing's contributions to the business.
In FR3, we've extended the FR2 feature to allow the system administrator to create and manage event maintenance schedules. This functionality is available through PowerShell cmdlets, but will be included in the Management Center console UI in FR4.