Protection in a Flash
Or, rather, from flash drives…. Lock down and regain control of those and other pesky devices so often linked to data loss and vulnerabilities.
Keep up with the ever-changing security landscape with webinars, blog posts, and expert interviews.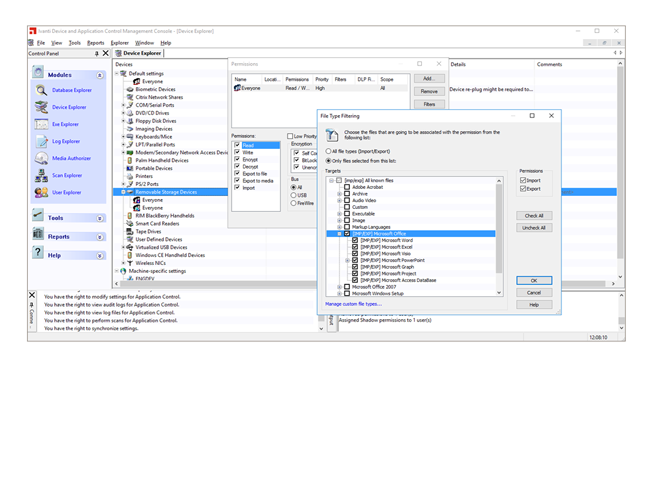 PROACTIVE SECURITY
See why a proactive approach to device control is critical for protecting your organization from data loss and malware before they take you down.
Device and port control
Proactive protection for all your endpoints
To enhance productivity, you need to provide your users easy access to data, often outside the network. But the risk of opening the door to malware and data loss through devices is a real concern.
Ivanti Device Control, powered by Heat, provides effective, scalable protection. Ideal for servers, fixed-function assets (e.g., POS, ATM, and pay-at-the-pump systems), and thin-client or virtualized endpoints, Device Control allows you to quickly identify and lock down endpoints to prevent unauthorized use of removable devices and ports, and to prevent unknown apps from being installed and executed—reducing your attack surface exponentially.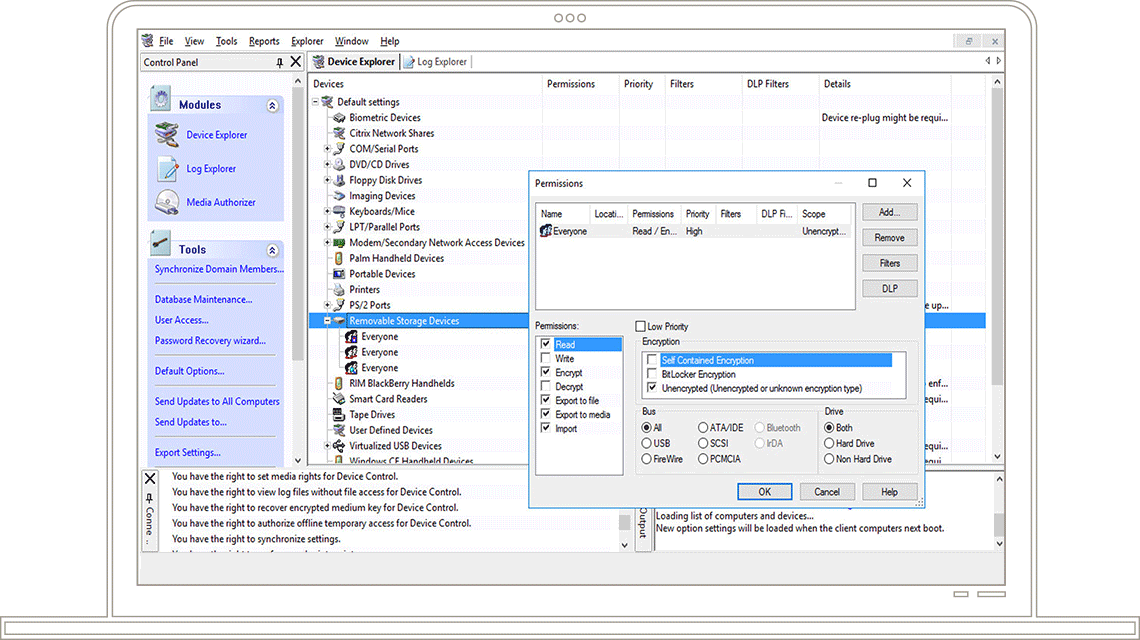 Get proactive with data access and device control without putting user productivity on hold.
Your users need easy access to data. But, that can open the door to data loss and malware. Malicious or accidental, these incidents can be a nightmare. Get ahead of threats by reducing your attack surface without disrupting your workforce and the pace of business today.
PREVENT DATA THEFT
Make sure unauthorized devices can't copy data, no matter how they get plugged in.
PROTECT ENDPOINTS FROM MALWARE
Gain better visibility and control over your devices with access to endpoints, such as rogue Wi-Fi/Bluetooth beacons, USB sticks, keyloggers, and printers.
ENHANCE SECURITY POLICIES
Centrally manage devices and data, using a whitelist / "default deny" approach.
SECURE PRODUCTIVITY TOOLS
Keep data safe without denying your users access to these tools when they're needed.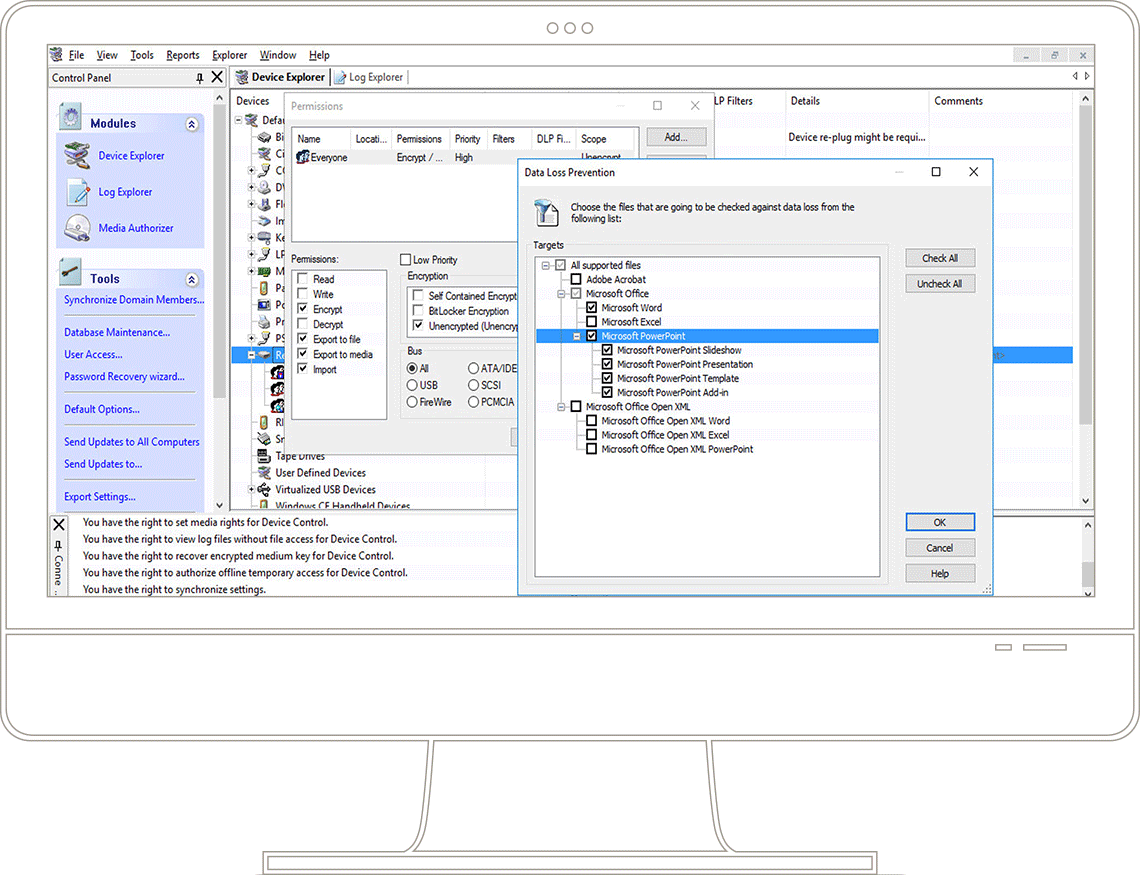 DATA COPY RESTRICTIONS
Implement file copy limitations, file type filtering, and forced encryption policies for data moved onto removable devices.
Device WHITELISTING
Assign permissions for authorized removable devices and media to individual users or user groups.
CONTEXT-BASED PERMISSIONS
Assess and apply policies to all "plug and play" devices by class, group, model, or specific ID.
TEMPORARY ACCESS
Grant your users temporary or scheduled access to removable devices, so they can access what they need, when they need it.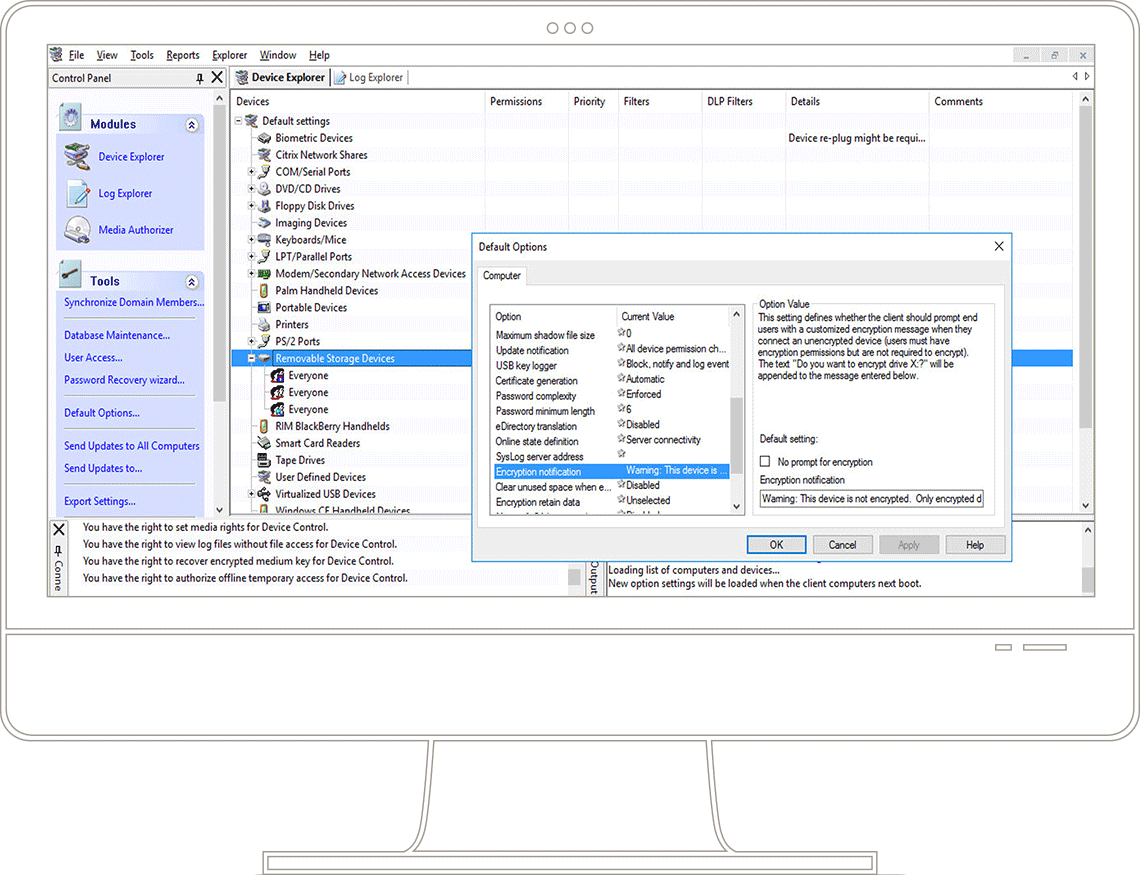 CENTRALIZED MANAGEMENT
Centrally define and manage user, user group, workstation, and workstation group access to authorized devices.
ROLE-BASED ACCESS CONTROL
Assign permissions to users or user groups based on their Windows Active Directory or Novell eDirectory identity.
FLEXIBLE ARCHITECTURE
Our solution grows with your business. Police removeable devices across the organization with a scalable solution and central database.
ACTIONABLE INSIGHTS
Unify your IT data without scripting. More transparency across silos helps you stay proactive and responsive to security threats.
Slay device vulnerabilities—without disruption.
Your users need easy access to data, in and out of the network. Give them the ability to use devices when needed, without leaving the door open to attack.