Next-Generation ITSM: The Past as Prologue
Can the past help you to plot and navigate an effective course to the future of ITSM and IT at your enterprise? Research by respected analysts Enterprise Management Associates® (EMA™) indicates that it can—and should.
That research is featured in a new report by EMA, entitled "Next-Generation IT Service Management: Changing the Future of IT." For that report, co-sponsored by Ivanti, EMA surveyed more than 260 respondents in North America and Europe, all of whom are involved in ITSM activities, directly, as managers, or as executives.
Next-Generation ITSM: The Same, But Different
The EMA report compares the latest survey results from findings of a 2015 report, "What is the Future of IT Service Management?" Some of the comparisons highlighted in the new report include the following.
Areas of Commonality
"Strategic Priorities – The top 'strategic priority' in both 2015 and 2017 was 'improve end-user experience management for internal users.'
"Mobile Support – In 2015, 85% of organizations had support for mobile users/service consumers. In 2017, it was 87%."
Areas of Difference
"Cloud Impacts – The top impact of cloud on ITSM reported in 2015 was 'Cloud is a resource for expanding ITSM capabilities.' In 2017, the top impact was 'Cloud and virtualization are making asset management more challenging.'
"ITSM Challenges – Perhaps most striking of all, the chief obstacle to ITSM success in 2015 was 'organizational and political issues' (30%) while in 2017 it was 'software, deployment, and administrative complexity' (27%). It should be noted that in both surveys, these top choices led by clear margins over the other options."
Areas of Growth
Consolidation of IT and non-IT customer service into a single organization grew meaningfully.
In 2015, 72% of respondents reported that they had established an IT-to-enterprise team…. In 2017, however, 83% reported an already-established IT-to-enterprise team….
"DevOps involvement dramatically accelerated. In 2015 only 65% of ITSM teams were actively involved in agile/DevOps initiatives, which was up from 39% in 2013. However, in 2017 that number climbed to 89%."
Next-Generation ITSM: The Top Obstacle
"When respondents were asked about the greatest obstacle to ITSM success, 'software, deployment, and administrative complexity' dominated all other categories as the number one concern," the EMA report says. Figure 1 below shows the other top obstacles cited by survey respondents.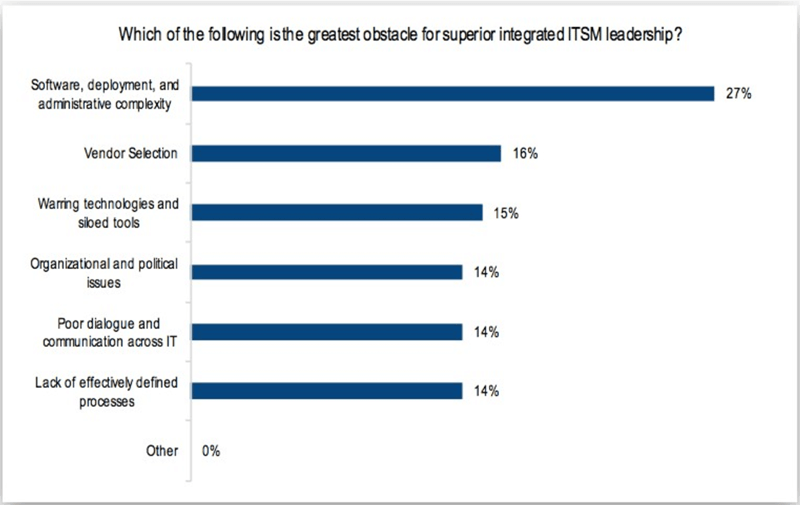 Technologies that can help to address "software, deployment, and administrative complexity" can do a lot to ameliorate other obstacles cited by the EMA survey respondents. And what EMA says about vendors applies with equal force to IT leaders and their teams: "There is a huge opportunity if rich functionality and minimal administrative overhead can be more effectively combined."
Ivanti: We've Been There. We'll Be There.
Ivanti combines the strengths of AppSense, Concorde, Heat Software, Landesk, and Shavlik with decades of experience solving enterprise IT problems. And Ivanti expertise extends beyond next-generation ITSM. We also deliver solutions that automate, streamline, modernize, and improve management of your IT assets, endpoints (including mobile devices), reporting, security, supply chain, and user experience management. Those solutions are enhanced by a worldwide network of offices and partners, an active online community, webinars that feature Ivanti and industry experts, and other resources, including customer success stories and analyst reports.
Get your copy of the complete EMA report by clicking on the link below. Then explore Ivanti solutions and resources online, download and kick the tires on any of our free trials, contact your local Ivanti office or partner, or all of the above. Let us show you how we can help you get to next-generation IT, modernize your IT, delight your users, and protect and grow your business, today and tomorrow.