UEM Is Dead. UEM Is Reborn. UEM Was Just Misunderstood. Long Live UEM!
For the last 15 years, I have used the three letters "UEM" more times than any other industry acronym. In the world of Citrix and VDI, "User Environment Management" has typically referred to the solutions and technology associated with managing a user's persona to deliver a consistent experience across Windows desktops.
Over the years, the vendors and solutions worth noting in this UEM space have included AppSense, RES Software, Immidio, Sepago, Liquidware, Norskale, RTO Profiles, and even Microsoft's own UEV. Some of these solutions simply focused on solving the "windows roaming profile problem," whereas others extended their support to allow Windows migrations, desktop composition, security policies, and more.
As time has progressed, some of those technologies—such as RTO Profiles, Immidio, Sepago, and Norskale—have been acquired. Some have proven successful, others not so much.
Today, however, both VMware and Citrix have good enough solutions for hosted desktop environments using tools and technologies they have acquired. Microsoft now includes UEV in Windows 10 and both AppSense and RES have been acquired by Ivanti, formally LANDESK and HEAT.
Arguably, RES Software and AppSense have led this market for many years with a combined share of over 6K customers, both providing more than just profile management and both demonstrating an ability to scale up and out, supporting environments over 100K, 150K and 200K desktops, including both VDI and more so the traditional desktop.
For a long time, AppSense referred to their UEM solution as "User Virtualization" (the concept of abstracting the user's persona away from the underlying OS and apps), whereas RES promoted the term "User Workspace Management" (simply stating that they could manage the user elements of the workspace).
Since the acquisition of AppSense, we quickly realized that those three letters actually mean different things to different folks, and perhaps it was time for change. RES coming onboard turned our supposition into a conclusion. The new name for such user-focused solutions is UWM – User Workspace Management.


So, does that mean I will stop using those three familiar letters of U-E-M? Far from it. In fact, my guess is that my use of UEM will only double in the coming 12 months due to the acronym's evolution.
Unified Endpoint Management (the new UEM) is fast becoming an industry buzzword as the term now pertains to unifying management of all endpoints, not just Windows desktops. With an increase in the number of user-enabled devices, there is a real need to examine how we can simplify both endpoint and user management; not just by consolidating management consoles, but by also changing how we offer services to our users and customers' IT.
Recent industry news, events, and experts are using the new UEM more often, reflecting organizations' accelerating efforts to consolidate their Windows, MAC and mobile management solutions. Gartner has been talking about this for some time, at times describing the move to UEM in three waves.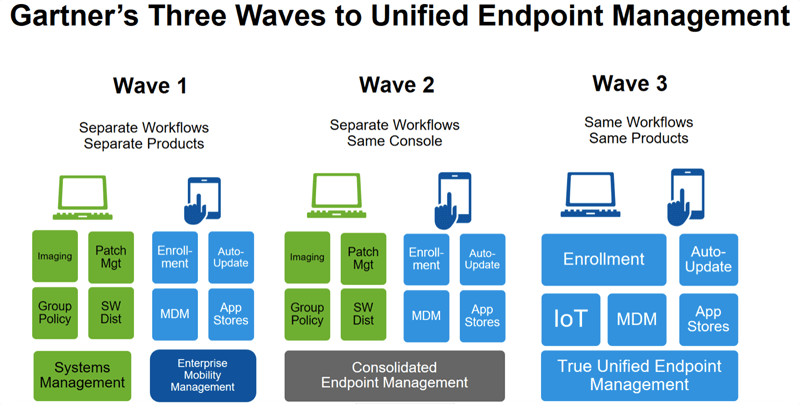 This new strain of UEM is not new, though. Gartner and non-VDI markets have been making UEM happen for years. In fact, following our recent EMEA Product Advisory Council, it's clear that our customers have been utilizing Unified Endpoint Management for many years, and for some, at an incredible scale—supporting hundreds of users, working on a variety of Windows, MAC, mobile and Linux devices, all being managed from one console across the globe.
Ivanti Endpoint Manager, (formerly well-known as LANDESK Management Suite), had been in what Gartner historically called the Client Management Tools arena for many years.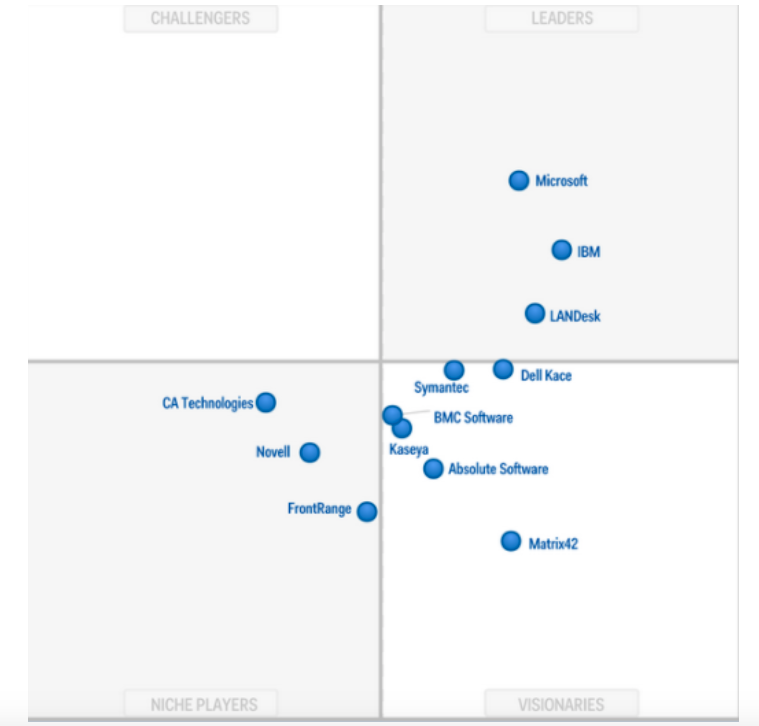 But, thanks to innovations from our Salt Lake City development team and the recent acquisition of HEAT LANRev, Ivanti Endpoint Manager now allows users to manage every device they use, from their Windows 7 machine, to an Apple TV, to a Raspberry Pi.
This management approach doesn't just use the older, traditional methods. Modern management for Windows and Mac also means that MDM policies exposed in macOS and Windows 10 can be utilized from the same solution, too.
As always, though, different customers and verticals have different requirements. While some folks like the traditional way of managing a desktop, others will prefer using MDM. The truth is that a hybrid world will exist for some time, which requires a solution that can support both—not just a UEM solution, but a UEM solution with hybrid management capabilities.
For this reason, User Workspace Management will continue to play an important part in both traditional and modern managed environments, becoming a key element in the larger Unified Endpoint Management story. Combined with device discovery, operating system management and application deployment, User Workspace Management ensures that the user's experience is high-performing and consistent and that users have access to their data regardless of the device or platform.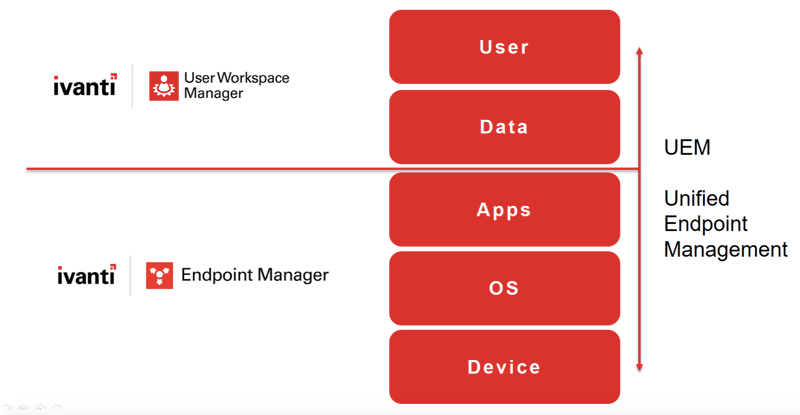 So, the "UEM" acronym isn't going anywhere and will not be replaced by "UWM"! Instead, I will be utilizing both terms for the foreseeable future. Watch this space! ?