Study: Nearly Half of IT Professionals Are Still Tracking IT Assets in Spreadsheets

A report just came out from Ivanti which revealed that 43% of IT professionals are still tracking IT assets in spreadsheets. It also illuminated the fact that nearly one third of IT professionals are spending several hours per week supporting out-of-warranty assets.
Let's take a closer look at some of the survey's findings, which were also mentioned in this blog.
Data
When IT respondents were asked how satisfied they are with the level of asset information (data) that was available...
50% reported they are satisfied with the available data.
19% reported they are dissatisfied with the available data.
When IT respondents were asked if they incorporate and monitor purchase data, contracts and/or warranty data as part of their IT asset management program...
39% of respondents said yes.
42% said partially and 19% said no.
That means over 60% of IT professionals are missing some key information in their IT asset management program.
Warranty
Warranty—which is another word for a notice telling the buyer when the product will no longer function—is also an important data point.
The study asked IT professionals how often have they spent time fixing devices that were later realized to still be under warranty. Half of the respondents said "sometimes" and 29% said "never".
That means more than half of respondents are wasting valuable time and resources working on devices that are still covered under warranty.
IT professionals are also spending a lot of time each week supporting out-of-warranty/out-of-support-policy assets.
28% report spending hours per week.
20% said they don't have insights into which are out-of-date.
20% said "no time at all" with all of their devices being up to date.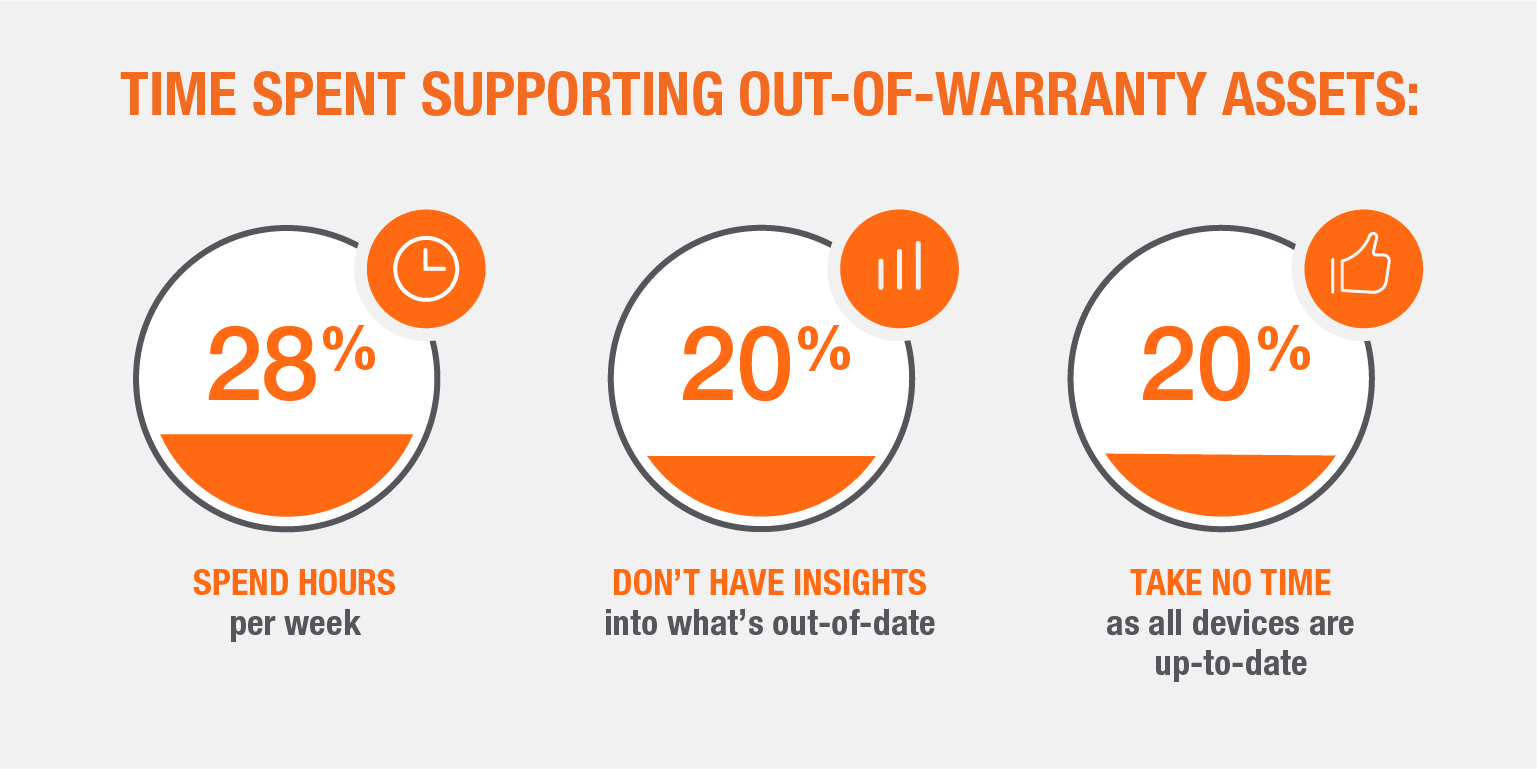 Service Management and Asset Management
Service management and asset management are often still separate practices but are coming together.
We asked IT professionals what service management practices they currently had deployed.
Top 3
Service Desk – 70 %
IT Asset Management – 60%
Incident Management – 56%
Bottom 3
Event Management – 24%
Release Management – 19%
Financial Management – 13%
By combining IT service and IT asset management processes and data, there are several benefits:
Better visibility of your IT estate – 63%
Increased IT staff productivity – 59%
Optimized costs – 54%
Improved service delivery – 53%
​