Looking ahead to the MODEX show
MODEX, and its alternating-year sibling ProMAT, are among the shows I look forward to each year. Anything and everything that makes the supply chain hum is showcased at these events, and the attendees are folks who are seeking out specific solutions. MHI does a great job producing these shows, which are valuable annual events for vendors and attendees alike.
With a bi-annual show, it's an opportunity to see a bit more evident shift in supply chain challenges and solutions from show-to-show. Here are a couple of themes I expect will be very visible this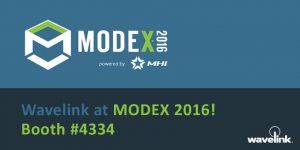 year:
Automation: Warehouses and factory floors are 24/7 operations. From robots to drones to other general IoT tech, there will undoubtedly be some interesting concepts on display.
Analytics: Sure, big-data was a familiar term in 2014, but the use cases and value of information for making intelligent business decisions has escalated tremendously. KPIs are the prime target for this solution and will have some great visibility in Atlanta next week.
Wearables: The aftermath of Google Glass has left us exploring all the possibilities for wearable tech – from the barcode-decoding ring scanners that have served the supply chain for two decades, to glasses for augmented reality. Even the fitness trackers so many of us are wearing come into play.
These themes, and many more, are sure to be on display. If you're planning to attend or exhibit at MODEX, stop by for a look at our productivity-enhancing solutions. In our booth (#4334), we will be demonstrating Velocity, showing how modernizing the mobile experience is critical to mobile productivity. You can also follow me (@rob_destefano) on twitter for live tweets from the show. I look forward to meeting you in Atlanta next week!