#Ivanti2020: From Groundbreaking to Beam Signing to Now
It was just a few months ago that we held the groundbreaking ceremony for our new Ivanti building. Since then, we've been tracking the progress of the building on all Ivanti social media channels.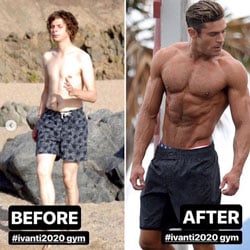 We've taken tours (both physical and virtual), hosted a beam signing event, and tried out office furniture.
Clearly, we're all very excited about our new headquarters. Just look at what we predict will happen to every Utah-based Ivanti employee who uses the new gym (pictured right).
With an estimated finish date of February 2020, the new building will include:
A full gym with machines, free weights, and classes.
A Town Hall area on the fourth floor that will be large enough to accommodate gatherings at all-hands meetings and other community events.
An open staircase connecting all the floors, as well as plenty of informal meeting spaces.
Director, Global Facilities & Real Estate Jeremy Doyle describes the building in three words: bright, comfortable, and game-changer. And based on the following virtual tour from Method Studio, that is an accurate description!

Here is a timeline of some of the major #Ivanti2020 events that have taken place so far.
August 8, 2019: We tested out office furniture. We all envisioned ourselves in each type of cubicle, wondering how much our productivity would improve at a standing desk vs. a sitting one. Or how much more we'd enjoy the office environment if it were colorful vs. neutral.

Here is a time lapse of the employees trying out the furniture.
July 9, 2019: We've been working with Method Studio on the interior layout and design of the space. Their virtual reality tour made our future building feel like a video game!
June 26, 2019: We took a physical tour of the new building, hard hats and all. And yes, the bottom picture is a respectable attempt at the YMCA.
May 8, 2019: We held a special beam signing event to commemorate Ivanti's growth and future. (I may or may not have signed my boss's name with hearts since he was out of town that day.)
February 26, 2019: We got fancy and took a panoramic of the building progress. At this stage, the building had a very "open concept" vibe.
December 13, 2018: Using photos from a surveillance camera on a neighboring building, we made a time lapse from when construction started to about mid-December.
Check back for more updates!