Ivanti Marketing Isn't Fickle about "Cheese and Pickle"
The verdict is in about the condiment Branston Original Pickle from Britain. After a recent taste-testing activity involving Ivanti's marketing team members at corporate headquarters in Utah, it's evident that folks aren't fickle about the pickle. They are firm and steady—either they like it, or they don't. There's no middle ground, flip-flop, or equivocation.
Ivanti Marketing isn't fickle
about Branston Original Pickle.
We're either in or out—
no room for doubt.
A torrent or not even a trickle.
But Let's Back Up a Bit
I'm a huge fan of the British television detective drama series "Endeavour" starring Shaun Evans as Detective Constable Endeavour Morse and Roger Allam as Detective Inspector Fred Thursday. The series is set in the mid-to-late 1960s in Oxford, England. It focuses on the early career of DC Morse with the Oxford City Police after he leaves Oxford University late in his third year without a degree, and is taken under the wing of the veteran detective Fred Thursday.

As the series progresses, we learn that Fred's wife Winifred or "Win" (played by Caroline O'Neil) prepares a different sandwich for him according to each day of the work week:
Monday: Cheese and pickle
Tuesday: Luncheon meat
Wednesday: (You'll find the answer near the end of this post)
Thursday: Ham and tomato
Friday: Corned beef
"Cheese and Pickle" Tickled My Fancy
Applying my American-slanted brain power, I assumed "cheese and pickle" was nothing more than sliced dill pickles and sliced cheese between two slices of bread. Boy was I wrong.
Googling the phrase took me to a condiment called "Branston Original Pickle" that's been around since 1922, produced originally by Crosse & Blackwell in the village of Branston, Staffordshire, and now owned by Mizkan Euro Limited. A tagline on the jar's lid reads "Bring Out the Branston," and an all-caps callout on the back label declares: PERFECT IN A CHEESE SANDWICH.
Here are the product's ingredients from the Branston website:
Vegetables in Variable Proportions (52%) (Carrot, Rutabaga, Onion, Cauliflower), Sugar, Barley Malt Vinegar, Water, Spirit Vinegar, Tomato Purée, Date Paste (Dates, Rice Flour), Salt, Apple Pulp, Modified Maize Starch, Colour (Sulphite Ammonia Caramel), Onion Powder, Concentrated Lemon Juice, Spices, Colouring Food (Roasted Barley Malt Extract), Herb and Spice Extracts.
The Quest for a Taste Test
Gathering our marketing team together for a taste testing seemed like a good idea, but I needed more information, so I reached out to Melanie Karunaratne and Erica Azad in Ivanti's Bracknell, UK office west of London for any insights about Branston pickle.
Melanie responded, "Branston is an acquired taste, popular in 70s and 80s, mainly with cheese or ham sandwiches and salads, pork pies, etc. It's sweet and crunchy. If it's more than $3.00 I wouldn't get it as you are paying too much."
Erica Azad, a transplant from Utah working in the Bracknell office and managing our content marketing team, replied to me: "(Branston) reminds me more of a chutney or relish than a pickle. I mentioned to (coworker) Vijay Mistry that you've been watching 'Endeavour' and were curious about cheese and pickle sandwiches. His reaction was one of immediately shaking his head and saying, 'Bad. Very bad.' When I asked him if he meant the 'Endeavour' series or the Branston pickle, he replied 'Both.' So there you go. However, one of our co-workers here brings a cheese and pickle sandwich to work every day."
September 27th: Fred Thursday's "Monday Cheese & Pickle" Friday
It turns out that a World Market store near my home carries small jars of Branston pickle, so I purchased a few of them a week in advance of the taste testing event scheduled for noon on Friday, September 27th. Recalling what Melanie K. said about Branston pickle being an "acquired taste," I was reticent to try it out at home in advance, but I forged ahead—and quickly became a fan. (Perhaps it had something to do with my great grandmother, Alice Whitney, who, like Branston pickle, was also from Staffordshire.)
And thanks to a lot of help from senior product marketing manager, Peggy Hayes, and executive admin, Joey Hamada, the event was expanded beyond the taste test to include platters of luncheon meats and cheeses, chips, a range of Diet Coke flavors, cookies, and more.
Participant Feedback: The Results are In—and Mixed
I solicited feedback from taste-test participants and received some notable comments. Catherine Shumway, Marketing Communications Manager, emailed a one-word reply: "Yuck." But Peggy Hayes chimed in on the thread with, "Catherine, you didn't taste it." Whereupon Catherine responded, "Oh yes I did. One bite. One swallow. One memory I hope to rid from my mind."
Below are opinions of some additional team members:
Adam Smith, Senior Product Marketing Manager: "My children laugh at me because I like cheese and (dill) pickle sandwiches. I think if I tried slipping this into a cheese sandwich for them, they'd berate me for weeks. Strangely though, I liked it, but not in the quantity it was served. It overwhelms any other taste, including the cheese. After tasting the quarter-sized sandwich, I made another, but with a lighter spread. However, with its A1-like taste, I think it would be better paired with a juicy cheeseburger with grilled onions."
Alex Sutton, Marketing Intern: "I honestly enjoyed Branston and thought it was tasty. I'd be curious to try it on other things and see what those who use it frequently typically use it for. But overall, I'd recommend the product to a friend to try!"
Ashtyn Creel, Social Media and Blog Manager: "I'm glad I missed it."
Dan Lalli, Marketing Communications Specialist: "The lingering taste of stale shrimp took me back to aisle 8 at Smith's Marketplace, with reminders of me frantically trying to pick out the 'best quality' Kroger shrimp platter."
Dan Longhurst, Senior Graphic Designer: "I thought it was alright for a cold vegetarian sloppy joe. But I would pick a Manwich® with a slice of cheddar every day of the week. It's interesting to see and taste what other, less advantaged cultures choose to put in their mouths. That was a fun volunteer project."
Drew Ostler, Finance Manager: "I was surprised that I really liked it. I enjoy trying new foods, so I was up for the experience. That being said, I didn't think I would enjoy it, but I did. It had a stronger flavor than I planned—and interestingly tasted similar to A.1. Steak Sauce. Thanks for sharing."
Lynn Phillips, Web Producer: "It smelled stronger and more intimidating than the actual taste. To be honest: I liked it! I could see myself putting it on a burger or a meat that is a bit more fatty and savory."
Melissa Frazier, Video Producer: "I loved it. It tasted like a mix of BBQ sauce and pickles."
Mike Mosley, Senior Product Marketing Manager: The pickle cheese concoction's unusual chunkiness left me wanting—a Diet Coke was quickly acquired.
Peggy Hayes, Senior Product Marketing Manager: "The lumpy, jellied flavors exploded in my mouth, but not in a good way. I spit it all out quickly and spent the rest of the day eating chocolate—ENDEAVOURing to cleanse my palate of rancidness."
​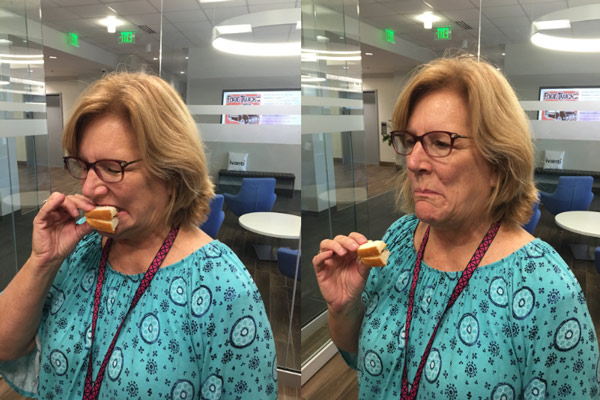 Rachel Tam, Marketing Automation Intern: "I was skeptical at first, but it tasted very good. It functions like relish on your hot dog."
Scott Jarrard, Director of Creative: "The Branston pickle sandwich could possibly be the secret sauce in Carl's Jr. Bacon Western Cheeseburgers! And that's saying something! The stuff is incredible! You're stuck on a desert island and you can only live off of one condiment, what do you choose? Branston pickle! It's sweet, beautiful, and just amazing. If I was a writer I could come up with some good comparisons, but the stuff is like the cotton in cotton candy, the sun on a sunny day. It's all that's good in this world and will brighten anyone's day."
Sharon Gee, Corporate Strategy Project Manager: "Upon smelling it, I was a hard pass! But thanks so much for including me."
What Sandwich Did Winifred Prepare on Wednesdays?
The answer is fish paste. Yes, fish paste—like, fish purée in a squeeze tube. Let me put it this way. I can't wait for Marketing's reactions at the next taste testing: Fred Thursday's "Wednesday Fish Paste" Friday!
Until then, as Fred Thursday would say, "Mind how you go."