Four Cities Down, Seven to Go! Ivanti Road Tour Status
October 18, 2019 – Boston and Washington, D.C.
It's been an exciting fall! In between football games, pumpkin patches, and Halloween prep, our Ivanti Road Tour has been going strong on the East Coast.
We've stopped in four cities thus far: Chicago, Philadephia, Boston, and most recently, Washington, D.C. These links will take you to the photo albums from each city. Feel free to download any photos you like and put them on social media using the hashtag #IvantiRoadTour.
Aside from being the best-looking automobile on the East Coast, our Ivanti Road Tour bus has been a vehicle for bringing us closer to our customers, partners, and friends. Check back for more updates!
October 3, 2019 – Philadelphia
We're already two cities into our tour! Take a look at the photo albums we've made for Chicago and Philadelphia. Or, if you're too busy to navigate away from this blog, here are a few of our favorite snapshots from Philadelphia below.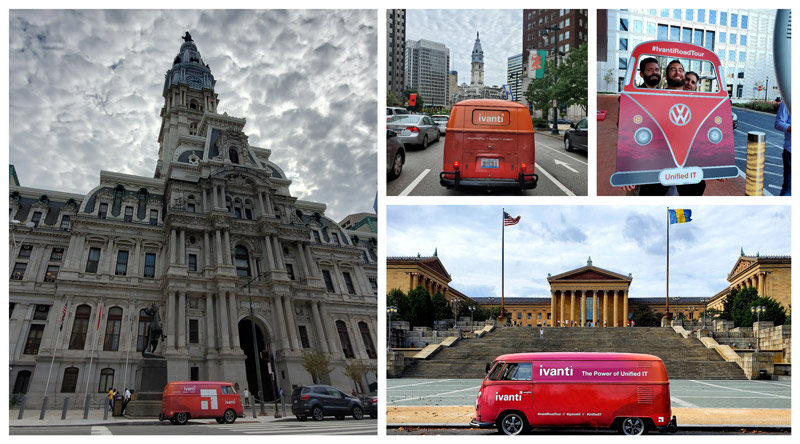 September 25, 2019 – Chicago
For months rumors circulated that a bright red, '63 Volkswagen bus would be going on tour this fall, fueled only by the Power of Unified IT. The iconic bus would visit customers, partners, and prospects all over the country, spreading the good word of Unified IT. There would be meet-ups, Ivanti swag (including dog swag), an occasional executive sighting, and much more.
As it turns out, it was all true. And the bus is even better in person.
data-lang="en">

Day one of the #IvantiRoadTour is a wrap! We'll be in Chicago until September 26th and then onto other cities. See the full tour schedule here: https://t.co/sQZ2OxJkSN pic.twitter.com/H7hXUrHLl8

— Ivanti (@GoIvanti) September 24, 2019
Yesterday kicked off the beginning of Ivanti's first ever road tour, aptly named the #IvantiRoadTour on social media. We visited a total of five customers on our first day in Chicago, and we're only getting started. You can follow the tour here to see if we'll be coming to a city near you.
Here is the tour schedule:
Chicago: Sept. 24 – 26
Philadelphia: Oct. 1 – 3
Boston: Oct. 7 – 9
Washington, D.C: Oct. 11, 14 – 16
Charlotte: Oct. 21 – 22
Jacksonville: Oct. 24 – 25, 28
Houston: Oct. 31 – Nov. 1, 4
Dallas: Nov. 6 – 7, 11
Los Angeles: Nov. 15 – 16, Nov. 18 – 19
Salt Lake City: Nov. 22 – 23
Chicago: Dec. 2
Enjoy the launch video and some of the recent pictures below. We hope to see you soon!