Spreading Joy with a Bus Full of Toys: Ivanti Road Tour Status
The #IvantiRoadTour made its final stop in Utah last week, and the #IvantiFamily at headquarters stuffed the bus full of supplies to donate to the Gerald E. King Women's Resource Center! #IvantiCares❤️ pic.twitter.com/dyEPdZjlqj
— Ivanti (@GoIvanti) December 5, 2019
December 9, 2019 – Salt Lake City
It's been said that all good things come to an end, and that includes the #IvantiRoadTour. But don't cry because it's over, smile because it happened. And while we're throwing around clichés, we might as well turn up the volume to "I Will Remember You" by Sarah McLachlan​, grab a box of tissues, and get all up in our feels.
The bus made its final stop at Ivanti headquarters in South Jordan, Utah, and then explored the greater Salt Lake City area. See the pictures from our Salt Lake City visit and all of our previous city visits.
We'll always remember the memories we made with our customers and partners, as well as the charitable donations we were fortunate enough to make to non-profits and hospitals across the country. We took some beautiful photography as well, posing The Power of Unified IT-inspired bus in front of sunsets, beaches, and landmarks.
Thank you to everyone who helped make our Ivanti Road Tour 2019 one for the books!
On the #IvantiRoadTour in LA last week, we decided to spread a little joy (with a TON of toys) to @ChildrensLA! Huge thank you to Ivanti customer Brian Sands, Associate Director - IS, Departmental Application at CHLA, for helping us #GiveBack! 🎁🎅 pic.twitter.com/wzzbZbmXbn

— Ivanti (@GoIvanti) November 21, 2019
November 21, 2019 – Dallas and LA
The #IvantiRoadTour bus has been busy! We were in Dallas on November 6–7, 11, and then Los Angeles on November 15–16, 18–19. Check out pictures from our stops in both Dallas and Los Angeles.
And despite wonderful meet-ups with partners and customers, the highlight of these visits recently has been giving back to our local communities through #IvantiCares initiatives. Transforming the bus into a Santa's sleigh of sorts has really been enjoyable.
In Dallas, we donated a bus full of toys to the Texas Scottish Rite Hospital Dallas, and in LA, we donated a bus full of toys to the Children's Hospital LA.
Our final desintation will be at Ivanti headquarters in South Jordan, Utah. Check back to see us go out with a bang!
November 7, 2019 – Jacksonville and Houston
We'll be the first to admit that our #IvantiRoadTour bus is a show-stopper. When we designed it, we didn't plan for it to go unnoticed or blend into the background. Its bright colors and undeniable swagger are enough to make traffic stop, and the requests for pictures with it have been numerous.
In #IvantiRoadTour news, we decided to get a kick start on the holidays by donating a VW bus full of toys to the @TexasChildrens Hospital! #IvantiCares❤️ pic.twitter.com/3R5w20qZWQ

— Ivanti (@GoIvanti) November 1, 2019
If a vehicle could be a celebrity, we're Lady Gaga in a meat dress. If we're a milkshake, we're bringing all the boys to the yard.
You get the idea.
The Ivanti bus brings joy (and swag) wherever it goes, and it's with this in mind that we decided to get an early start on the holidays by channeling the spirit of #IvantiCares.
After a trip to Target and several overflowing carts, we donated a bus-full of toys to Texas Children's Hospital.
View the pictures from our visits to both Jacksonville and Houston.
October 23, 2019 – Charlotte
We've just wrapped up our visit to Charlotte, and we can't wait to be in Jacksonville on October 24!
data-lang="en">

It's not every day we're in the same neighborhood as our #IvantiInsiders, but thanks to the #IvantiRoadTour, we're getting much more face-to-face time with our customers! 🚘 pic.twitter.com/tCKCEEw1wP

— Ivanti (@GoIvanti) October 23, 2019
October 18, 2019 – Boston and Washington, D.C.
It's been an exciting fall! In between football games, pumpkin patches, and Halloween prep, our Ivanti Road Tour has been going strong on the East Coast.
We've stopped in four cities thus far: Chicago, Philadephia, Boston, and most recently, Washington, D.C. These links will take you to the photo albums from each city. Feel free to download any photos you like and put them on social media using the hashtag #IvantiRoadTour.
Aside from being the best-looking automobile on the East Coast, our Ivanti Road Tour bus has been a vehicle for bringing us closer to our customers, partners, and friends. Check back for more updates!
October 3, 2019 – Philadelphia
We're already two cities into our tour! Take a look at the photo albums we've made for Chicago and Philadelphia. Or, if you're too busy to navigate away from this blog, here are a few of our favorite snapshots from Philadelphia below.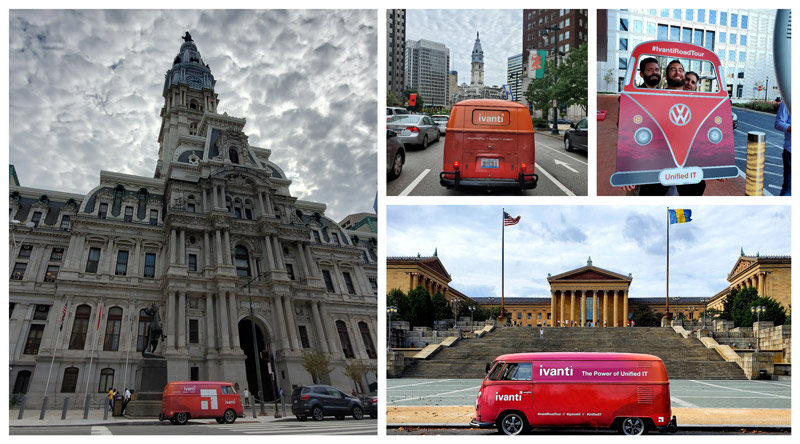 September 25, 2019 – Chicago
For several months, there were rumors circulating that a bright red, '63 Volkswagen bus would be going on tour this fall, fueled only by the Power of Unified IT. The iconic bus would visit customers, partners, and prospects all over the country, spreading the good word of Unified IT. There would be meet-ups, Ivanti swag (including dog swag), the occasional executive sighting, and much more.
As it turns out, it was all true. And the bus is even better in person.
Yesterday kicked off the beginning of Ivanti's first ever road tour, aptly named the #IvantiRoadTour on social media. We visited a total of five customers on our first day in Chicago, and we're only getting started. You can follow the tour here to see if we'll be coming to a city near you.
Here is the tour schedule:
data-lang="en">

Day one of the #IvantiRoadTour is a wrap! We'll be in Chicago until September 26th and then onto other cities. See the full tour schedule here: https://t.co/sQZ2OxJkSN pic.twitter.com/H7hXUrHLl8

— Ivanti (@GoIvanti) September 24, 2019
Chicago: Sept. 24 – 26
Philadelphia: Oct. 1 – 3
Boston: Oct. 7 – 9
Washington, D.C: Oct. 11, 14 – 16
Charlotte: Oct. 21 – 22
Jacksonville: Oct. 24 – 25, 28
Houston: Oct. 31 – Nov. 1, 4
Dallas: Nov. 6 – 7, 11
Los Angeles: Nov. 15 – 16, Nov. 18 – 19
Salt Lake City: Nov. 22 – 23
Enjoy the launch video and some of the recent pictures below. We hope to see you soon!