Ivanti Cloud: Leverage Data Across IT Silos to Improve Services
We're right around the midpoint between "Interchange Past" held in Madrid and Nashville last March and April, and Interchange 2020 scheduled for Prague and Las Vegas next year. So, what do Interchange and this blog about Ivanti Cloud have in common?
Well, Ivanti Cloud was unveiled and showcased in Madrid and Nashville keynote sessions—and it promises to be highlighted again at Interchange 2020: March 11-13 in Prague and April 27-30 in Las Vegas.
Interchange is our annual user conference that brings together customers, partners, and prospects from around the globe to learn from and network with Ivanti product managers, developers, and user experience teams. Registering before December 31, 2019 qualifies you for a special discount and promotional offers.
Unified Intelligence You Can Act On—In the Cloud
Ivanti Cloud helps you bring together data from multiple sources, then normalize, reconcile, and leverage it across these IT disciplines: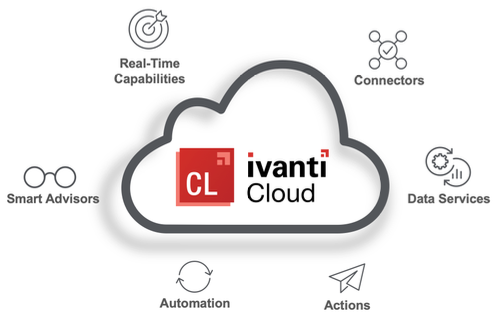 While every enterprise is unique, the IT organizations within them have lots of needs and pain points in common. Consider these challenges for example:
Data integration: How well is your data tied together between IT departments?
Security intelligence: What types of real-time tools are you using to identify security threats? What security intelligence are you leveraging?
Incident investigation: What do you use to investigate and resolve incidents?
Device reconciliation: How do you reconcile data about what you've purchased, who has it, and how it's being used?
Windows 10: How do you know which machines to reimage and which to replace?
Maturing IT: What is your organization doing to improve IT overall—automation, user experience, digital transformation, data integration, business intelligence, cloud-based solutions, etc.?
Data—and Data Silos—Everywhere
What was once a scarcity of information is now a super-abundance. A survey of 400 IT professionals conducted by Ivanti in April 2019 reveals the need for a more unified approach to working with and implementing IT data. According to the survey:
31% of respondents deal with 25 or more sources of data
15% say they have way too much data
50% say it can take days, weeks, or longer to get actionable recommendations from data
68% of respondents aren't confident they have the resources to work with the data and make it actionable
What if you could:
Bring your data together—from all across IT—and make it understandable, actionable, and easy for other systems to consume?
Receive an interpretation of your data, time-saving recommendations for what to do next based on that data, and strategic insights that propel you forward?
Make multi-vendor environments work better together?
Ivanti Cloud Use Case Scenario: Service, Asset and Endpoint Management Working Together
During Interchange keynotes in Madrid and Nashville, Duane Newman and Tom Davis of Ivanti's executive team presented an overview of Ivanti Cloud that included an IT service incident scenario of a user's slow-running computer that needed attention.
The scenario that Duane and Tom presented in their keynote is summarized below. However, Ivanti's Adam Smith, Senior Product Marketing Manager for Ivanti Cloud, has also reproduced the Interchange demo in this eight-minute video.
1. User Contacts IT Using Skype for Business
As is often the case when an end user encounters a computer issue, their first inclination isn't to submit an IT ticket, but rather to reach out to a friend in IT, or a friend of a friend, through an instant messaging application such as Skype for Business.
In this example, employee Alan Taylor's computer is running slow. With the Ivanti Skype for Business Adapter, a ticket can be created directly into the Ivanti Service Manager interface.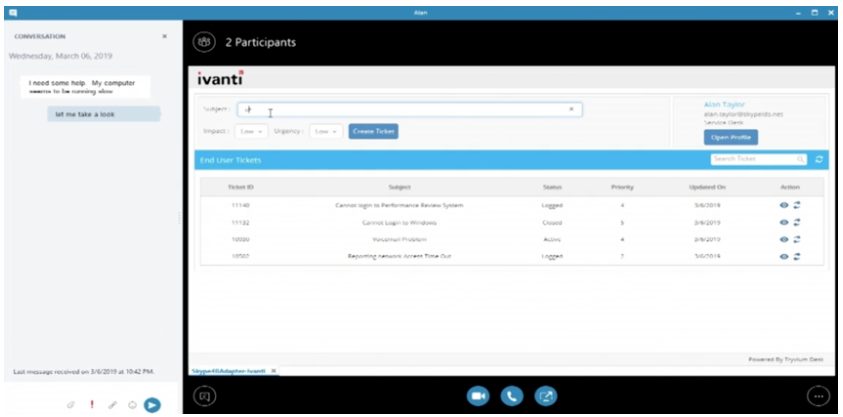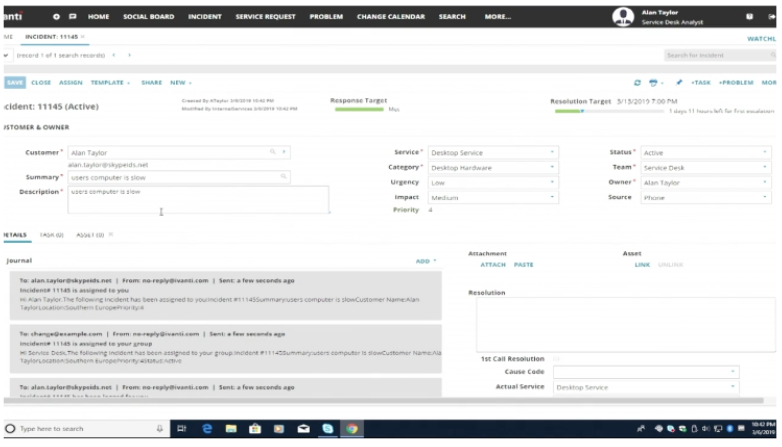 2. The Incident Populates with Asset Data
Alan Taylor's computer is already linked to the incident—a benefit of aggregated data. Model number, lease and owner information, department information, etc., is linked to the incident. This aggregation of data across multiple disciplines is a key advantage in focusing on the problem—where the data needs to be viewed.

3. Issue Resolved Using Ivanti Real-Time
Clicking "View Real-Time Details" launches Ivanti Cloud within the context of Alan's WIN10-202 computer. The first of these real-time capabilities employs sensors or cloud agents on the device to provide instant feedback about the device and what's happening with it. From there, connectors pull data into Ivanti Cloud to be used by different services within it.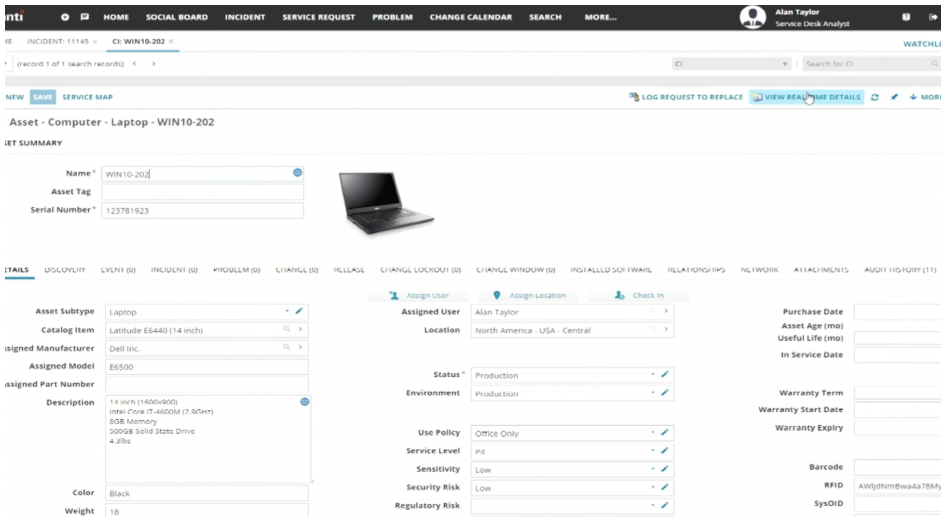 The details of the computer come back in the Ivanti Cloud right away. This isn't static inventory data loaded previously for demo purposes. Ivanti Cloud has connected with the asset and displayed the current data.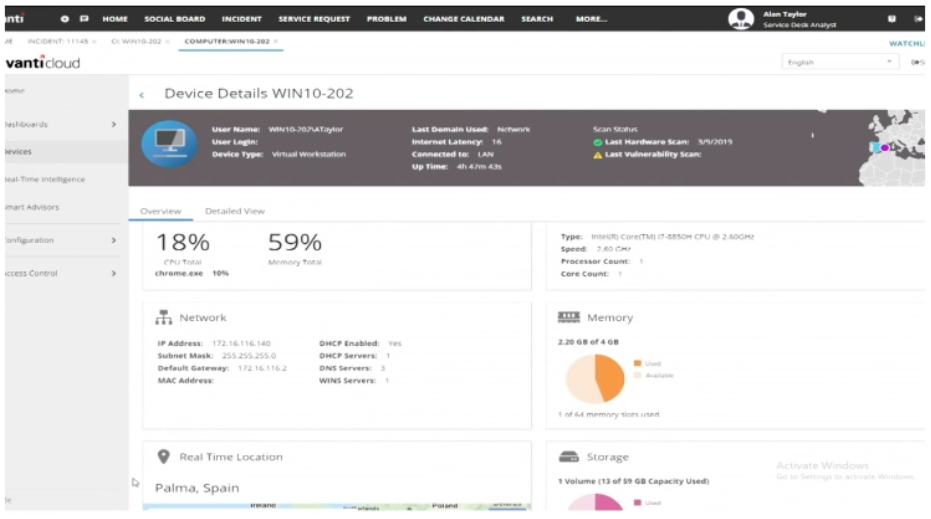 Using Ivanti Real-Time Intelligence, "CPU Usage" is clicked.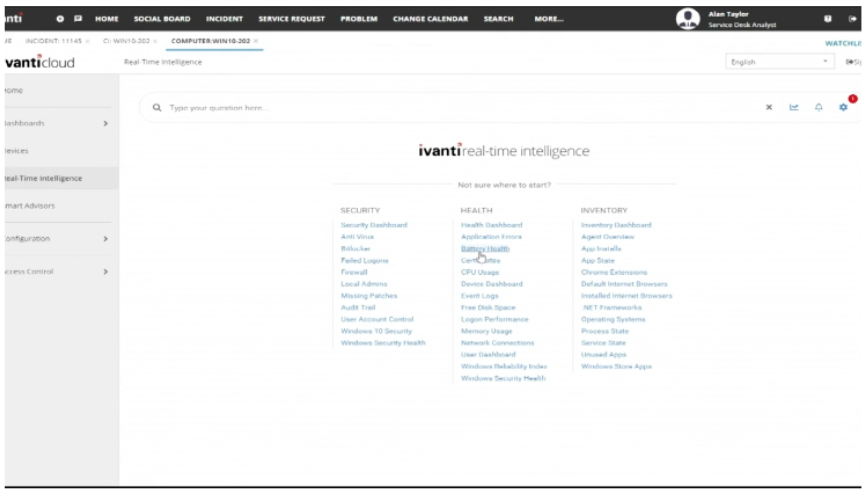 Within CPU Usage, we can drill into any of the machines indicating high CPU usage, including Alan's machine, WIN10-202. It indicates a W script process at 77%, so something has run away, so we'll kill that process now.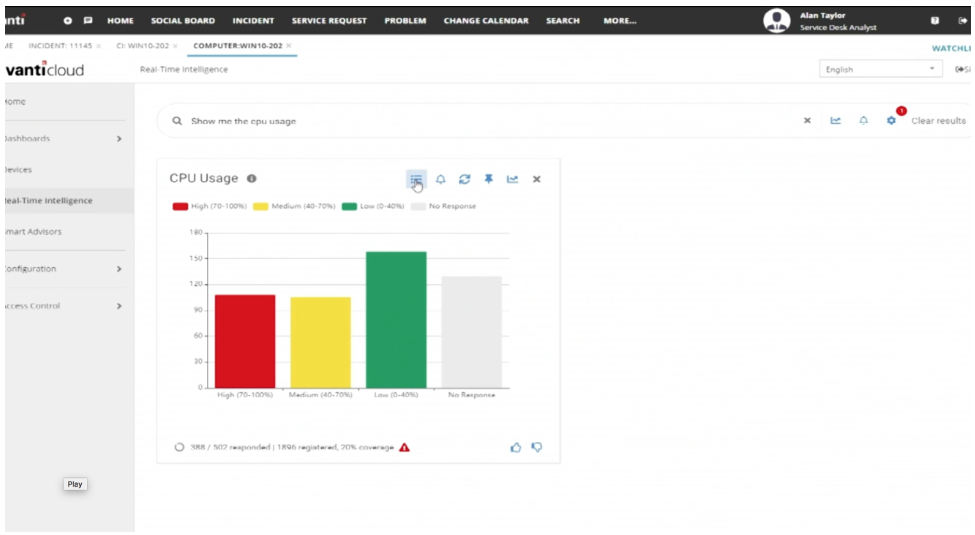 We've now gone back into the WIN10-202 system and can see that the CPU is down to 25%. We know something is going on here because we've had a number of issues with this machine.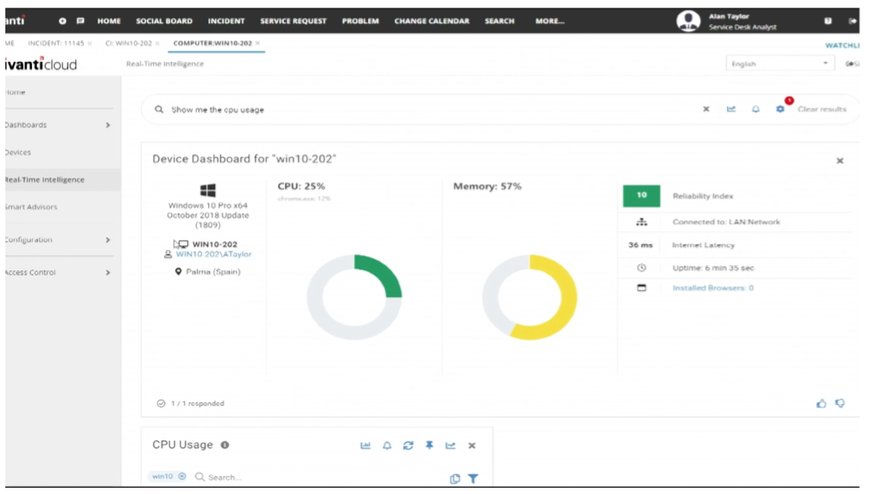 A key point here is that IT service management solutions aren't typically able to remediate at the endpoint—but that's the key. This particular IT incident is broader than what a service management solution can handle. Ivanti Real-Time Intelligence incorporates the capabilities of service management, asset management, and endpoint management—all inherent to the problem you're trying to solve.
4. Smart Advisors Show Asset Is Up for Replacement
Even though Alan's machine is running Windows 10, the question is whether the machine should be reimaged or replaced. As shown below, these filters allow us to "fine-tune" this Smart Advisor, based on the machine's OS version, how much free disk space it has, and so on.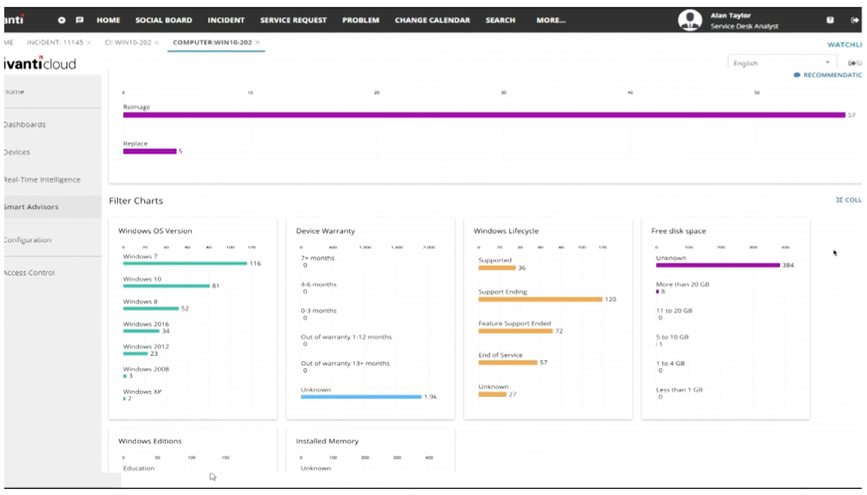 Then scrolling down, we can view the recommendations. In the case of Alan's WIN 10-202 machine we see a recommendation to replace, based on the number of incidents we've encountered, its configuration, its age, that it's out of warranty, etc. Smart Advisors use data from different systems and correlate it to provide insights into what you can do next to alleviate potential issues, save time, and improve the way you do things inside IT.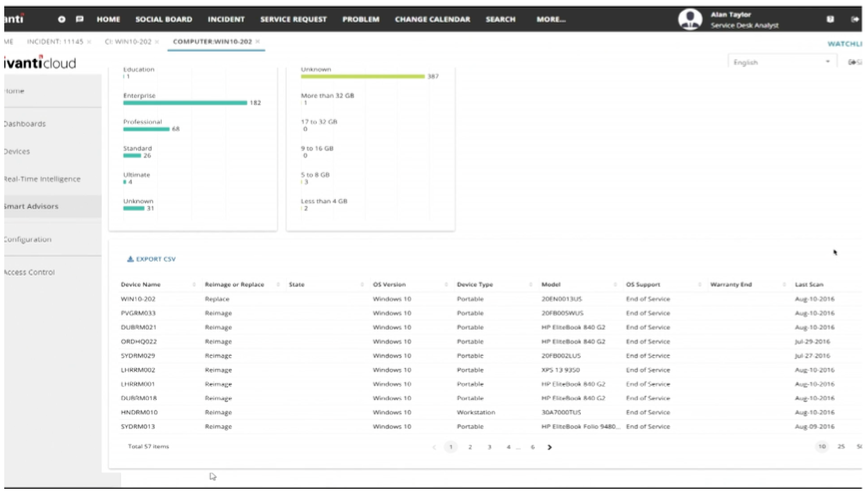 From this point, we can bounce back to the end user, Alan, and inform him we're going to replace his machine. And afterwards, within the context of the IT ticket we can update the entire back-and-forth conversation.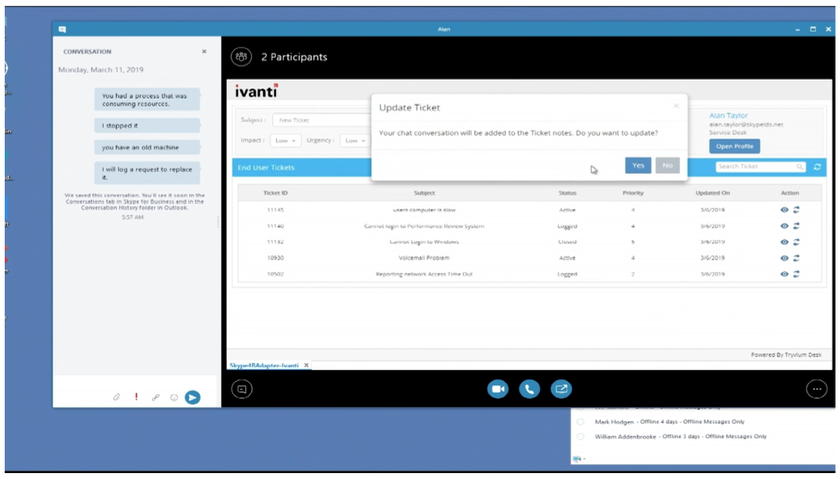 Then finally, from the Asset Management interface linked with Service Management, we'll simply say we will log a request to replace the machine with a new one.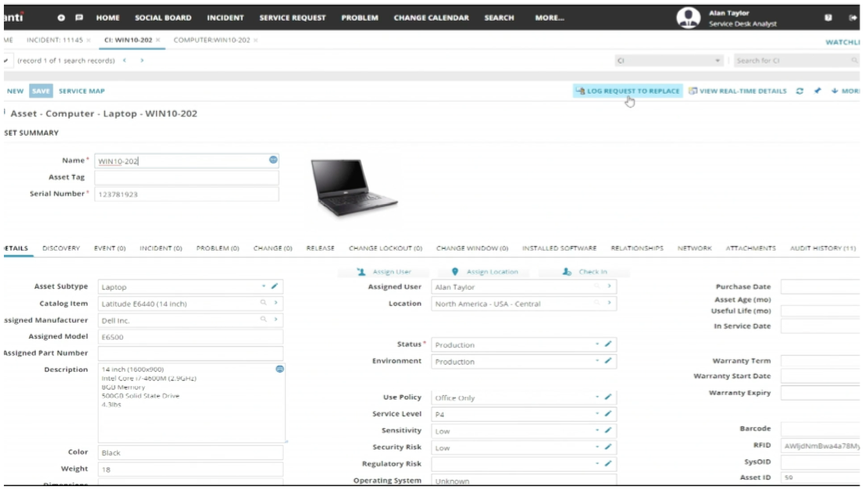 The entire process is closed loop and is an example of Unified IT. It's not just a set of tools with manual steps in between, but an intelligent process—without having to jump from console to console—that led us from one step to the next to resolve the end user's issue. It's an example of just-in-time service encompassing Service, Asset, and Endpoint management. IT is never disengaged from the end user, providing a significant service to the organization.
Take a few minutes to learn more about Ivanti Cloud and how it can help you improve IT services and business performance. Visit our Ivanti Cloud page where you can also request a demo.