Ivanti Cache Roaming For Virtual Sessions – 2018.3 Service Pack 1 Update
The Ivanti VHD Cache Roaming Story …
With the February 2018 release of 10.1 FR4 release of Ivanti Environment Manager (covered here) came the first in-product Cache Roaming capabilities, providing customers with the ability to roam pre-defined and custom user application caches between sessions in Non-Persistent environments.
Embedding this feature within our industry-leading policy engine provides Administrators with the power to deploy and manage the user's application caches based upon a granular set of User and Computer conditional parameters. This provides Environment Manager with a competitive edge over alternative solutions that are limited to a narrow set of deployment rules and targeting options all configured via Registry edits.
How does this all work and will it do so in my Environment?
Cache Roaming uses a VHD (virtual hard disk file) container, attached to the user's virtual desktop or session, and the necessary folders from the user profiles are redirected into it. This feature is suitable for VDI infrastructures, such as Citrix XenDesktop and VMware Horizon, and Remote Desktop Session Host (RDSH) scenarios such as XenApp. Applications do not require any reconfiguration and no changes are made to user profiles.
So, What's New?
As the year has progressed the Cache Roaming feature has continued to evolve with some major headline features being introduced in the Ivanti Environment Manager 2018.3 release:
ONEDRIVE FOR BUSINESS CACHE & CREDENTIAL ROAMING
SUPPORT FOR CONCURRENT USER SESSIONS
* Further information on both enhancements can be found within the Environment Manager 2018.3 Release Notes and also covered in a blog post here
Ivanti Environment Manager 2018.3 SP1 (Available January 23rd, 2019) builds upon this with two major additions to the Cache Roaming feature:
OUTLOOK SEARCH ROAMING
Per-User profile Outlook Search index roamed between sessions in both VDI (full virtual desktops) and RDSH (virtual sessions on Windows Server). The Search cache can be roamed collectively with the OST file to deliver the complete Outlook 365 experience in a Non-Persistent environment, removing the lengthy and often expensive task of downloading the Profile and Search index at every logon.
WINDOWS & OUTLOOK SEARCH ROAMING (Single User Workstations only)
The system-wide Windows Search database can also be roamed between sessions on single-user desktops (VDI, and maybe kiosk/hotdesk PCs). In Non-Persistent environments where users frequently roam between devices it is common practice to disable Windows Search to avoid the resource overhead of a search re-index at every logon.
This feature solves that problem by roaming the index within the user's VHD, attaching to the desktop and delivering the search index from a locally stored directory.
* Please note with the combined "Windows & Outlook Search" Cache Roaming template, the system-wide search index is roamed capturing both Windows and Outlook search cache. This is ONLY supported on single user desktops with no support for concurrent sessions on Windows Server.
Simplified Configuration
Configuring the VHD and Cache Roaming selections is now even easier thanks to these great improvements in Ivanti Environment manager 2018.3 SP1:
Automatic creation of the parent folder hosting the .VHD file if it does not already exist: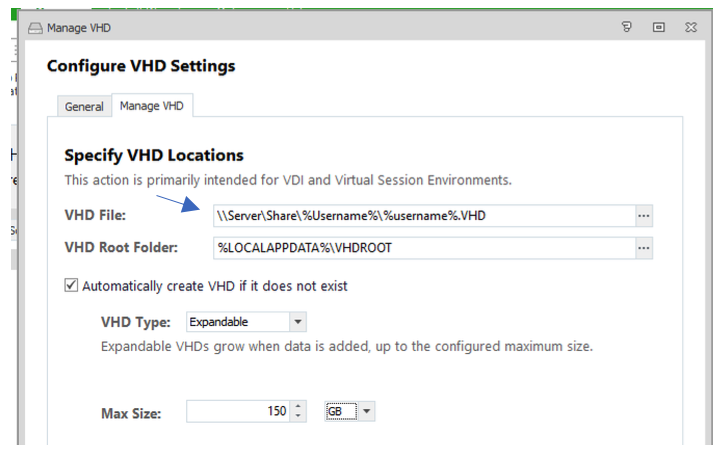 The ability to Delete the 'Original Location' of which the cache resides if it already exists:

Configure > Deploy > Roam in less than 5 minutes
Here is a quick demo showing you just how easy it is to get up and running with these updates:
The Complete Office 365 Solution …
With the 2018.3 SP1 enhancements we now believe we have the most complete Office 365 VHD Cache Roaming solution. This tables shows our feature coverage, which can be extended with Custom templates:

Why the Ivanti Approach?
We have worked hard to make our Cache Roaming an enterprise-scale solution with the flexibility and granular control our customers have come to expect from Ivanti Environment Manager over the years. These are some of the key differentiators that our customers have highlighted to us in early testing:
Integration with Office 365 Profile Management
Other solutions can also roam the Outlook.OST data file in a per-user VHD. Where Ivanti stands alone is the capability to natively couple the roaming of the cached Outlook data file with the Personalization of the user's default Outlook Profile.
A user can browse between Non-Persistent devices and at first launch of Outlook will see their profile configured and data file mapped locally and read in at block level from the VHD.
Granular Targeting
The Ivanti VHD Cache Roaming solution is configured from within the Environment Manager Policy console. Natively these policy actions can be configured within the parameters of a granular User and Device condition set. This provides the Administrator with the capability to target pools of users, devices or network ranges when deploying the VHD action.
For example, a user logs on to a physical device with a local profile. In this scenario they do not see a VHD mounted, as configured by the Environment Manager Policy conditions. The same user subsequently logs on to a Non-Persistent VDI on the same Network and gets a VHD Mounted and Office 365 cache redirected to it.
Flexible Configuration
VHD Cache Roaming Templates can be deployed in isolation or parallel. Administrators are not confined to the constraints of Office or Profile Containers and have the flexibility to configure cache roaming for each application on a user or device basis.
For example, two departments work in the same office on the same LAN. Dept A utilizes both Outlook and OneDrive, Dept B has Outlook profiles but no OneDrive. In this instance the Administrator can configure the mount of a VHD for all users in Dept A with their Outlook and OneDrive Cache redirected to it. The Administrator can then use a Department OU conditional check to identify members of Department B at logon and subsequently Redirect Outlook cache only to their VHD. This is a simple example, but Environment Manager has an infinitely flexible conditions engine that can customize the configuration VMD mounts and any other desktop configuration item based on any combination of criteria.
We offer MUCH more than just a Cache Roaming solution …
VHD Cache Roaming is a key feature but makes up only a very small portion of the functionality on offer in Environment Manager and the User Workspace Manager product suite. To learn more about how we can help further with your Office 365 challenges, meet your Windows 10 migration requirements and Unify your IT strategy please visit some of the content below:
https://www.ivanti.com/solutions/needs/migrate-my-users-to-win-10