Next-Generation ITSM: Impetus for Growth and Change
ITSM is evolving. That evolution is driving growth, of ITSM teams, their responsibilities, and their influence across enterprises.
Respected analysts Enterprise Management Associates® (EMA™) recently published a report co-sponsored by Ivanti: "Next-Generation IT Service Management: Changing the Future of IT." For that report, EMA surveyed more than 260 respondents in North America and Europe, all of whom are involved in ITSM activities directly, as managers or executives.
ITSM Evolves
"ITSM is evolving in terms of both the technologies used and the role the ITSM team plays in the IT organization and the business as a whole," the EMA report says. On average, each EMA survey respondent is involved in four areas beyond ITSM that are important to the growth of the business. These areas and the percentage of respondents involved with them are summarized in Figure 1 below.
Some 41 percent of the EMA survey respondents cited "Integrated cross-silo support for IT asset management," while 39 percent cited "Integrated cross-silo support for IT governance analytics for OpEx [operating expenses] efficiencies." Another 38 percent cited "Integrated cross-silo support for the Internet of Things [IoT]," while 37 percent cited "Integrated cross-silo support for change management." These and other areas beyond traditional ITSM cited by the EMA survey respondents speak directly to core business operations and processes.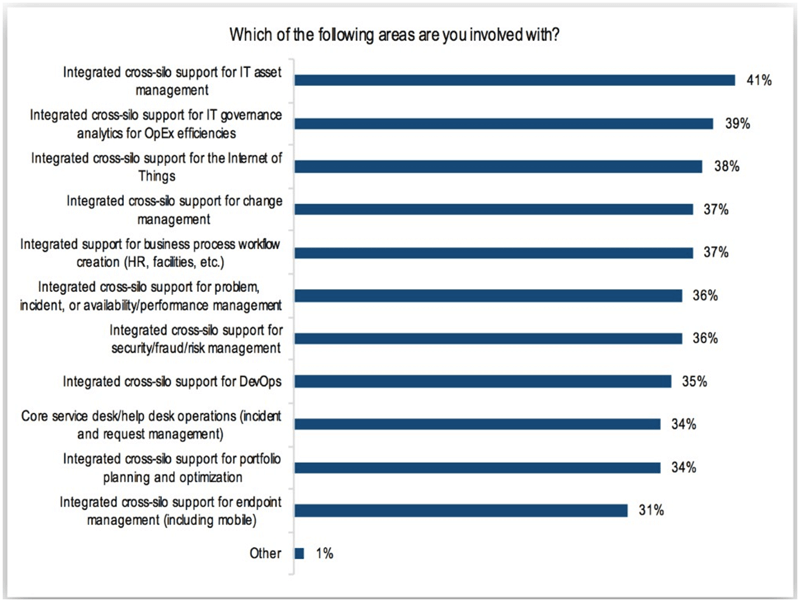 ITSM Grows
As the roles and responsibilities of ITSM leaders and teams expand, those teams are growing in the majority of enterprises EMA surveyed. "While many industry pundits view ITSM as a reactive area in decline, the data here shows just the opposite," the EMA report says. (See Figure 2 below.)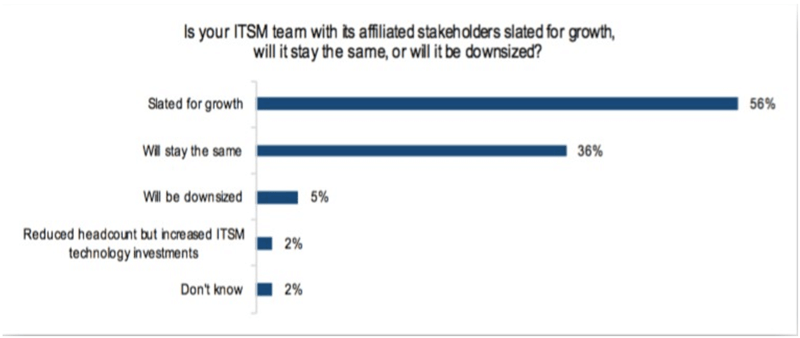 The cited reasons for growth are as interesting as the figures above. Here are the top 10 reasons cited by survey respondents, according to the EMA report.
Overall company growth

ITSM increasingly viewed as a center of governance

ITSM engaging operations stakeholders more

ITSM assuming more responsibilities across lines of business

ITSM supporting more non-IT enterprise services

ITSM investment increasing to support growth of cloud computing

ITSM providing more direction for ITAM and software asset management (SAM) efforts

ITSM supporting more ITIL processes

ITSM teams including more roles and skills

ITSM investment increasing to support growth of Agile/DevOps
This list "suggests a diversity of values, responsibilities, and needs—any one of which can become a spark for growth and increased ITSM investment," the EMA report says.
Perhaps the most compelling evidence from the EMA survey of the need for ITSM to change and grow were the top two strategic priorities respondents cited. The first was "Improving end-user experience internal to the business." This has arguably been a near-constant demand from IT service users since they began comparing their experiences at work to popular online social networking and shopping applications. The second: "Integrated cross-silo support for security/fraud/risk/compliance." Both these and other strategic priorities cited by survey respondents offer strong, continuing incentives for change and growth among enterprise ITSM teams.
Next-Generation ITSM: How Business Gets Done
Every enterprise department and business function relies upon some combination of IT-empowered services. And essential services simply cannot be delivered reliably, predictably, or with an optimal user experience via an IT environment that is not built upon modern technologies and processes.
IT leaders must modernize incumbent ITSM processes and technologies such as mobile support and project management capabilities to deliver more and better business-enabling services with great agility, usability, and alignment with business goals. This becomes more necessary and more challenging as business goals change via merger, acquisition, divestiture, or strategic shifts. Sometimes-roiling technological changes can exacerbate these challenges as well. Current examples include the introduction of Windows 10, the growth of cloud computing, and the emergence of the IoT in the workplace.
To maximize the business value of IT investments at your enterprise, you and your team must identify, develop, and deliver critical IT and business services that continue to support business goals. You must do this with levels of agility, flexibility, and usability that enable and enhance user productivity. To do all of this, you need modern, closely harmonized processes and technologies for service development, delivery, refinement, and management. In other words, next-generation ITSM.
Modernize Your ITSM with Ivanti
Ivanti ITSM solutions can help your enterprise improve delivery of IT and business services, deliver service management from the cloud, and empower your ITSM team. Good service also requires an accurate, managed view of your IT assets. Ivanti can help you discover, inventory, manage, and optimize your hardware and software assets, for a tightly managed services portfolio.
Download the complete EMA ITSM report by clicking on the link below. Then, contact Ivanti or explore our solutions online. Let Ivanti help you and your team to enable next-generation ITSM at your enterprise, starting now.