IT Asset Management for Risk Mitigation, Compliance, and Business Scalability
Food for thought:
30% of IT fixed assets are lurking around as 'ghosts' in today's enterprises.
56% of organizations verify asset location only once a year, with 10-15% only making asset location inventories every five years.
So, what? Besides a few missing assets, what's the big deal? Well for one, 'ghost' assets are costing you—you're making purchases you don't need to. What's worse, you're missing a large percentage of assets that need to be patched and integrated into your security processes to avoid cyber-intrusions. Risks such as rogue devices, 'shadow IT,' fileless malware are elevated when you don't have a thorough, global view of hardware and software in your asset inventory. Essentially, you can't protect what you don't know exists.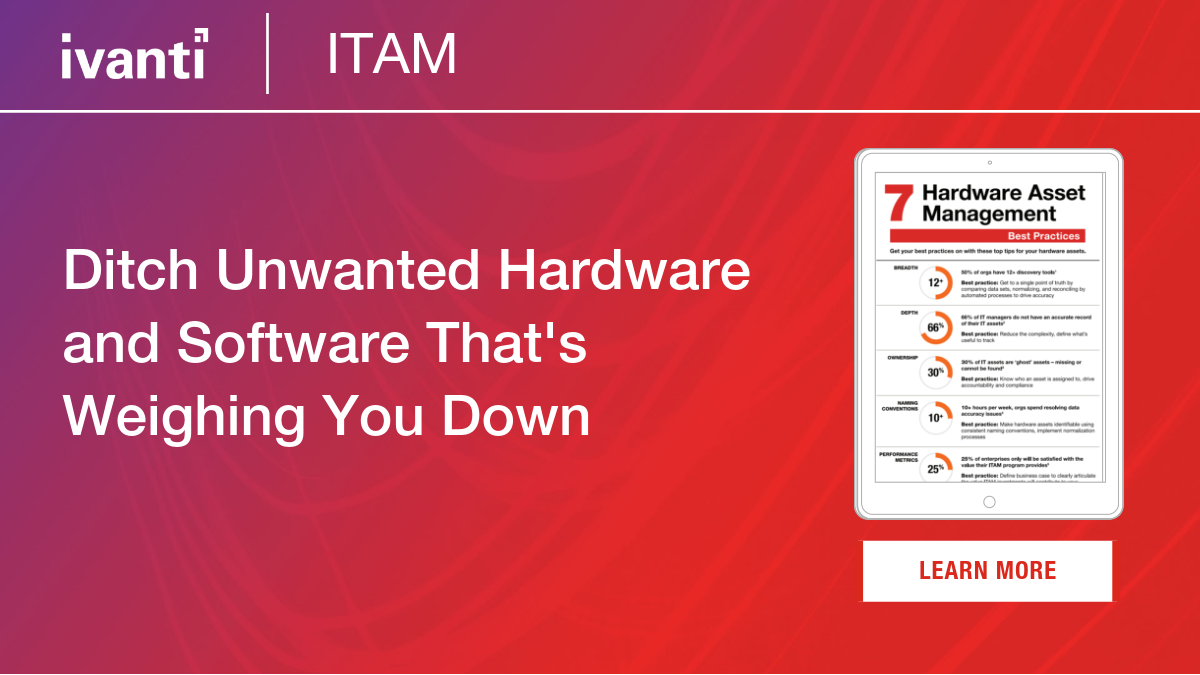 At the same time, the added complexity of rapid cloud adoption, the proliferation of IoT devices, and the demands of compliance regulations is a lot for your IT team to face.
The good news: there are practices you can put in place to enable you to take a more unified, powerful approach to IT asset management on a global scale. Consider these five areas around IT Asset Management where improvements will help mitigate risk, achieve compliance, securely scale your operations, and better control costs:
Visibility and Performance
For visibility, engage a reliable discovery tool that can discover and run an inventory of every asset attached to the corporate network. For performance, build a clear tracking process and refresh policy to ensure productivity by knowing when to refresh or retire an asset. (hint, hint: Ivanti has an IT Asset Management solution that can give you both visibility and performance).
Compliance and Risk Management
A critical best practice for risk management: a thorough auditing of all assets. Auditing happens continually and the best defense in knowing whether software or hardware assets present a threat to data security or a larger disruptive event. For compliance, discovery tools provide an accurate representation of licensing agreements and which users are allowed which application and device based on their identity and organizational status.
Cost Management and Fiscal Accountability
Asset discovery and auditing that can manage and track all digital assets are foundational to cost control, and the digital assets must include all servers, virtual machines, software containers, and installed software. The easiest way: unified IT via automation, where a database of assets integrates with procurement, service management, and key suppliers. Those using the software and hardware assets are therefore just as accountable as IT—enabling the organization as a whole to control costs.
Business Scalability and the Cloud
Before you can begin scaling your business, with additional employees, applications, and locations, you need to know what assets should be repurposed, retired, or newly purchased. This demands a solid IT Asset Management strategy. The cloud plays an integral part of this scaling up, with cost-sensitive organizations choosing to add new applications in the cloud, which still requires a dynamic picture of your IT assets—hardware or software.
End User Experience
Put an automated system in place—with set refresh dates and the ability to capture IT service tickets and requests—that allows end users to refresh or replace their assets. And what's more, an automated IT Asset Management solution will flag asset performance issues and track usage, ultimately allowing for a more productive user experience.
Learn More, Manage Your Assets Better
Read Phil Merson's full article in Virtual Strategy Magazine to get the complete picture of the IT asset management practices you can put into place to mitigate risk, achieve compliance, securely scale your operations, and better control costs.
Also, check out some of Phil's other insights from the Ivanti blog:
Ditch the spreadsheets and embrace IT asset management with tools that match today's workforce. Explore our free resources today and make 2019 your year for IT Asset Management.