Announcing Ivanti User Workspace Manager 2021.3
We're pleased to announce release 2021.3 of Ivanti User Workspace Manager. The new release includes significant new capabilities for Ivanti Application Control and Ivanti Environment Manager.
Windows 11 and Server 2022 OS Conditions
UWM 2021.3 includes conditional operating system support for both Windows 11 and Server 2022. The following documents, published on the Ivanti User Forum, provide for further information on our Windows version support:
UWM Windows 10 and Server OS Support Statement
UWM Windows 11 Support Statement
Application Control
Integration with Ivanti Neurons for ITSM
Policy change request has been enhanced to include integration with Ivanti Neurons for ITSM​. If a user needs to install an application or requires access otherwise normally restricted – rather than having "no" be the end of the story – from within Application Control, they can now request temporary privileges. This launches a request to Ivanti Neurons for ITSM. If the request is approved, the user gets temporary access to the application/privileges they need. No need to sacrifice either productivity or security.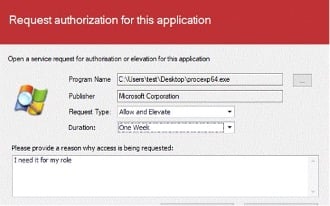 Event Viewer Enhancements
The event viewer tool became a part of Application Control in the 2021.1 release. Already proving to be popular with our customers, the 2021.3 release provides several key enhancements. Users can now track Policy Change request events and can select events for pre-configured views with multiple events. A new Parent Process column in the event summary view provides better context for those events being tracked. Additionally, users can now specify a Deployment Group as part of a query and save the results of a query for working offline.
Microsoft Recommended Block Rules
It has long been possible to copy or share sets of rules between Application Control installations via the use of snippets. There is a library of snippets available on the Ivanti Marketplace. Beginning with this release, a snippet containing the set of rules recommended by Microsoft is now included as part of the Application Control installed application. We recommend all customers review the snippet and consider including it in their policies.
Environment Manager
Endpoint Analysis Tool
Gain environment wide insights into the applied EM Policy Configuration on every device.
The Environment Manager Endpoint Analysis Tool enables analysis of policy configurations on endpoints using endpoint logging data. The tool detects and highlights configuration issues that may exist so that administrators can quickly investigate and diagnose the causes to help make the necessary changes.
In addition to its value in troubleshooting or debugging configuration issues, the tool enables risk assessment of planned upgrade or system changes.
Non-Virtualized Application Group Personalization
The behavior and performance of certain applications can be adversely affected when their user settings reside within a virtual cache. Where critical functions rely upon interaction with third party or OS resources it has been previously necessary to shift management of them from Application Groups to Windows Settings Groups (WSGs).
With the 2021.3 release, Environment Manager offers real flexibility where this scenario occurs. Configured on a per-Application Group basis, the 'Non-Virtualized' Application Group (or NVAG) option enables captured settings to remain in the real file and registry locations - as opposed to the default virtual cache.
Synchronization continues to occur at start and end of the application groups processes. The result is optimal performance with no hindrance to users at on Logon or Logoff.
Additional New Features
In addition to the enhancements to Application Control and Environment Manager, UWM 2021.3 includes enhancements to Ivanti File Director and to the UWM Management Center. You can learn more about the 2021.3 release in the Ivanti Community Forum - User Workspace Manager. And check out our new webinar, Amazing Employee Experiences, One Desktop at a Time, now available on-demand.