A Q&A with Susan McGuire, Global Field Marketing VP at Ivanti
As vice president of global field marketing at Ivanti, Sue McGuire manages a team of just under 80 employees who cover all aspects of marketing in the field.
From events to channel to PR to digital marketing—and also the sales development and business development (SDR/BDR) teams—Sue and her team have a collective goal to deliver the greatest amount of pipeline to the business, maximizing the ROI for every dollar spent.
We asked Sue a few questions about her role, background, and experience below.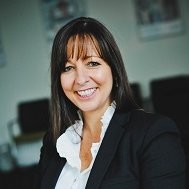 Q: Tell us about being a field marketer in the technology sector.
SM: "Not only must today's marketers in the technology sector be IT savvy, they also need to be 'marketing tech' savvy. There are a bewildering array of marketing tools to support marketers in their efforts to manage performance, improve results, track speed, analyse relevance and reach of campaigns, refine and tweak creative, etc. Marketers need to 'skill up' and keep on top of new technologies that support them in gaining the best insight and achieving the best results. It's a fast-moving environment and certainly never boring."
Q: What does a typical work day look like for you as a VP of Marketing?
SM: "My day starts at 7 a.m. with calls across the week with my direct reports in APAC. If I'm not travelling—which for the past two years has accounted for more than 60% of my time—I spend some time in the Bracknell office, leaving the office late afternoon to get home for the evening calls with the Americas corporate teams and my field team, normally finishing calls around 8 p.m. Then I take the time to catch up on the day's email and shut my laptop around 10 p.m. every night apart from Friday. Everybody's gotta have a break sometime!"
Q: Why are you passionate about empowering women in technology?
SM: "Women bring a different perspective to the business, and in turn ensure a more balanced view of an organisation's values."
Q: What advice do you have for companies as they strive to promote gender equality?
SM: "Look for the values candidates can offer to a business, regardless of gender."
Q: What advice do you have for women working to break into or advance in the technology industry?
SM: "Historically, the IT industry has been male-dominated, but we are at a turning point and now is the time to take advantage of the rising number of opportunities being offered to females."
Q: Do you think women are under-represented in technology roles?
SM: "Yes, particularly in leadership roles, but this isn't specific to just technology. It is prevalent across most sectors."
Q: Could you please share a little about your background and what led you to the career path you're on?
SM: "My career started in marketing communications agencies in London, working on a variety of clients and industry sectors; one of which was IT, with clients such as Adobe, Novell, and Cisco.

After spending my twenties in London, I was offered a role at Novell as a marketing manager and jumped at the chance to switch to the client side, although Bracknell seemed like the end of the earth to me at that point. I was lucky enough to work in different roles at Novell—PR, channel marketing, and alliances—and I headed up the marketing for a solution set globally.

After 10 years, Ivanti (then Landesk) approached me with an offer of EMEA marketing director. It's been a wild ride since then, going through multiple acquisitions and mergers. I now have the pleasure of leading a great marketing team across the globe."
Q: Who inspires you?
SM: "Sheryl Sandberg was my first true inspiration as a successful woman in technology, but day-to-day it's my team. They're a group of talented individuals with a breadth of knowledge and skills, are respected by their sales peers, and have a 'never give up' attitude. Love working with them!"
Q: What are you reading right now?
SM: "The Other Queen by Philippa Gregory. Love reading about the Tudor era."
Q: What are you working on right now?
SM: "I'm starting to look at 2019 plans. In 2018, we have evolved as a team and improved the way we market. This will continue throughout 2019, with increased focus on targeted account marketing, getting in front of the C-level audience, having a more vertical approach to our marketing efforts, and ultimately getting even more value from every dollar we spend."
Q: What else would you want readers of this blog post to know?
SM: "To always stand strong and be confident in your ability. You deserve opportunities as much as the next person."