I need to...
ensure that my legal firm balances service standards and IT performance with privacy and security legislation.
Removing the IT manual overhead associated with virtual desktop rollouts
Read the Mills & Reeve Case Study
Critical Security Controls
The Cyber Threat to the UK Legal Sector
Find Out the Latest Advice From the NCSC
Unified IT – We'll let you be the "judge"
Keep the focus on client service standards without compromising privacy and security
IT teams have a hard job balancing the continuously increasing demands of the legal sector. Law firm IT teams must ensure that partners, associates, paralegal and clerical staff all have access to the right applications and the right client records when needed, while protecting sensitive client information at all times. They must optimise IT operations to deliver the best value for the firm, support improvements in service standards, and ensure compliance with strict regulations.
National Cyber Security Centre and the Law Society recently released a report advising law firms to ensure they are protected from outside cyber threats. This is a necessity as criminals target organisations like legal firms that hold sensitive client information, handle significant funds, and are key enablers in commercial and business transactions. Legal IT teams must protect systems, users, and client records from hacker aggression.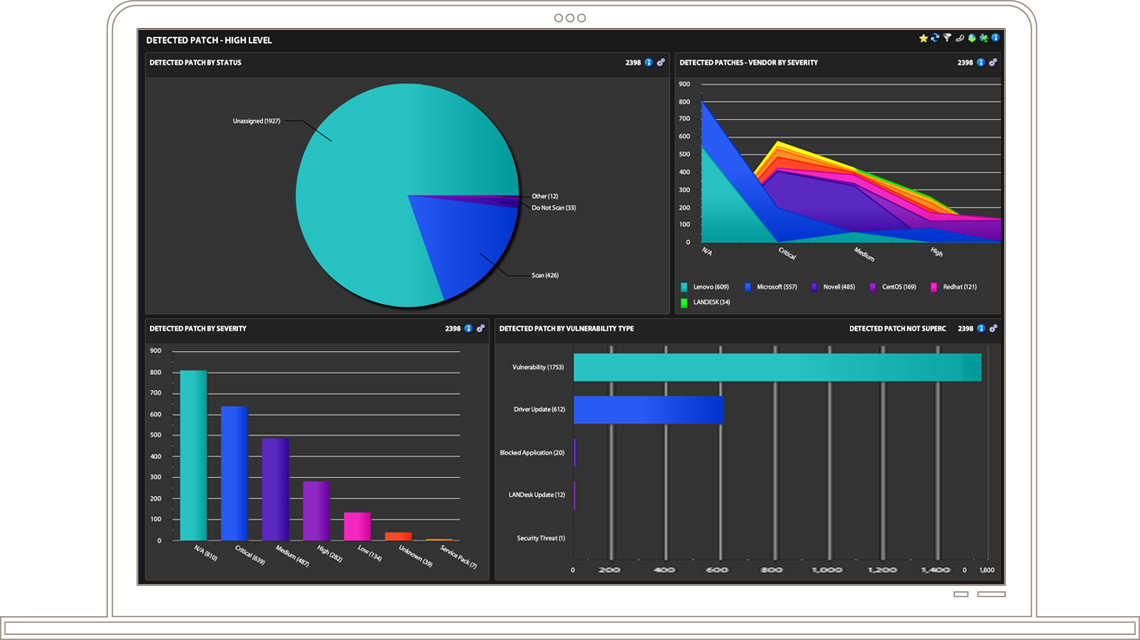 Modernise IT to focus on increasing client requirements
The legal sector is a fiercely competitive marketplace. In order to provide excellent client care, legal IT departments must deliver exceptional and timely service. The challenge is daunting given rising client expectations, regulatory requirements, and external security threats. Ivanti can help you meet these challenges efficiently, effectively, and economically with IT services for law firms—enabling you to devote time to focus on innovating the client-facing technologies and services that make your firm more competitive.
Protect client records
Protect the privacy and confidentiality of your clients' records. Allow access and sharing to only authorised staff.
Secure against cyber attacks
Unpatched software, unauthorised apps, and the increased use of targeted attacks make your law firm vulnerable.
Stay compliant
Adherence to standard policies and processes such as Solicitors Regulation Authority are a must to ensure ongoing compliance.
Manage and update devices
Mass OS migrations always present unforeseen challenges to IT and users alike.
Drive IT performance whilst optimising costs
Minimise law firm IT costs whilst delivering increasingly reliable and outstanding services.
Save time to focus on innovation
Spend less time "keeping the lights on" in IT and more time on technologies that revolutionise your client experience and make you more competitive.
Life is infinitely simpler
"Life is infinitely simpler using Ivanti to run hand-in-hand with our virtual desktop deployment. Today everything is centralised, controlled, and provisioned with ease. I wouldn't embark on a virtual desktop deployment without it."
Andrew Anthony, Mills & Reeve
Legal IT Solutions
Discover what you have and whether it's being used, working well, or creating vulnerabilities and headaches. Automate and simplify comprehensive, multi-layered security. Manage all the endpoints people use. Optimise your assets. Introduce a more process-driven approach to legal service delivery. Now that's how you unify IT for the legal sector; here are more details about how we can help: