Q&A with Sally Bogg, Head of Service Management at Leeds Beckett University
At Ivanti, we work with many universities across the world and so, in this series, we are getting to know some of our customers in the higher education sector.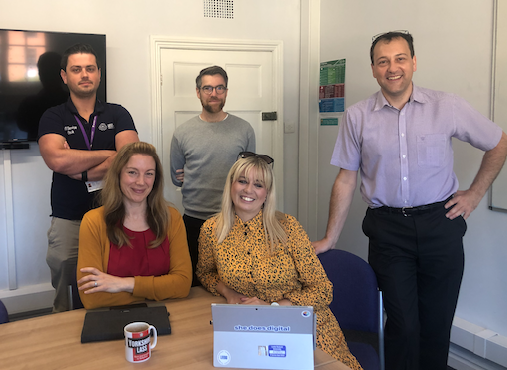 First up is Sally Bogg, Head of Service Management at Leeds Beckett University. I have had the pleasure of working with Sally for many years as part of our fantastic Women In Technology community where Sally is a role model for many women in the space and I think by reading this interview, you'll see exactly why!
Tell us a little about yourself and what you do?
SB: A motivated and adaptable ITSM professional, I have worked in Higher Education IT for over 12 years and have experience of developing and delivering high quality sector leading support services and creating respected and high performing teams. Winner of the FDM Everywoman, Team Leader of the Year Award 2019 and Women in IT Business Role Model of the Year 2018, I am a passionate supporter of the enhancement and empowerment of women in tech and I'm well known across the ITSM, Higher Education and Service Desk Industry. Having dropped out of school after becoming pregnant at the age of 17, I returned to education as a mature student and graduated from Leeds Beckett in 2006 with a degree in computing. Since then I have gone on to forge a successful career in ITSM and I am currently working as Head of Service Management at Leeds Beckett University, where I am responsible for the delivery of front line support services, business and customer relationship management and the IT Training function.
Why did you choose a career in technology, specifically in higher education?
SB: Following the birth of my children back in the late nineties I decided that I wanted to return to work and take a change in career direction. I was hearing a lot about this thing called the internet but I could barely turn on a computer – when I was at school you had to be in the top maths group to take IT and I just wasn't familiar with technology at all. I enrolled on a part time IT course at the local college and this sparked my passion for IT – not for the technology itself but for what it could do for me! Having completed my degree I was keen to work in the education sector and so I focused on securing a role within the IT Dept at the University of Leeds. This led me working in the area of IT Service Management, which really suited my skill set – my career has been less focused on the technology and is more about the service and people.
In your opinion, what are the biggest challenges faced by Universities today?
SB: I think one of the biggest challenges currently being faced by Universities is understanding the impact that new technologies such as AI, robotics and machine learning are going to have on the sector and the need to potentially change the way in which we deliver, support and manager effective technology services. Educational technology (EdTech) is becoming increasingly more advanced and sophisticated but we need to ensure that it is being implemented to enhance the learning experience and enrich student experience rather than technology for technologies sake.
We know generation Z expect seamless digital engagement and student experience - does that change how you provide IT services to them?
SB: I'm not sure I entirely agree with this statement. I think it is dangerous to label our students and assume that they all come with the same level of digital skills and experiences. We have to be mindful of creating systems and services that meet as broad a range of the population as possible, after all universities are extremely diverse communities. And this is the real challenge for us, creating technology for everyone that can be used by everyone!
Do you think students are becoming more tech savvy and does that help or hinder you?
SB: I don't think we can assume that just because students are more familiar with using technology that they are more tech savvy and actually some of the applications and software they will use for their studies will be very different to what they are used to using in their school and personal life. Many of our students (and staff) will require lots of help and guidance to enable them to make the most of technology we provide which is why the role support services are so crucial within the University context. I do think expectations around technology within Higher Education have changed drastically in the last 10 years – the ubiquitous nature of IT means that many people now expect systems and services that are available anywhere at anytime, 365 days a year!
Do you think the mix of end users and the different locations etc makes IT in Universities more complex than other areas?
SB: I think Universities certainly have some differences and challenges that are specific to the sector, with many systems and services that are unique to us. This can make IT support more complex but it does mean that there is a lot of variety in what we get to do, my work is never boring.
I am always struck by the great IT community across universities, does that help you stay innovative?
SB: I think it does help us stay ahead of the game and it is one of the things I love most about working in the higher education sector. There is such a strong sense of community and a willingness to share experiences and best practise which I don't think you see in other industries.
What advice would you give to someone thinking about a technology career in higher education?
SB: The tech sector is fast-moving and dynamic, there are many smaller companies and tech start-ups that are worth seeking out for job opportunities. There are skills shortages across many of key areas within the digital economy, this means there are many different IT careers available and organisations aren't just looking for computer science graduates anymore – the sector needs a much more diverse work force, we want people from not just science and STEM backgrounds but also arts and humanities, we need creative problem solvers! To have a successful career in tech I think you need to have a really broad range of skills, a strong drive and passion to make a difference. Tech companies are looking for skilled communicators that are good at collaboration and team work, and are able to plan and organise themselves and others around them, who are able to think critically and who can develop a good understanding of the business they are working in. Many companies are willing to take on trainees with limited practical technical experience as long as they have the right attitude and core skills.
You can find out more about Leeds Beckett Universities go-live with Ivanti Service Manager here