Q&A: How One Ivanti Employee Combines Motherhood With Her Career
Tell us a little bit about yourself and what you do at Ivanti.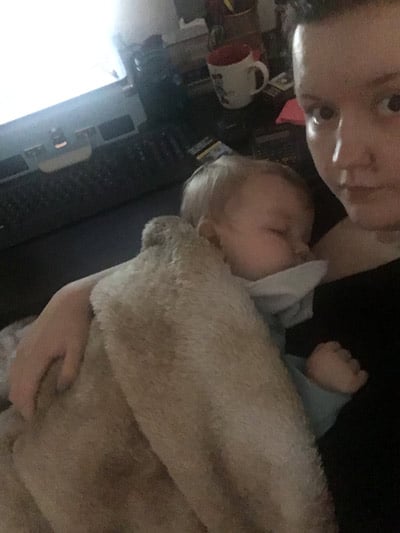 LJG: My name's Laura-Jean Gort, I'm 22 and I live in Warrington. My little family includes my fiancée, Brian, his daughter Ella, our daughter Sophie, and our Lupine puppy Roman (busy house!). I started working for Ivanti in September 2018. Initially I was hired as a talent acquisition resourcer within HR on a six-month fixed term contract. However, I was given the incredible news that my contract was to be extended to permanent as of the 1st Jan 2019, which was the best Christmas present ever, and I haven't looked back since!
My role at Ivanti is to source and manage candidates throughout our recruitment process for our vacancies as well as keeping our hiring managers as up to date as possible. I work very closely with our talent acquisition partners throughout the whole process, from a role opening to getting a contract signed and our candidate hired! I spend a lot of my time on LinkedIn networking, searching through CV databases, and speaking to candidates.
You decided to find a new role while on maternity leave. Can you tell us a little bit about why, and what the process was like?

LJG: I was working for an education agency as a recruitment resourcer when we decided to bring another little one into the world, and I must admit, nursery/childcare was not something that we thought about. I wanted to be a mum, Brian wanted another child, and that was that. I think it was two weeks before I went off on maternity leave that I started looking into nursery, and the costs of it (which I was quite oblivious to previously!) It was more than half of my monthly salary, and completely unaffordable. So, I started my maternity leave knowing it wasn't possible for me to return to my previous role, and it was sad for me. I'm a workaholic, and I am very career driven.
Sophie was born in February, and I was due back in work in October. I was looking around at jobs and seeing what opportunities I could do that would either make nursery more affordable, or ideally, where I could work remotely. We were going to be moving to a new house from our flat in August, and I'd have room for a home office which would be ideal!
It was Andy, one of our talent acquisition partners, who approached me on LinkedIn regarding the position at Ivanti. I was limiting myself to agency recruitment and didn't even think about the possibility of in-house recruitment. The position sounded incredible; it was exactly what I was looking for. I was studying part-time towards my comp science degree through Open University, so IT has always been a huge interest of mine!
We had a few conversations, I had a phone interview with my now manager, and I came for a face-to-face interview in our Daresbury office, which is where I would be for my training and where I do have a desk in case of my decision to pop in or if I have to be in for any reason.
I was absolutely thrilled when I was offered the role. I remember putting the phone down and looking at my partner with tears in my eyes because I was so happy! I was so scared that I would end up not returning to work (because believe it or not that was more affordable) to now having this perfect job that I am so passionate about, in an industry that I love, the salary was exactly what I was looking for and I could work remotely! After speaking to my previous employer and discussing with them my situation and why I was leaving etc. I decided to return to work a month earlier than my maternity was due to end, Ivanti needed someone and I was excited! They did want me to stay, but remote working or a pay rise of such just wasn't something they could offer as a small business.
What was the hardest thing about coming back to work after maternity leave?
LJG: Initially the most difficult thing for me was leaving my daughter at home with my partner, or family and being away from her for a whole day whilst I was in the office for training. I'd cry in the car on the way to work, I'd cry walking into the building, I'd be sat at my desk holding my tears back and completely on edge every time my phone went off in case anything was wrong. But it eased off…. by lunchtime on my third day! Mornings were still difficult, but I could at least enjoy most of my day.
Once I was up to speed with our processes etc, I went to working remotely. My home office was all set up and I was ready to go. I was so scared about how I was going to do my job and look after a baby, but Sophie has always been amazing, she had a barrier of toys to keep her in a safe area of the room and has never really cried much so phone calls were manageable, so it all came together amazingly well!
I must admit, now she is 18 months, she seems to be starting her 'terrible twos' a little early which is making it a little more challenging, especially with a puppy to watch and train also. But she has the living room to herself and I know that room is 100% safe, there's a lar

ge baby gate separating the room to where my desk is (she loves cables, and phones, and anything she's not meant to have!) so she's happy, and I'm happy. Her high chair is regularly next to my desk also where she will eat breakfast and lunch, as well as do some colouring on her pretend diary with her dummy iPhone we bought her so she can be 'on the phone' too!
What was the best thing about returning to work?
LJG: For me, I just wanted to be doing something with my time. I love being a mum, and I love spending time with my daughter, but when she was so young, and even now if I'm off work, I find myself looking at the same Facebook posts repeatedly every single day whilst she was sleeping or playing, she's very independent and to be honest... I was quite bored, and it was getting me down.
I am incredibly career driven and before the job at Ivanti came up, one of our family discussions was that Brian would stop working and be a stay at home dad and I'll go back to work and be a workaholic as usual! But then I was feeling guilty for putting him in that situation. Ivanti has been a win:win situation for us!
A lot of parents struggle to manage a work life balance, is this something that concerns you?
LJG: It's not a huge concern of mine, working from home I get plenty of time with my daughter, she's become my little PA (at least she thinks she has!) and Brian has flexible hours so if he stays organised throughout the day he's normally home early! We make a point to go out as a couple and do our MMA classes twice a week whilst grandparents get time with Sophie, and of a weekend we always try and have one day out as a family, even if it's just a walk-through Delamere forest with our (not so little) puppy.
Do you have any tips for women thinking about returning to work after maternity leave?
LJG: Think about your options! For me I was quite limited as to what was possible for me working for a smaller business, but with Ivanti we were able to come to a solution that worked for all of us, and Kate (my Manager) is so supportive, she often says hello to Sophie during our calls and laughs when Sophie is having a babble to herself.