Get the Most From Your Business Intelligence Tools
In today's fast-paced, ever-changing IT landscape, the need for at-a-glance views has never been more important. Dashboards that contain random noise in place of actionable insight make the task of acting on analysis difficult.
But what do we do with the insight provided to us by our Business Intelligence (BI) tools such as Xtraction? How do we make the insights provided actionable? These are complicated questions to answer, and can vary depending on the actual BI we are faced with.
Here are five tips that will help you get more from your BI tools:
Ensure data accuracy. When looking at insights, we need to be sure that they are, in fact, accurate and can be trusted. By acting on inaccurate, out-of-date or unreliable analysis, we run the risk of making the wrong decisions. It is vital that our BI drives fact-based, real-time decision making.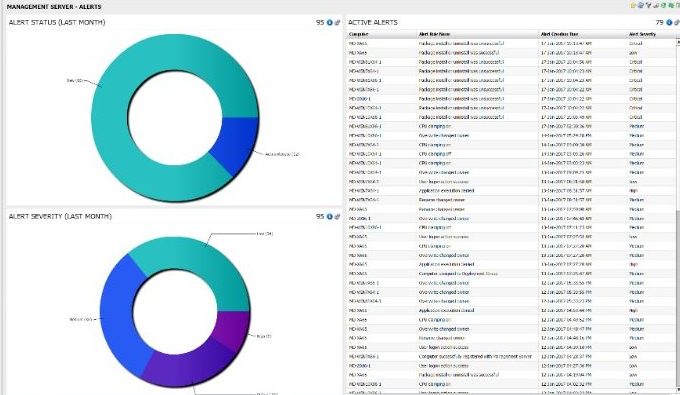 Act quickly. When an insight reveals a problem, it is essential that we are able to react quickly to diagnose the problem and to make informed decisions to arrive at a resolution.
Prioritize alerts accurately. While alerting a user to a problem is necessary, it is important to realize that there is a fine balance between "we're all doomed" and "hey, everything is just fine". Not all problems we may discover will have the same impact on our business. Therefore, it becomes more and more important to present the information in a relative way.
Provide the right information to the right people. It goes without saying that data is one of the most valuable assets in an organization's arsenal. Embedding dashboards into an already existing application, such as an ITSM tool for example, will help to ensure that the right information is provided to the right people.

Figure 2 - Targeted, concise information ensures that the very latest and relevant information is available when it is needed.
Centralize dashboard insights appropriately. We're all busy. We don't want to be switching between applications, screens, or having to sign into different data analytic tools to discover the information we need. By providing real-time access to multiple data sources in one central location, we are ensuring that insight is provided to those that need it where they need it.

Figure 3 - A centralized, clear view of the right information ensures we know what is happening as it is happening.
So, to finish up, real-time dashboards are without doubt a powerful enabler to proactive, immediate decision making. But the information must be easy to interpret and alert the right people to the right problems, allowing them to take the next appropriate action.
Think carefully about designing your dashboards to achieve tangible benefits.
Learn more about Xtraction
Xtraction for Ivanti DesktopNow provides enterprises with real-time insight into their end user experience, logon performance, and exposure to potential risks caused by application execution.
Drawing multiple data sources together into a single tool, Xtraction provides a single view, enabling IT professionals – regardless of technical ability – to increase productivity while reducing the reliance on specialist reporting teams.