What Does Ivanti Being Named as a First-Time Leader in the 2022 Gartner® Magic Quadrant™ for UEM Tools Really Mean?
The latest 2022 Gartner® Magic Quadrant™ for Unified Endpoint Management Tools report has been published!
Here at Ivanti, we're excited Gartner recognized us in the Leader quadrant for completeness of vision and ability to execute. 2022 marks the first time we've been recognized as a Leader, after Gartner named us their only Visionary in the UEM Magic Quadrant for 2021.
But what does being named a "Leader" or a "Visionary" by Gartner really mean? For that matter, what does "completeness of vision" or "the ability to execute" have to do with anything?
In this blog, we'll offer some definitions and explanations as to how Gartner researchers and analyst arrive at their conclusions – as well as why we believe Gartner named Ivanti a Leader in their 2022 Magic Quadrant for UEM Tools report for our Ivanti Neurons for UEM solution.
How Gartner found vendors to consider for the 2022 Gartner Magic Quadrant for UEM Tools report
Gartner®, a company that delivers actionable, objective insight to its executive and their teams, offers an unbiased, quantitative perspective on available tools in a wide variety of technical industries.
They measure various technology offerings and services as part of their annual Magic Quadrant™ reports.
For inclusion in the 2022 Magic Quadrant™ for Unified Endpoint Management Tools report, Gartner researchers identified and analyzed "the most relevant providers and their products" within the UEM market.
Quoting directly from this year's report, UEM tool providers qualified for inclusion and consideration needed to have:
"A generally available, single-license product that demonstrates:

Agentless management of Apple iOS, iPadOS and macOS, Google Android, and Windows 10, which includes:

Device enrollment and provisioning
Device configuration and policy enforcement
OS patching and update management
Application deployment in native format

Agent-based management or prebuilt connector for CMT integration
Direct integration with the Microsoft Intune Graph API for app and data protection
Location-agnostic endpoint management (not dependent on LAN/VPN)

Evidence that the UEM product has at least 10 million devices under management, excluding managed devices entitled under trial, freemium or other no-cost use arrangements
UEM offering as turnkey SaaS (UEM vendor hosted and operated, not IaaS)
Rank among the top organizations in the market momentum index defined by Gartner for this Magic Quadrant. Data inputs used to calculate UEM platform market momentum include a balanced set of measures, such as:

Gartner customer search, inquiry volume and trend data
Volume of job listings specifying experience within the UEM platform as a job requirement of Talent Neuron and on a range of employment websites in the U.S., Europe and China
Frequency of mentions as a competitor to other UEM platform vendors within reviews on Gartner's Peer Insights forum between April 2021 and March 2022"
What "Ability to Execute" and "Completeness of Vision" metrics meant for Gartner UEM Tools this year
Once identified by Gartner, any qualified providers were then evaluated on two proprietary metrics: Completeness of Vision and Ability to Execute.
Gartner Ability to Execute metric for UEM Tools in 2022
Per the 2022 Gartner® Magic Quadrant™ for Unified Endpoint Management Tools report:
"The Ability to Execute criteria evaluate the vendor's ability to properly resource product development, marketing and sales. The emphasized criteria center on the product itself, but consider the operational support from sales, marketing and R&D, as well as the vendor's reputation with customers and performance in the market relative to competitors."
The various criteria for the 2022 Ability to Execute metric – specifically for evaluated UEM Tool vendors – included:
Product or Service
Overall Viability
Sales Execution/Pricing
Market Responsiveness/Record
Marketing Execution
Customer Experience
Operations
Each criterion was weighted for different values, to then combine and create the aggregate Ability to Execute metric. This metric was plotted along the vertical "Y" axis of the Magic Quadrant™ graphic for each qualifying vendor.
Gartner Completeness of Vision metric for UEM Tools in 2022
Per the 2022 Gartner® Magic Quadrant™ for Unified Endpoint Management Tools report:
"Completeness of Vision focuses on the performance of a vendor's product as it applies to current market needs, the strategy and performance in delivering to meet that understanding, and the vendor's ability to innovate for current and emerging needs, as well as against its competitors. This metric also assesses a vendor's geographic strategy and presence, its strategy and roadmap for the product, and its general business model."
The various criteria for the 2022 Completeness of Vision metric – specifically for evaluated UEM Tool providers – included:
Market Understanding
Marketing Strategy
Sales Strategy
Offering (Product) Strategy
Business Model
Vertical/Industry Strategy
Innovation
Geographic Strategy
What the Gartner® Magic Quadrant™ positions and Leader recognition meant for UEM Tools
Here's the final 2022 Magic Quadrant™ for UEM Tools: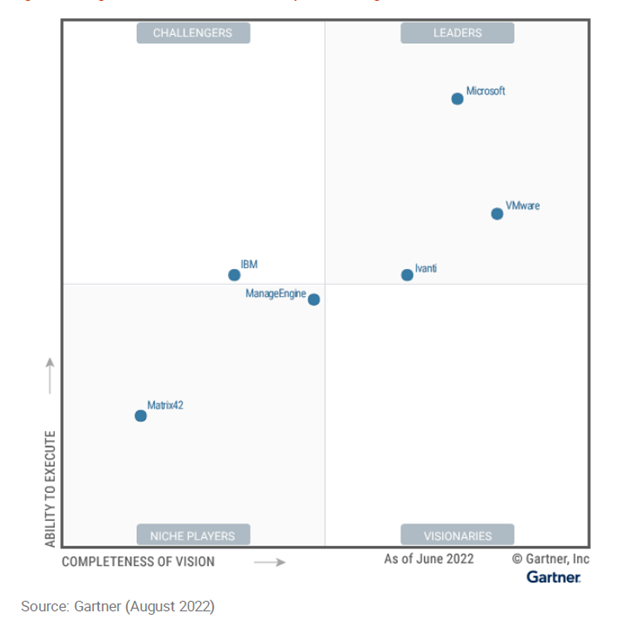 As you can see, Ivanti was placed as only one of three vendors within the Leaders quadrant of the 2022 Magic Quadrant™ for UEM Tools. But, what does the "Leader" position mean within this context?
What the Gartner leader position means for the 2022 Magic Quadrant™ for UEM Tools report
The following quote describes how Gartner considers companies and organizations placed within the Leader quadrant for the 2022 Magic Quadrant for UEM Tools report:
"Leaders exhibit strong execution and vision scores, and exemplify the suite of functions that assist organizations in managing their mobile devices and PCs. Leaders also provide guidance and tools to help migrate from traditional client management to modern management, as well as deep integration with endpoint analytics and endpoint security tools to provide a simplified IT administrator and an improved employee experience."
What the Gartner Visionary position means for the Magic Quadrant™ for UEM Tools report
While Ivanti was named by Gartner as a Visionary last year – in 2021 – we thought it would be useful to also quote what Gartner considers to be a Visionary for this year's Magic Quadrant for UEM Tools:
"Visionaries exhibit strong capabilities in their current offerings and a complete set of functionalities to address common use cases. However, the vendor's size, the size of its installed base, platform breadth or integration points make it appropriate for some, but not all, buyers."
We at Ivanti personally believe that our new Leader position within the 2022 Magic Quadrant for UEM Tools means that we have proven that our Neurons for UEM solution "walks the walk" in execution.
That is to say, between last year and this one, we feel that we proved out our UEM vision and foundation through our increased ability to execute on that vision – and we're committed to keep improving through next year, too.
Validation of Ivanti's UEM solutions for your Everywhere Workplace
We truly believe that this new recognition and Leader placement received from Gartner is a demonstration and validation of our strategy. The team here at Ivanti believes that the Everywhere Workplace is here to stay, and we will likely continue to experience fast growth in endpoints, data and remote workers.
After all, in today's on-site, hybrid and remote Everywhere Workplaces, IT teams need a single tool to analyze, perform and automate endpoint management and security tasks now more than ever.
So, we're committed to helping IT teams like yours to manage and secure your workplace – wherever it may be, and with whatever devices you need! – so that your end users can be productive anywhere.
Ivanti Neurons for UEM enables your IT team to leverage a single pane of glass view into their devices to efficiently discover, manage and secure all endpoints through accurate and actionable insights.
Plus, Ivanti's built-in, on-device, out-of-the-box mobile phishing protection requires minimal user interaction and results in better end user experience and protection.
And, your IT team can also leverage the Neurons' artificial intelligence (AI) / machine learning (ML) powered automation platform to detect and remediate any device issues or security threats before they can cause harm in your environment.
Finally, consolidating tools is top of mind for many customers. We truly believe that the level of integrated capabilities to discover, manage and secure endpoints will help improve IT efficiency and productivity.
We will continue to innovate and deliver the UEM tools that help our customers succeed. We're excited about next innovations that we will bring to the market, and we hope you will continue to join us for the journey.
Disclaimers and attributions:
Gartner does not endorse any vendor, product or service depicted in its research publications, and does not advise technology users to select only those vendors with the highest ratings or other designation. Gartner research publications consist of the opinions of Gartner's research organization and should not be construed as statements of fact. Gartner disclaims all warranties, express or implied, with respect to this research, including any warranties of merchantability or fitness for a particular purpose.
GARTNER and Magic Quadrant are registered trademarks and service marks of Gartner, Inc. and/or its affiliates in the U.S. and internationally and is used herein with permission. All rights reserved.
This graphic was published by Gartner, Inc. as part of a larger research document and should be evaluated in the context of the entire document. The Gartner document is available upon request from Ivanti.
Gartner, Magic Quadrant for Unified Endpoint Management Tools, Tom Cipolla, Dan Wilson, Chris Silva, Craig Fisler, 1st August 2022