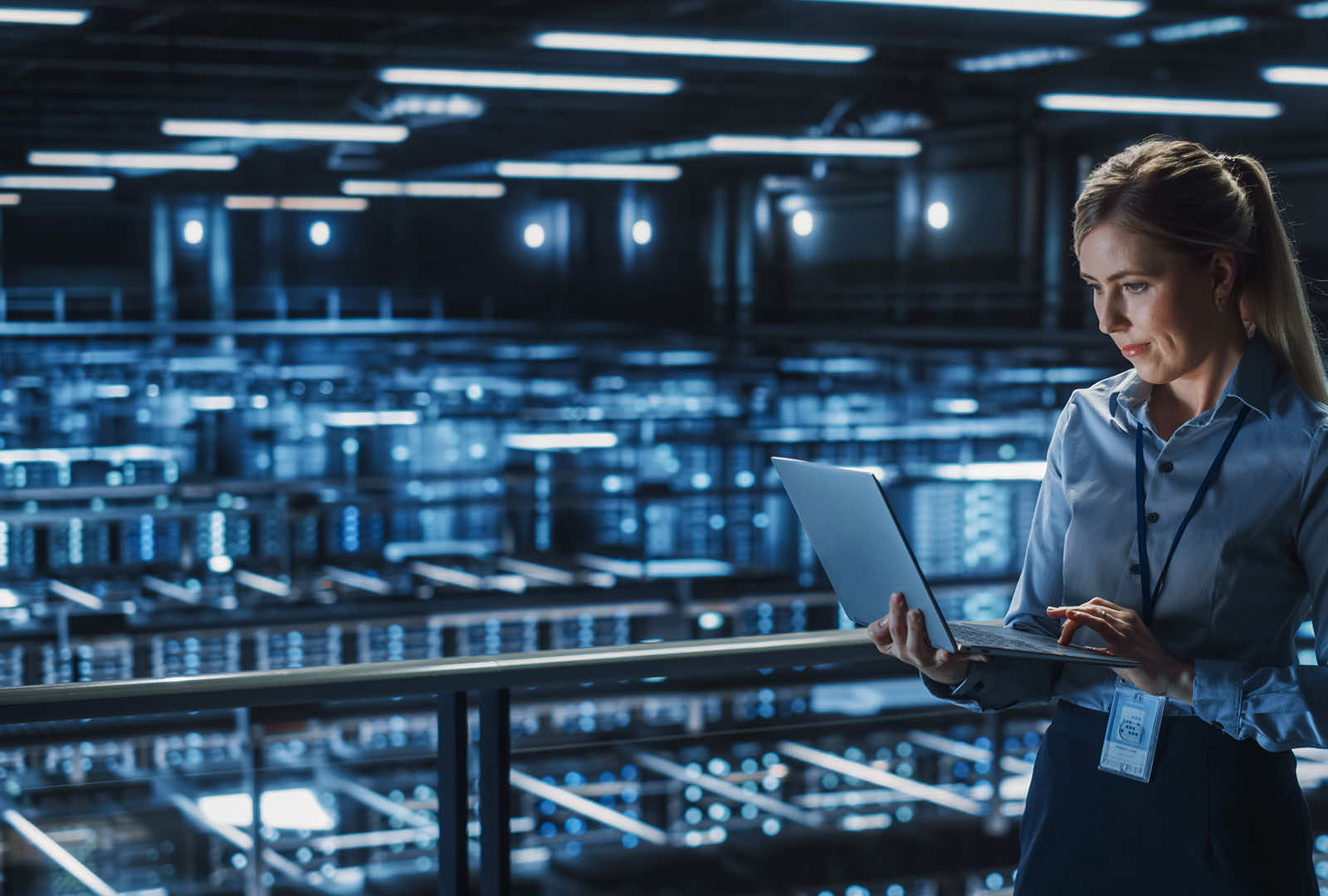 Ivanti Neurons for RBVM
Risk-Based Vulnerability Management Software
Evolve your vulnerability management strategy to a risk-based approach. Ivanti Neurons for RBVM enables you to prioritise the vulnerabilities that pose the most risk to better protect against ransomware and other cyber threats.
Leave behind legacy vulnerability management
Measure and control your true cybersecurity risk with a risk-based approach to vulnerability management.
Prioritise based on threat risk
Move from detection of vulnerabilities and weaknesses to remediation in minutes – not months – with a contextualised, risk-based view of your cybersecurity posture.
Ivanti Neurons for RBVM continuously correlates an organisation's infrastructure with internal and external vulnerability data, threat intelligence, human pen test findings and business asset criticality to measure risk, provide early warning of weaponization, predict attacks and prioritise remediation activities.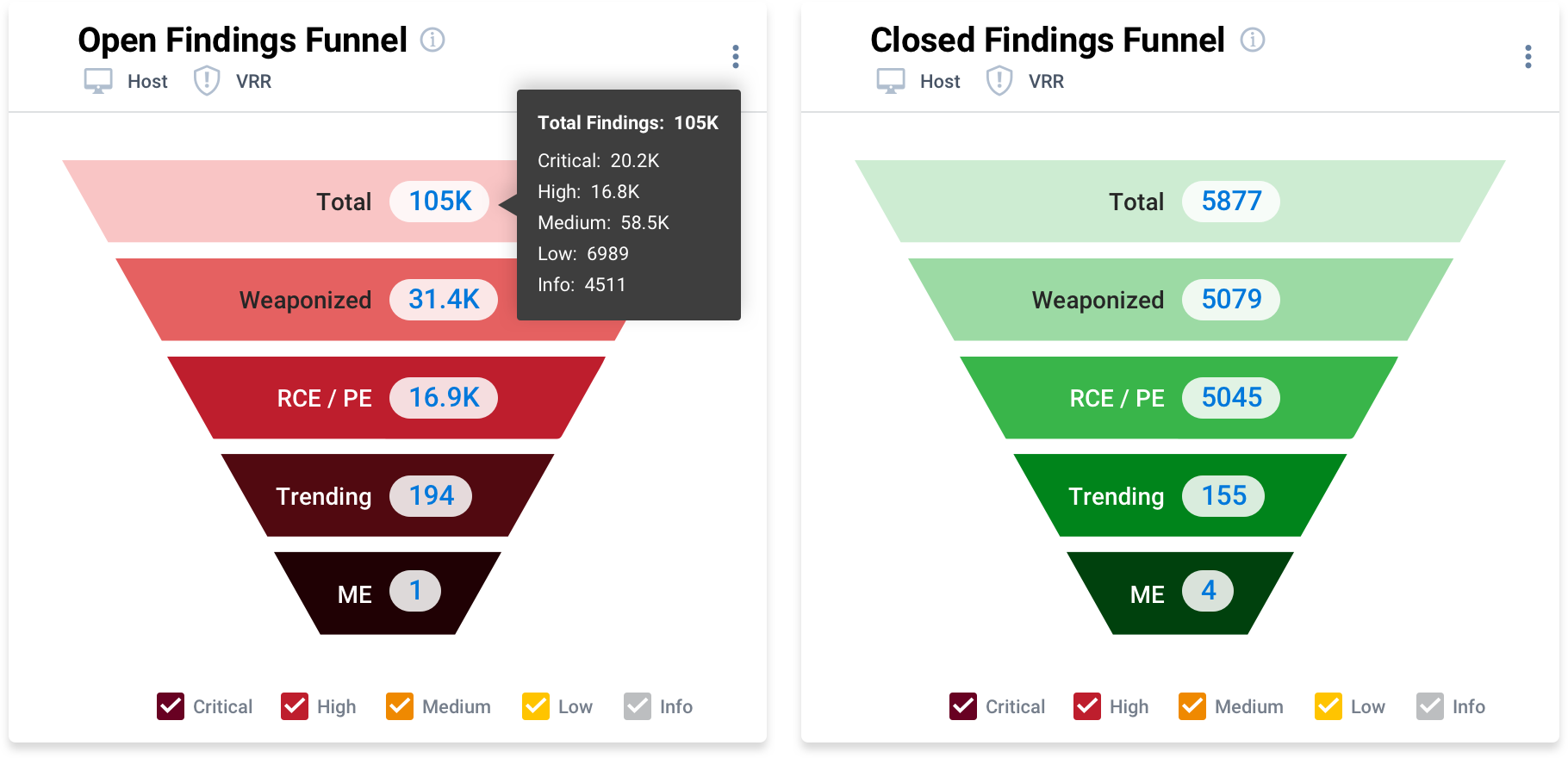 Streamline processes
Improve cybersecurity posture while decreasing the time and effort required to do so with features designed to increase operational efficiency:
Continuous correlation and analysis of security data from diverse sources help users quickly arrive at a fully informed plan of attack.
Playbooks enable automation of common or repetitive tasks.
Service-level agreement automations allow vulnerability closure due dates to be set automatically.
Automated notifications provide near-real-time alerts outside the platform.
System filters instantly reveal exposure to top critical vulnerabilities.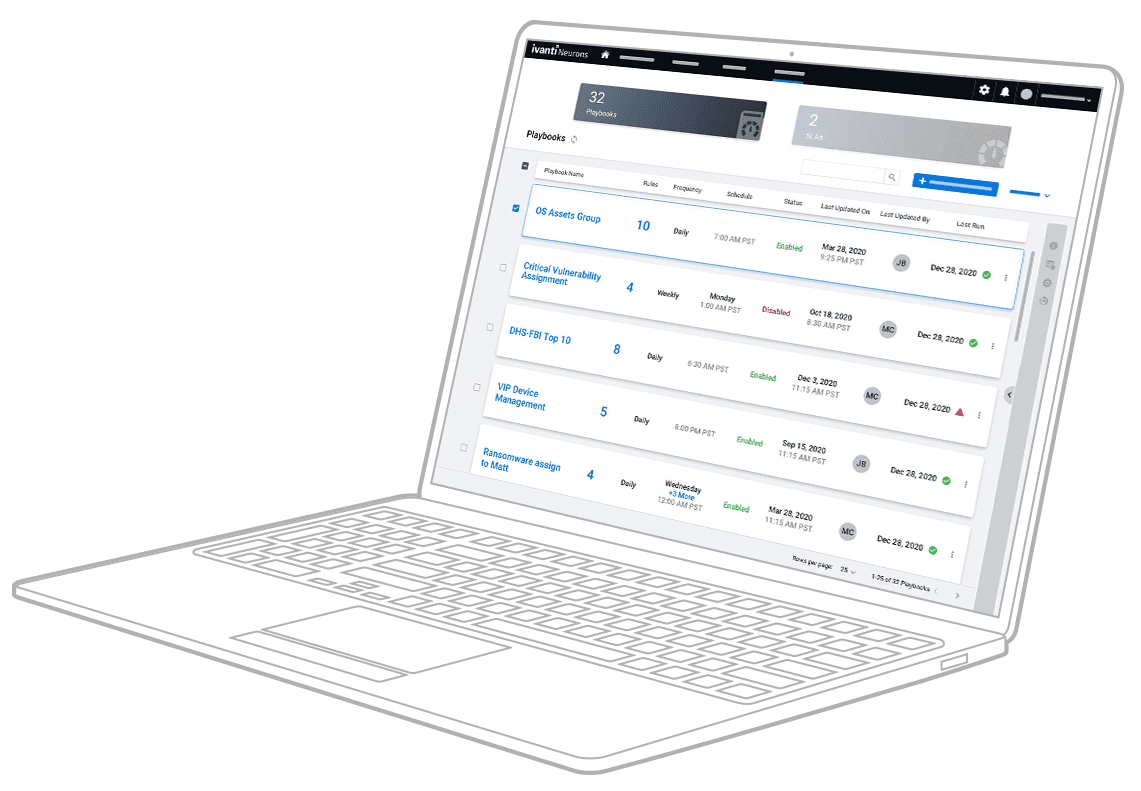 Enable better collaboration
Facilitate communication between security stakeholders across the organisation by providing them with timely information relevant to their roles. Ivanti Neurons for RBVM employs role-based access control (RBAC) that lets organisations safely provide platform access to all applicable personnel.
Inside the platform, users can access ready-made persona-based dashboards or create custom dashboards to meet the exact needs of different roles and teams. Additionally, bidirectional integrations with ticketing systems such as Ivanti Neurons for ITSM encourage collaboration in the remediation process.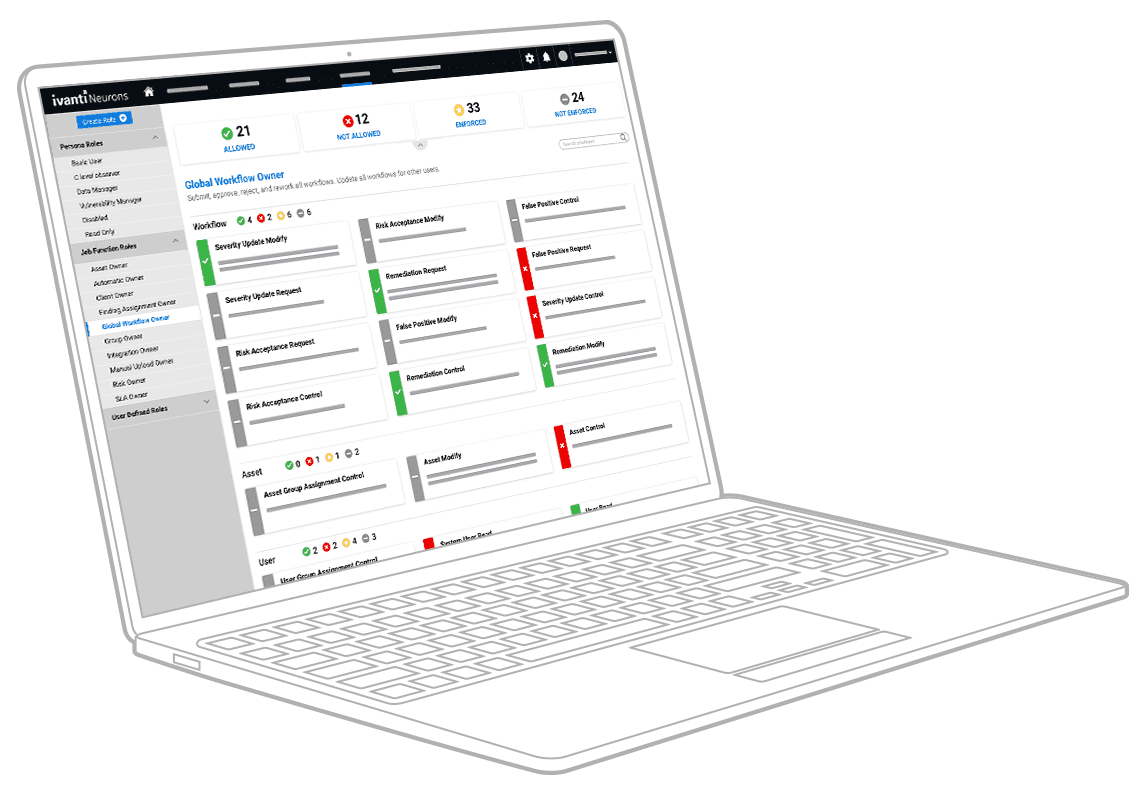 Key features and capabilities
Diverse data sources
Achieve a wide view of cyber risk with data ingested from network scanners, vulnerability findings from over 100 sources, manual findings from research and pen testing teams, and more.
Vulnerability Risk Rating (VRR)
Quickly determine the risk posed by a vulnerability with numerical risk scores that consider its intrinsic attributes plus its real-world threat context.
Ivanti RS³
Attain a quantified view of your organization's risk profile via a proprietary scoring methodology.
Automation
Eliminate a range of manual tasks with the platform's many automation capabilities so employees can focus on remediation actions.
Alerts and notifications
Gain instant awareness of pertinent events via alerts sent from a notification engine and use deep links to direct other users to important information.
Customizable data organization
Uncover actionable insights with user widgets that allow for the creation of custom dashboards and a group-by capability for pivoting data in list views.
Dashboards
Realize superior visual query and risk discovery capabilities across assets and infrastructure via ready-made and customizable dashboards.
Filters
Quickly discover how specific threats manifest themselves in your organization's environment by utilizing threat-based filters, or create and share your own custom filters.
Related products
Ivanti offers a number of solutions for organisations evolving to risk-based vulnerability management.
Questions? Contact our team.
See a demo of Ivanti Neurons for RBVM
Embark on your evolution to risk-based vulnerability management.