3 Time Savers You Will Uncover With Ivanti Neurons for Spend Intelligence
Software Asset Management (SAM) is a very complex discipline, but I am sure I do not need to tell you that right?
Most customers I talk to about SAM are familiar with ITIL and the challenges that it brings when implementing processes & procedures into their organisation, I often use ITIL as a comparison to ITAM but the way I see it, ITAM is a whole other level of pain above what most organisations experienced with ITIL processes, which I think is why it doesn't get a lot of focus or dedicated resources.
Time's the Enemy
Anecdotally I often find that those responsible for SAM in their organisation also have 2-3 other hats and that SAM (and more broadly ITAM) takes a back seat or is put in the too hard basket and even at a basic level they struggle to get visibility into what software is installed across the organisation.
At the same time, a lot of customers are coming to us for help with SAM due to a security control (such as ACSC Essential 8) or security standard they've been directed to comply with, this control can often be as simple as being able to demonstrate they can show an inventory of what software they have in their environment.
Whether you do wear the SAM 'hat' or are responsible for security in your organisation, I'm sure that spending time working with other teams to extract software reports, and then manipulating them in in excel for a meaningful output is not the best use of your time!
How to Win Time Back
Let me introduce Ivanti Neurons for Spend Intelligence, one of the newest capabilities in the Ivanti Neurons platform that has been designed to provide instant insights into your software landscape, and insights into your software spend. For me though the key with Spend Intelligence is the easy and intuitive interface for those of you with limited time to quickly get the information you need without having to deal with other teams and spend hours in excel.
I have put together three use cases of how you can leverage Spend Intelligence to quickly and easily get visibility into your environment to provide answers to help you address security risks, unauthorised software or to save money.
1. Identify End of Life Software
End of life software is a security concern, if you have end of life software, is it being patched? If not, it becomes an unnecessary risk, so the software needs to be either upgraded or uninstalled. Ivanti's content team do a fantastic job of keeping the Software Library up to date so using the 'End of Life' chart in Software Insights we can quickly get a list of software installed in your environment to target for upgrade or removal, including the name of the end user who is using the device. The 'Upcoming End of Life' chart also provide a resource for you to get ahead of future issues before they become end of life.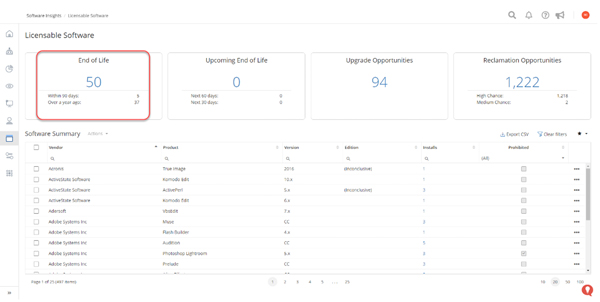 2. Unauthorised Software Use
At its core, Software Insights allows you to view, filter and categorise the software in your environment. Meaning you can quickly see the top software categories, software vendors and then drill further into each individual software title and see exactly what device it is installed on and who is using it. Lastly, you can then classify software titles as prohibited or allowed to make it even easier to filter these out in the future. Additionally, using this data security teams can be provided software titles that should be denied or controlled through policy.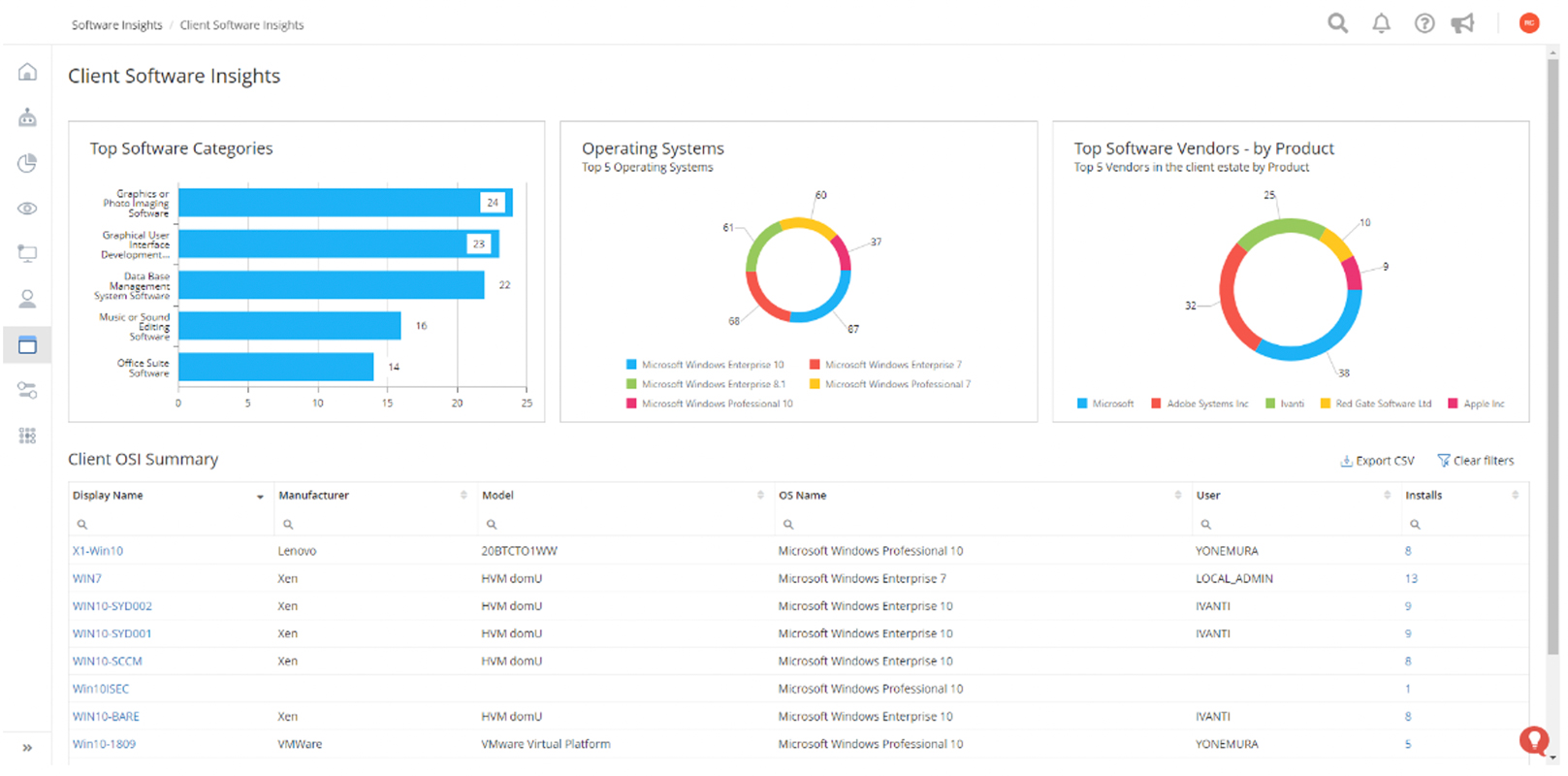 3. Understand Where You Can Reclaim Licenses to Reduce Cost
Leaving the best till last, my third use case will allow you to save money. Based on the data being collected on each device we gather usage information on the software that is installed across your environment. We then use that data to provide the 'Reclamation Opportunities' view, here you can see the 'days since last used' for each software title on a device, along with a determination on the chance of reclamation, for example a software title that hasn't been used in the last 90 days might be classified as a high chance for reclamation. Once you have decided to go ahead with reclamation you can then create a ticket in the Service Management platform for the support team to action. By removing the software from the device, you are reducing you license count which can allow you to reduce the entitlements you own, thus saving money!
What's the Value?
By spending a few hours weekly or fortnightly to review these 3 Software Insights dashboards, you will:
Reduce your security exposure
Keep on top of unauthorised software that has appeared in your environment
Save some money.
Plus, you have a source to go to when you need to answer or provide evidence you have a handle on the software in your environment and lastly this is a great first step in establishing and maturing your Software Asset Management practice, positioning you to adopt a full SAM solution in the future such as Ivanti License Optimizer to manage Enterprise License position and Audit defence.
If you are responsible for the SAM 'Hat' or security and interested learning in how Ivanti Neurons Spend Intelligence can help, without taking up all your time, check out our website for more information here and feel free to reach out to us if you would like more details or a trial.