Windows 10 Current Branch for Business
Windows 10 Current Branch for Business (CBB) is very similar to Current Branch, but with a slower adoption timeline and longer support life. This extended period allows Microsoft time to take feedback on new branch features and provide fixes.
Free eBook: Discover the dirty little details about Windows 10
To date, there have been two CBB releases. The first was the 1507, or GA release, and on April 8, 2016, Microsoft declared 1511 with the inclusion of the March 2016 cumulative update the next Current Branch for Business making it the second release. To date, the release has yet to be made available, but will be published to Windows Update as well as on the Volume Licensing Service Center and MSDN. It is a bit perplexing that it takes more than a month to publish the update, but this is the first CBB update.
Configuration via checkbox
One little checkbox switches Windows 10 to Current Branch for Business. Unlike Insider Preview which requires enrollment, all that you need to do to move to Current Branch for Business is select the Defer Upgrades checkbox found under Settings > Windows Update > Advanced Options dialog.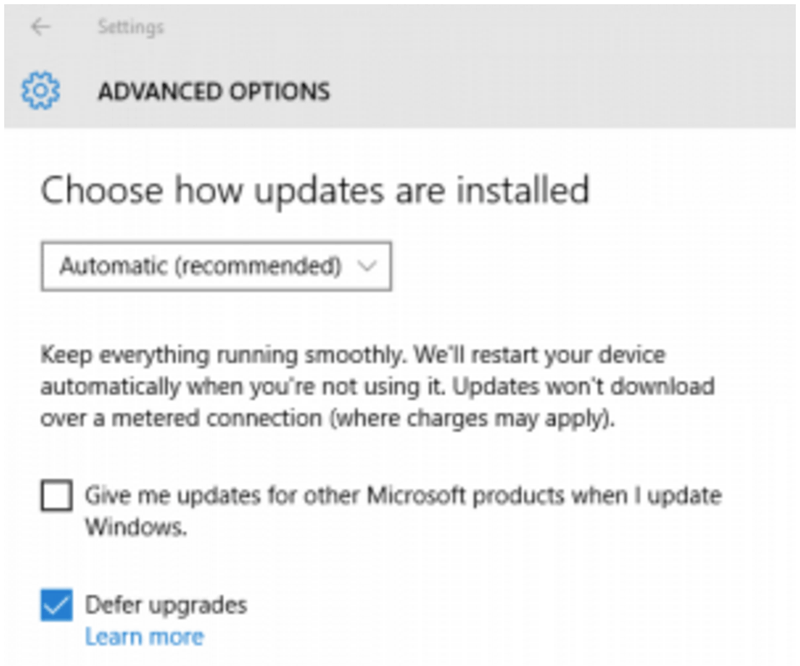 Using Local Policy or Group Policy Settings, you can also set the upgrade to defer for up to eight months after it has been made available. A smart strategy would be to roll out the update gradually to assess impact to your environment. I will talk more about this in a future article.
Branch upgrades
Windows 10 Current Branch for Business (CBB) is expected to upgrade in a very similar manner to Current Branch. Review my section on Branch Upgrades for Windows 10 Current Branch to understand the upgrade. As noted on the Current Branch, this is no Service Pack, this process is more like an operating system update in terms of size, time required, and impact on the user.
Update lifespan
Microsoft notes that Current Branch for Business will have a minimum servicing length of eight months. It also appears that servicing will be provided for current and previous version of Current Branch for Business. We have yet to experience a third branch and the anticipated loss of support for the oldest branch for servicing updates. This likely scenario should push you to start rolling out the newest branch to the systems on the oldest branch as soon as it is made available. This will avoid leaving those systems without support for security updates.
When to use
For any business where desktop stability is important, Current Branch for Business is a good choice. Current Branch will introduce many new features and changes that create potential risk whereas Current Branch for Business will have at least four months of fixes included.
Key takeaways
Summary for Windows 10 Current Branch for Business.
CBB is Current Branch with some fixes typically delivered four months after the Current Branch release
Upgrades can be deferred another eight months
The upgrade process will be significant just like Current Branch