Windows 10 and DesktopNow
*This post originally appeared on the AppSense blog prior to the rebrand in January 2017, when AppSense, LANDESK, Shavlik, Wavelink, and HEAT Software merged under the new name Ivanti.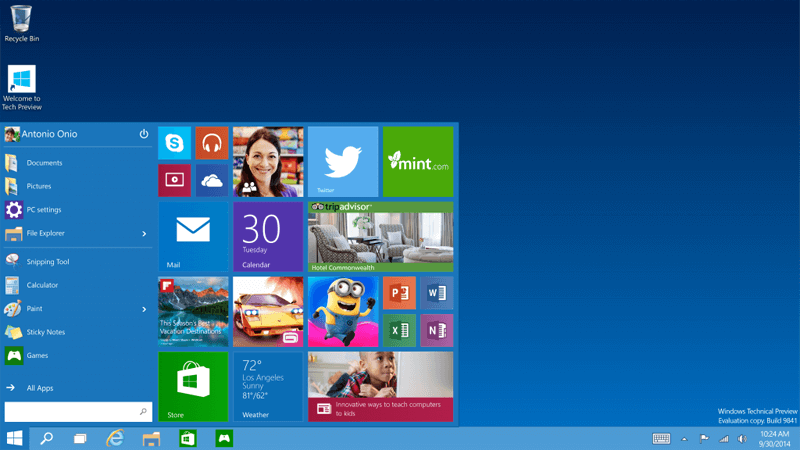 At the start of October 2014, Microsoft released the first preview of its next Windows operating system, namely Windows 10. Scratch beneath the surface and the first preview that was released was closer to something like Windows 8.2, with a preview of the next generation user interface, including the sorely-missed start menu. While it did not contain any of the deeper changes expected in the core of the operating system, it did make a clear statement that reassured consumer and enterprise customers that Microsoft had listened to its users and was making the changes they wanted without throwing away the best things from Windows 8.
In January we have now seen a more substantial preview of Windows 10 as Microsoft builds towards an expected final release around September or October. This latest preview contains more of the underlying security and kernel changes promised in Windows 10, and at AppSense we are now researching the new opportunities and potential changes for our product lines.
So far, no big surprises, but history has told us that Microsoft can make significant changes to Windows up until the last minute, so it is too early to predict how much work is required for full compatibility. As of now, we expect to be able to fix known issues with Windows 10 in a Service Pack release around the time that the final Windows 10 RTM build becomes available to enterprise customers, but that is subject to change as Windows 10 evolves and we learn more about the underlying changes. AppSense will, of course, add Windows 10 to our compatibility matrix when it becomes available, meaning that we endeavor to provide software fixes for new issues as they are discovered, either as hotfixes or in a Service Pack.
For early adopters who, like us, are experimenting with Windows 10 in a lab, we'd love to hear your feedback so we have started a new forum on AppSense Exchange to discuss Windows 10 issues. You can join it here.
The key message is that we, at AppSense, are excited by the enhancements and opportunities that Windows 10 presents, and we look forward to working with our partners and customers to deliver even greater value as we optimize and secure the user's experience on Windows 10, just as we have done for every Windows version for the last 15 years!
UPDATE 2nd Feb 2015 - clarified that the anticipated Service Pack will fix known issues at the time of Windows 10 RTM.