What's New in Ivanti Environment Manager, Management Center, and Application Control 10.1 FR3
The release of User Workspace Manager (UWM) 10.1 Feature Release 3 provides deeper integration with customers on their Windows 10 journey, with some great updates to enhance the user's post-migration experience in a Windows as a Service world.
You may have read recently of the changes in the last few months to the Windows 10 Servicing Model that shifts the onus somewhat on organizations themselves to decide when Feature Updates are ready for Enterprise Deployment. To clarify the UWM position, an update was made to our own Windows 10 Servicing Support statement which is available via a Community Article available here.
A common theme as organizations continue to migrate their workspaces to Windows 10/Server 2016 is the realization that they are inadvertently entering a constant state of migration. The rate of change in Windows 10 is unprecedented, with the Semi-Annual Channel rolling out Feature Updates that have the potential to disrupt businesses overnight without careful planning and testing. With all this in mind, FR3 has a key focus on reducing disruption to users during these changing times, by providing IT with functionality that ensures continuity in a Windows 10 world.
Environment Manager
Microsoft Edge Browser Personalization
Since Windows 10 release, Microsoft Edge browser is the default browser for the Operating System with security as a key incentive for adoption, Forrester recently commented here that 90% of customers surveyed intend to increase Edge usage in their business over the next year.
A key challenge to customers is that Edge is a very different experience both from an Administrator and User perspective in comparison to Internet Explorer.
A great overview of Edge Personalization is available on our Ivanti Help Channel here:
https://www.youtube.com/watch?v=mS5h3-GIjp8&feature=youtu.be
With Microsoft Edge being built on the same Universal Web Platform (UWP) utilized by Windows Store applications, traditional UEM methods of persisting\roaming user settings are not really an option. Microsoft offers limited capabilities with Enterprise State Roaming, but currently this lacks the flexibility and control for application personalization, and requires that corporate accounts are linked with Microsoft Live accounts.
Ivanti has extracted an innovative approach to persistence/roaming from conventional desktop application personalization to ensure that we roam essential Edge user settings such as Favorites/Bookmarks/Reading Lists without introducing new workflows for the administrator or user. Simply apply our Out-of-Box application template and deploy the FR3 Agent update to your endpoints to ensure that Edge will be personalized at next application launch.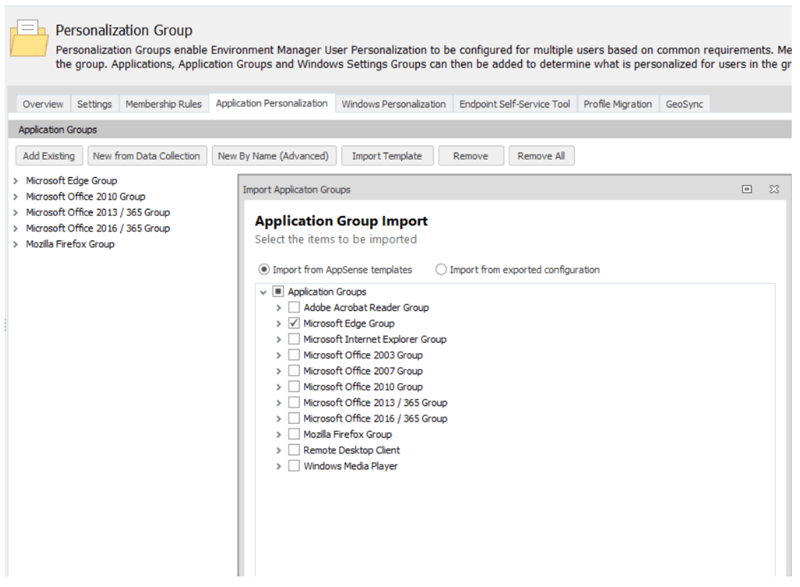 Any changes that a user makes while using Edge are synchronized at application stop, with no requirement to log off. IT can manage a user's Edge personalization settings via our Web Console for troubleshooting or Backup/Restore of settings, whereas end users can manage Edge with the Endpoint Self Service utility just like a regular Win32 desktop application.
Edge Personalization represents just the beginning of our expanded support for Windows Store applications. It's clear that managing and securing these new applications is a key initiative as organizations move to Windows 10. We welcome your feedback via our Enhancement Request Portal.
Start Menu Personalization with Creators Update (1703)
As mentioned in the introduction, Windows 10 Feature Updates contain many product enhancements in addition to completely new features. A prime example of a feature change was the 1703 Creators Update which introduced an updated Start Menu Tile architecture, invisible to the user but quite problematic for vendors of desktop experience software! A customer trying to roam settings to the Creators Update menu would have encountered issues, but with Feature Release 3 we have resolved them, ensuring a smooth journey from (for example) Windows 10 Anniversary (1607) to Creators Update (1703) and onwards.
Management Center
Scheduled Event Maintenance
Ivanti Management Center 10.1 FR3 Scheduled Event Maintenance is an extension of a feature released in 10.1 FR2.
The FR2 feature enabled system administrators to control the number of events stored within the Management Server database by removing events. Managing the size of the events database boosts performance, lowers costs, and creates an ideal Xtraction reporting repository for keeping management informed on end user computing's contributions to the business.
In FR3, we've extended the FR2 feature to allow the system administrator to create and manage event maintenance schedules. The ability to effectively monitor your environment either during Windows 10 migration or in day-to-day operations is enhanced in FR3 with Scheduled Event Maintenance. This feature enables administrators to create and manage schedules and maintain the event database using a new set of PowerShell cmdlets, keeping event retention at an optimal level for reporting and performance.
A prime benefit of this is for customers who use the Management Database for reporting with Xtraction. Our UWM Xtraction Dashboards provide detailed analytics direct to a Web Browser, giving vital insights into your environment on metrics such as Windows 10 Migration Status, Privilege Management and Policy Compliance.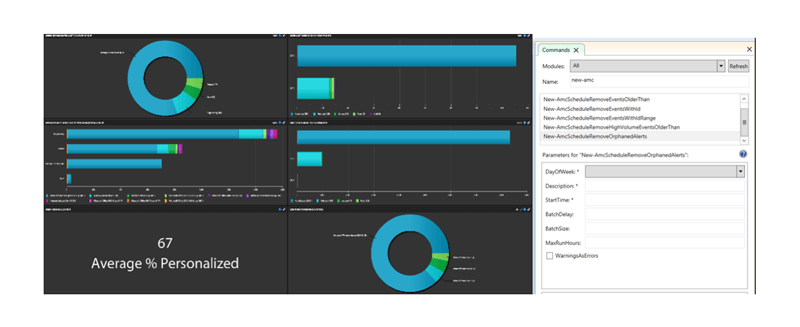 Ivanti Application Control 10.1 FR3 – Customer-requested Enhancements Available
The Application Control 10.1 FR3 release is solely composed of feature enhancements requested by customers via the Community Site. Many thanks for your engagement! These enhancements include:
Character message limit removed: the 255-character limit for messages intended for end users limited the information IT could communicate. With this limit removed, IT can include all information relevant to the issue, reducing help desk calls and providing a better user experience.
Extended support for session variables in the Application Denied message box: extending the 255-character message limit removal described above, This gives the user additional information on why an application has been denied, as well as additional troubleshooting information in the event the user contacts the help desk.
Elevated child processes for User Privilege Management: audit logs now capture the details for both the primary process as well as any child processes to provide increased audit visibility and improved troubleshooting
URL Redirection Whitelist: This feature has been enhanced in 10.1 FR3 with the ability to whitelist specific URLs to address the following use cases:

Prohibiting access to a domain while permitting access to a sub-domain (for example, the Resources page for a specific website);
Control internet access for end users using a whitelist approach: IT can prohibit access to all internet sites and allow access to approved sites by adding them to the whitelist.

Powershell scripts: In 10.1 FR3, we've added the ability to use PowerShell scripts within Custom Conditions.
To take advantage of this and all of the other enhancements to UWM throughout 2017, download UWM 10.1 FR3 from the Ivanti Community page here.