UEM Brings Mac Management into the Light
What do managing Macs and the song "Mack the Knife" ("Mackie Messer" in German) by Bertolt Brecht and Kurt Weill have in common? The final verse contains a clue. This verse wasn't included in the original play "The Threepenny Opera" that premiered in Berlin, Germany in 1928, but was added by Brecht for the 1931 movie adaptation:
Denn die einen sind im Dunkeln

Und die andern sind im Licht

Und man sieht die im Lichte

Die im Dunkeln sieht man nicht.

There are some who are in darkness

And the others are in light

And you see the ones in brightness

Those in darkness drop from sight.
According to analyst firm Enterprise Management Associates® (EMA™), most organizations are experiencing a growing number of Macs as well as workers using Apple iOS devices in a variety of departments and locations. Yet part of the challenge for IT departments is gaining greater "light" or visibility and control of those systems and devices.
EMA conducted research on the current requirements, challenges, and experiences in end-user computing. It produced the report that you can download below titled "Unified Endpoint Management: Simplifying the Security and Support of PC and Mobile Devices."
Here's what the report says about the increasing importance of supporting MacOS and iOS platforms:
"As organizations increasingly adopt Apple devices to accommodate user preferences and evolving business requirements, the importance placed on support for Apple devices is growing proportionally. 24% of survey respondents from organizations that manage Apple devices indicated support for MacOS and iOS platforms was 'very critical' to their business success. However, respondents also indicated that that number can be expected to rise to 41% within the next two years."
In the face of this growing need for support, IT in turn requires a clearer, broader picture of what's in the environment, a deeper look at the risks, and visibility into how devices are being used. If you or your team is expected to manage Macs and Apple devices along with everything else, the trend is toward managing all endpoints as part of a unified endpoint management (UEM) strategy.
Some Key Research Points Concerning Mac Management
Here are some additional points from the EMA report related specifically to Mac management:
"… organizations supporting Apple devices reported a greater-than-average difficulty in performing related management practices. This is indicative of the fact that MacOS and iOS platforms require specialized support resources that are not commonly included in management solutions that were principally designed to support Windows architectures.
"In fact, more than half of organizations that support Apple devices reported at least some difficulty with performing key Apple-focused management tasks (Figure 3). Of particular note were processes for predefining configuration for the Apple Device Enrollment Program, as well as deploying applications and patches to MacOS endpoints."

Macs and Much More—The Power of Unified IT
These days IT is more than keeping the business up and running. You must modernize operations, satisfy users' expectations, and manage all the devices they access.
Ivanti® Endpoint Manager is proven, reliable client management software that is core to: 1) discovering everything that touches your network; 2) automating software delivery; and 3) integrating actions with multiple IT solutions.
Ivanti Endpoint Manager:
Provides extensive data about managed and unmanaged devices through proven discovery and inventory technology.
Minimizes issues that threaten user productivity caused by system outages, device downtime, OS upgrades, and change and configuration activities.
Saves IT administrators from jumping between multiple consoles and free up time for more business-related initiatives.
Organizes, automates, and rolls out the operating systems, software distribution, and patching projects to users in different groups throughout multiple deployment stages. This capability is especially helpful for maintaining the release cadence for Mac OS X patches and third-party software updates.
No matter what leading device or OS your users have in their hands, you can manage various endpoints and operating systems, including:
PCs/Servers—Windows, macOS, Linux, Unix, and Chromebooks

Mobile Devices—iOS, Android, and Windows
You gain the ability to manage any number of devices that users employ. The following table provides a quick overview of the leading management capabilities of Ivanti Endpoint Manager available for each end user device.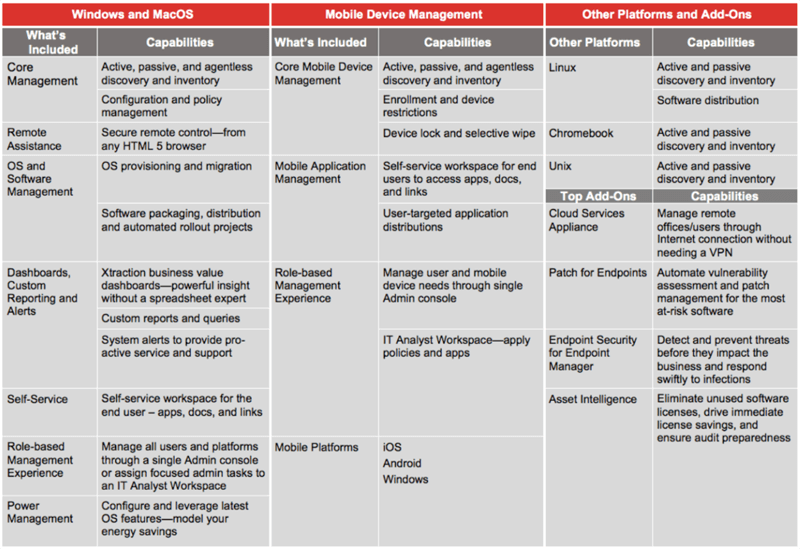 Invest a few minutes to learn more about the tested, trusted UEM capabilities that Ivanti offers.