Three ITSM Projects for your Five-year Plan (Part 5 of 5): Self Service
I've had to travel a lot throughout my career in technology. Years ago, I remember having to stand in line at the airport to get my boarding pass. Then, when the internet was adopted by the airlines, they provided the ability to check-in online and print your boarding pass, which eliminated the process of waiting in line. Now, I simply check into my flight using a smart device, and then I present an electronic boarding pass at the gate.
When we look around the world we live in today, it seems everything is moving to self-service portals. Grocery stores, airports, banks, gas stations, and fast food restaurants are examples of places we interact with a self-service portal instead of an actual person. Because of these technological advances, a new culture has emerged in the emerging generation which Gartner has named 'Gen Z.'
"With consumers' preference for using the Internet and mobile services to drive business efficiencies and optimize time management, every industry is striving to improve the customer experience and meet the demands of Gen Z by simplifying, automating and making more intelligent end-to-end processes, and minimizing manual interventions, enabling the consumer to self-serve."
For IT service management organizations, I believe the most important project should be to either build or improve the self-service portal. For an ITSM self-service project, asset management (ITAM), along with process automation tools, will provide a solid foundation.
Remember, it is important that the tools selected are able to integrate with the ITSM solution. If choosing a cloud solution, be sure to understand integration capabilities or integration limitations.
What is ITSM Self Service?
An ITSM self-service portal should provide the following:
IT technical support
Service requests
IT Technical Support
When a user has an issue, a good self-service portal provides access to a knowledge base listing common issues or frequently asked questions, reducing the number of calls to an analyst. If an issue needs to be analyzed, the user should be able to open the incident using a simple form designed to route the incident to the appropriate support group.
Automated processes that can reset a password or update their device with the latest approved patches should be made available to the user. Personally, I have found that one of the most valuable features provided in a self-service portal is the ability of online chat with the analyst.
Service Requests
A large part of your self-service project will be the service catalog. It will be important to determine what services will be offered through the self-service portal. Once the services are determined, they will be added to the service catalog. Services should be designed so that they are only visible to the appropriate users.
For example, if an inside sales person is not allowed to have a company phone while an outside sales person is provided with a phone, the self-service portal should not make the 'request phone' service visible to the inside sales person.
A request process might need to reach beyond the traditional boundaries of an ITSM software solution. Integration into HR, sales, asset management, and accounting are just the beginning. The goal should be to build your solution with efficient B2B connections.
Gartner says, "Business to business (B2B) processes are also continuing to be streamlined to drive down costs by decreasing the number of redundant manual interventions. This is being accelerated by new technologies focused on providing more intelligent and predictive processes linked to the IoT to speed up and automate even skilled-people-based processes."
As you design your self-service portal, follow the advice of Joe the IT Guy, an ITSM blogger, who says to "…think about self-service from an end user point of view. They shouldn't have to worry about which part of the business supplies phones, or pensions, or paperclips. They shouldn't have to go to multiple self-service facilities for different goods or services. So plan for the extension of the self-service capabilities at the outset rather than allowing it to be a belated addition when someone suggests that a HR employee portal is needed. Not only will this deliver a better employee experience, it will also allow the organization to benefit from increased efficiency and effectiveness, and economies of scale."
Summary
ITSM projects require significant time and money. Projects need to be aligned with current needs as well as future technologies. Providing a self-service portal that can provide help in addition to fulfilling requests will help organizations reduce IT support costs. Furthermore, organizations will have an infrastructure in place that will be able to adapt to technology changes and demands expected in the near future. See part 1, part 2, part 3 and part 4 of Three ITSM Projects for your Five-year Plan.
On November 18th 2015, I gave a webcast for BrightTalk and discussed three key projects for ITSM. You can view the webcast by following this link.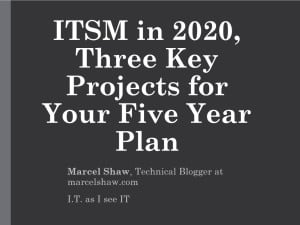 -follow me on Twitter @marcelshaw
This article originally appeared at marcelshaw.com