Survey: Remote Work Leads to Increase in Security Issues

Over the past several months, the world has changed as we know it. The COVID-19 pandemic has transformed the way many companies do business, with more virtual events, video calls, and curbside pickups than ever before.
Although challenging at times—we miss attending live events and other social activities—this pandemic has forced many companies to think outside of the box. The traditional ways of doing business were no longer feasible or even legal in some cases. So the question became: How can we provide the same quality of service during these times of social distancing?
IT professionals have felt this shift perhaps more drastically than others, since they were called on practically overnight to provide IT support to a remote workforce.
Ivanti's most recent survey looks at the state of IT departments in the current remote work environment. Based on the responses of more than 1,600 IT professionals, it's clear workloads have increased (63% reported), among many other things. Here are some key takeaways from the survey.
Security Issues
Overall, while things have gone well when transitioning to a remote work environment, the exception is an increase in security incidents. In fact, 66% have seen a rise in security issues in their expanded remote environment. The top issues include malicious emails (58%), risky, non-compliant employee behavior (45%), and an increase in software vulnerabilities (31%).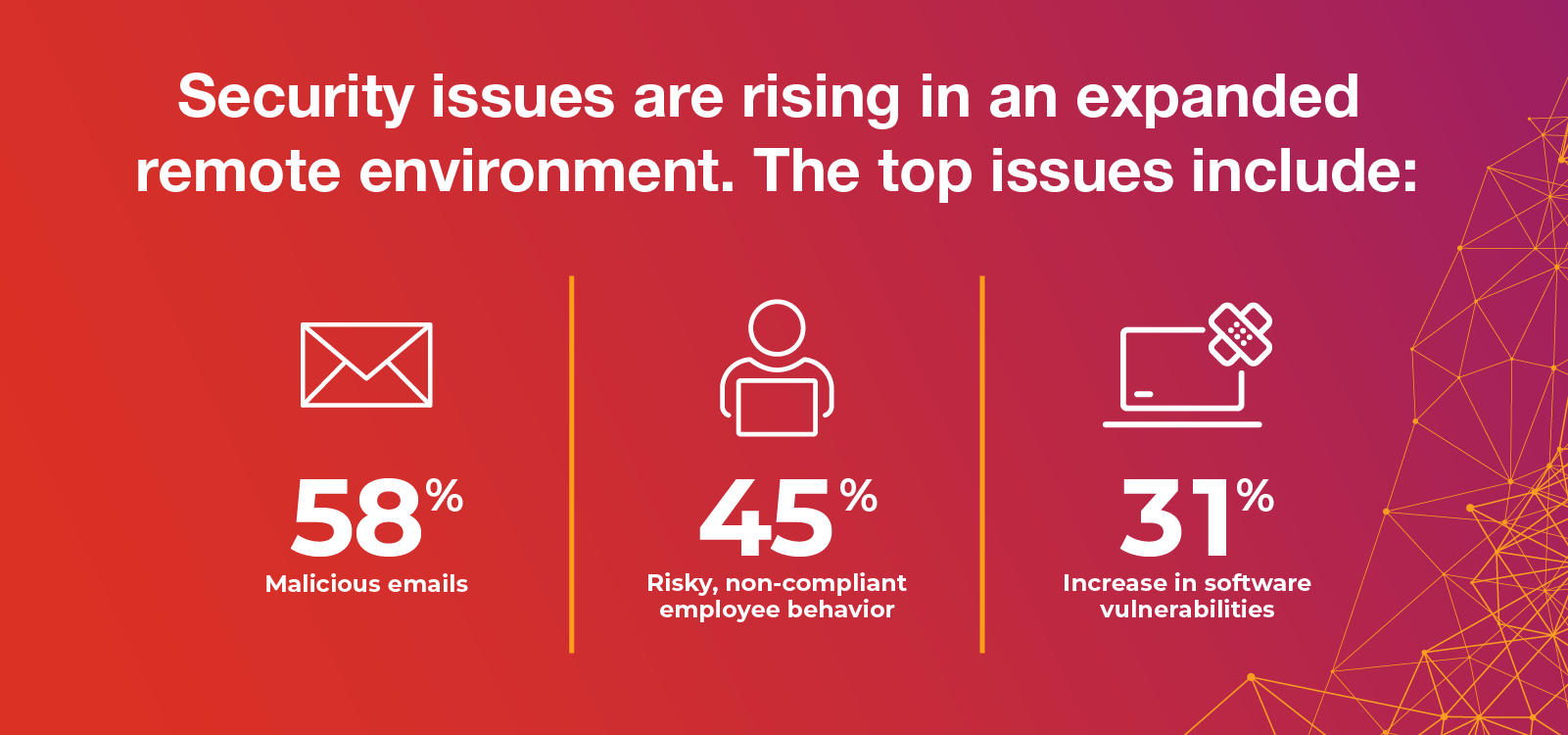 In regards to how many employees are now working remotely, 43% of professionals reported that 75% of their employees are now working remotely, and 35% said that 100% of their employees are now working remotely. An overwhelming 93% of respondents reported the number of remote workers has increased over the last few months. Reasons for the increase were driven by the following:
67% said a government mandate
63% said an executive decision
25% said due to a change in family situations
24% said an employee decision
Top Incidents and Requests
With all these changes, IT professionals are working hard to continue providing seamless support to employees. To cope with the shift to remote work, IT professionals had to increase VPN access to more employees (70%), set up and distribute extra devices (54%), and create more tutorials for employees (52%).
In addition to the above, 63% of IT professionals have reported a 37% increase in their IT workload since going remote, and 66% reported the number of incidents and requests submitted have increased by 39% due to more remote workers.
The top incidents/requests that have increased include:
74% VPN issues
56% video conferencing
48% bandwidth constraints
47% password resets
47% messaging issues
45% file/data access problems
45% new hardware requests
Top Collaboration Tools
A remote work environment is not complete without its collaboration tools. Many IT professionals reported being prepared for this type of remote work situation. In fact, 91% reported already having the collaboration infrastructure needed to support more employees going remote. The most popular collaboration tools? Microsoft Teams (69%), Office 365 (61%), and Zoom (43%).