Simplifying and Benefiting from App Migration
More than half (56%) of the warehousing professionals we surveyed plan to upgrade their existing fleet of mobile devices because these devices are nearing their end of life and/or the old age of their existing devices. In addition, the motivation to upgrade applications to a more visual and modern user interface was cited by one in four respondents as a critical factor influencing their upgrade decision. This is notable, as many ruggedized mobile deployments used in warehouse deployments are text-oriented and keyboard-centric solutions.
Modern mobile platforms such as Android are beginning to make more sense in warehouse deployment environments due to tenured hardware vendors such as Bluebird, CIPHERLAB, Honeywell, Panasonic and Zebra Technologies working closely with Google's Android operating system and delivering ruggedized solutions to the market. While terminal emulation and web applications have a long and proven history in these deployment environments, solutions to seamlessly port these application to platforms such as Android are not only commercially viable, but are enabling organizations to automate workflows and keep their workers productive. The image below details the technical obstacles warehousing professionals are contending with as they attempt to implement new technologies into their deployment environments.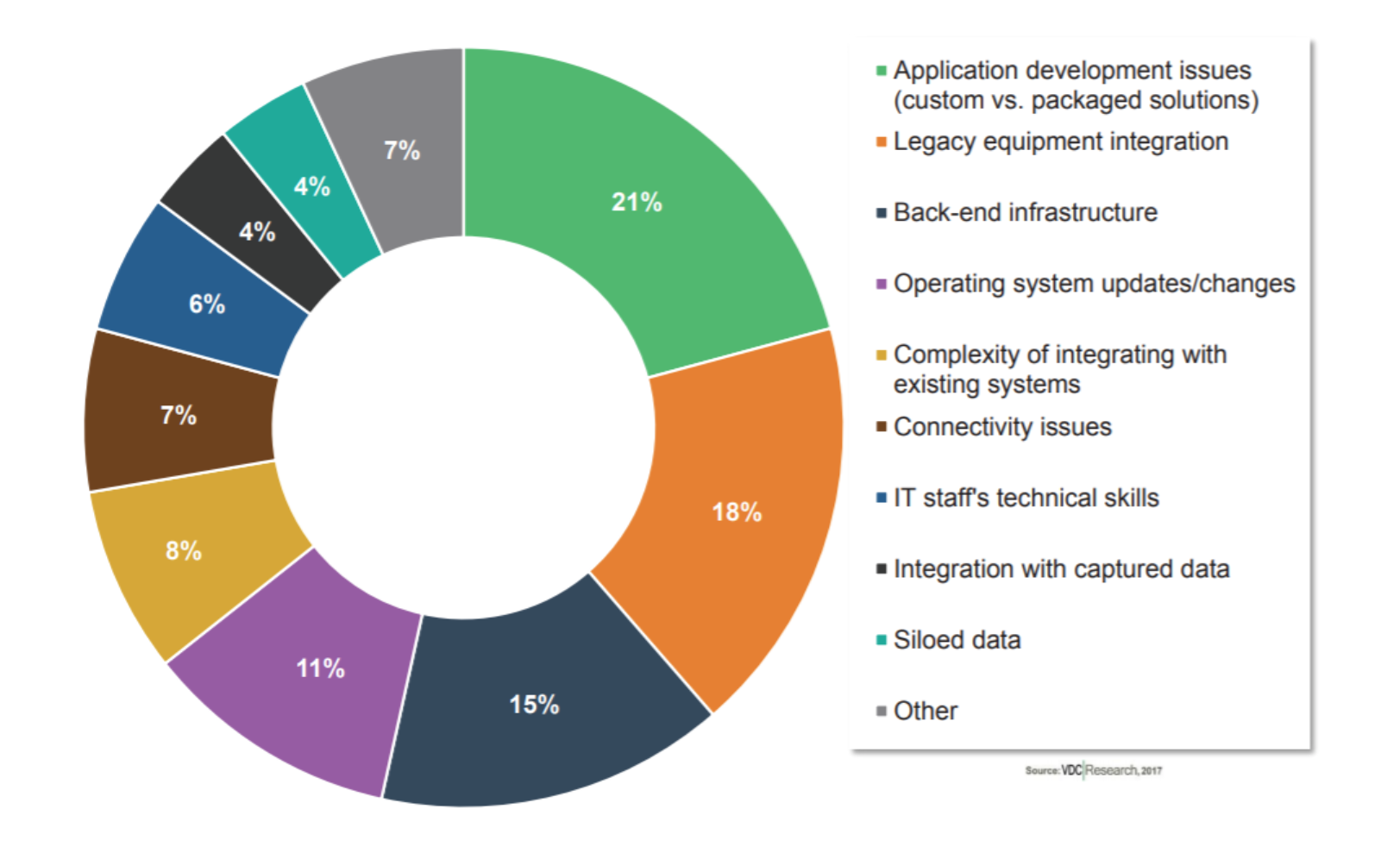 (Technical Obstacles to Implementing New Technologies in Warehouse Environments – Percent of Respondents)
VDC data showed that 53% of IT decision makers supporting warehouse operations viewed their mobility deployments as immature and/or outdated—furthermore, VDC's data also showed that 56% of organizations plan on upgrading their existing fleet of mobile devices because these devices are nearing their end of life and/or the old age of their existing devices. Organizations have made sizeable mobile technology investments to support their warehouse operations; however, Microsoft's WinCE or Windows Mobile not only remain in place, but are nearing their end of life.
Ruggedized handheld computers have been the de facto hardware platform used for data collection and processing across a variety of workflows in virtually every industry. These devices are widely deployed in warehouses and distribution centers for inventory and material management applications, courier delivery drivers supporting parcel delivery verification, and beverage distributors supporting digital exchange. Organizations rely on these devices to conduct business critical applications and operations in real time. However, the dominant OS supporting this ecosystem of devices is quickly approaching its end of life, leaving current customers with no clear migration path forward. Put another way, no matter which OS platform an enterprise looks to deploy next to support its business-critical applications, each application will require recoding and rework, as it will not be compatible with modern mobile platforms. Moreover, these legacy devices fall well short of today's mobile standards across all performance, functionality and usability criteria, ultimately limiting their potential impact on business operations. VDC has tracked these deployments, and estimates that there are 15 to 20 million legacy rugged handheld devices currently deployed supporting various line-of-business (LOB) applications. The image below shows the primary factors that drive the decision to upgrade mobile deployments in warehouse environments.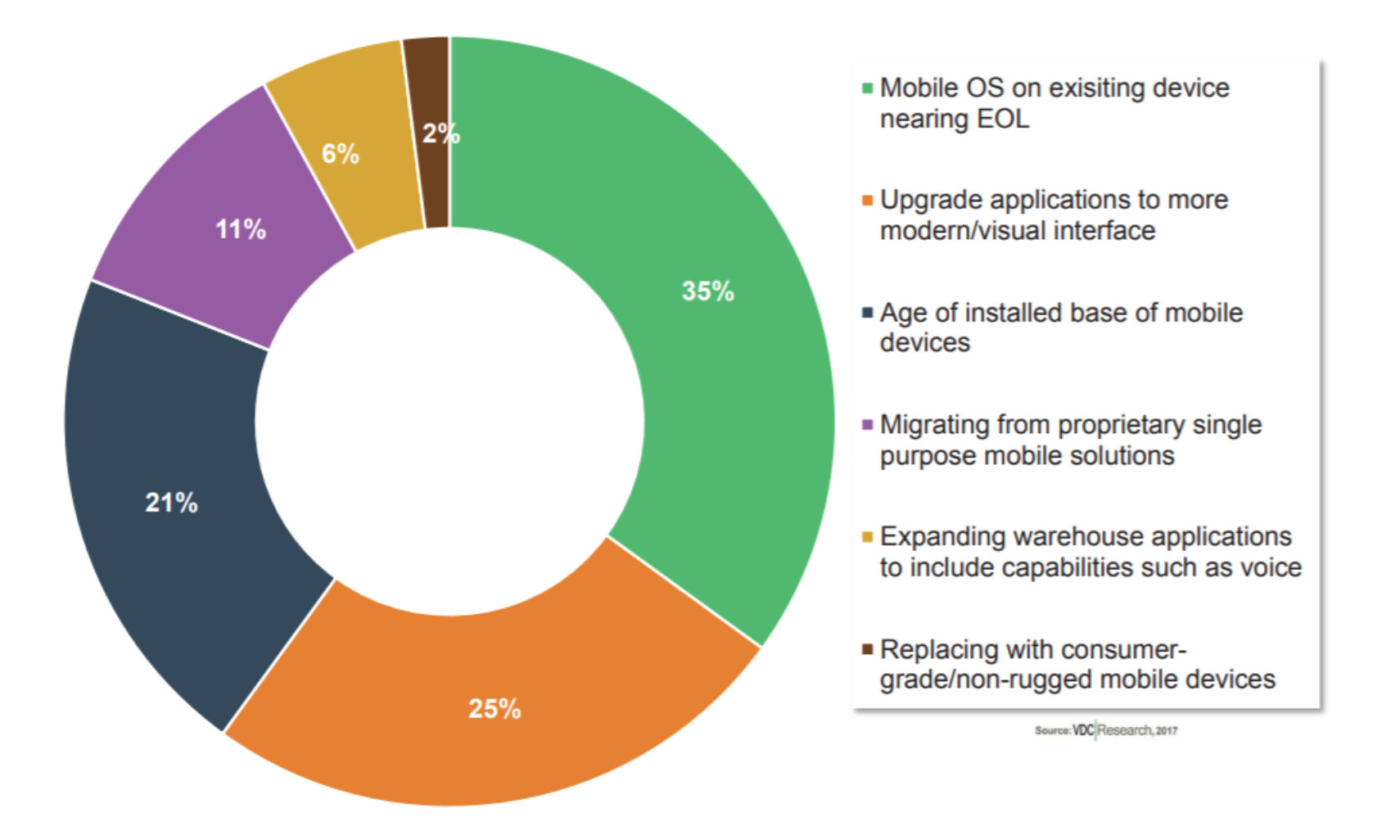 (Primary Factors Driving Decision Making Relating to Mobile Platform Upgrades – Percent of Respondents)
Microsoft's Windows CE and Windows Embedded Handheld 6.5 have long a tenure as the OS platforms of choice for the majority of these deployment scenarios. The portfolio of devices and form factors is broad, development tools are mature, and the developer community is sizeable. In addition, with support from Microsoft for the past decade, businesses have been able to effectively manage and maintain their deployments (often longer than expected). But change has been forced on this ecosystem, with Microsoft's end of life of its prolific Windows platforms looming, and the emergence of a new generation of modern Android-powered purpose-built ruggedized handheld devices not to mention the flood of smartphones being used in various corporate settings.
Below are several important dates that should be marked on your calendar:
June 10, 2018 — Windows Embedded CE 6.0 will be End of Life

June 9, 2019 — Windows Embedded 8.1 Handheld will be End of Life

January 14, 2020 — Windows Embedded Handheld (WEH) 6.5 will be End of Life
Preparing for Microsoft's most prolific Windows Embedded Operating Systems End of Life is essential for any organization maintaining these deployments; the devices impacted are often required for day-to-day job-related activities/functions of their users.
Read VDC Research's full report on Taking Advantage of Apps and App Modernization in Warehousing.