Ivanti Takes Home 3 Cyber Defense Magazine InfoSec Awards From RSA Conference 2018
It's hard to write a blog about winning InfoSec Awards without sounding braggadocios. "Look at all these awards! Aren't we so awesome?" etc. So instead of that approach, we will just keep it to the facts.
Fact: It took a 17-ft. U-Haul to get all our awards home from RSA this year.
Ok, that's an exaggeration. The U-Haul was only 10 ft.
All joking aside, here's how the awards were determined. From a pool of nearly 3,000 information security companies around the globe, Cyber Defense Magazine (CDM) spent the past six months researching which companies offered the most respected and innovative products and services. The list was then whittled down to 500 finalists. Then 200.
"With the advances in cyber-crime, new forms of malware and ransomware, cyber-terrorism and nation state cyber-espionage," said Gary S. Miliefsky, Publisher of Cyber Defense Magazine, "we found the innovators who could proactively help you get ahead of the next attack while documenting better due care for regulatory compliance."
Ivanti was among the 200 finalists to take home one or more of the highly-coveted InfoSec Awards at the CDM award event during this year's RSA Conference.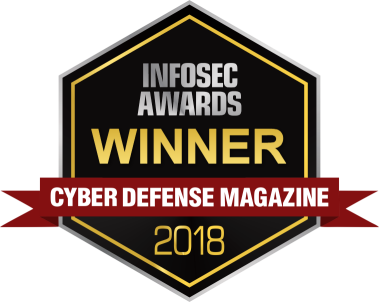 CISO of the Year (Phil Richards): Ivanti, Leader
Identity and Access Management: Ivanti, Most Innovative
Vulnerability Management: Ivanti, Leader
With cybercrime continuing to gain momentum, surpassing global drug crime last year and reaching over $600B in theft and damages, we are proud to see Ivanti as an award-winning innovator, and leader, across three categories, offering a new approach to defeat these criminals," said Pierlugi Paganini, Editor-in-Chief, Cyber Defense Magazine.
We're particularly proud of our CISO, Phil Richards, whose CISO of the Year award is well-earned after implementing comprehensive risk assessment and remediation practices for Ivanti. He has also initiated the FedRAMP certification process, improving the company's risk profile and transforming organizational security by unifying processes and strategies across diverse departments.
"In today's climate of growing cyber risk, it's vital that organizations take a unified view of their security posture to protect users, their systems, and critical IT resources with multiple layers of defense," said Phil Richards. "At Ivanti, we're helping to unify the security process with technologies that span the detection, prevention, and response spectrum so organizations may remain secure. We're honored to be recognized with 2018 InfoSec awards in three categories for our accomplishments."
As for the Identity and Access Management category, it was Ivanti's Identity Director that won for Most Innovative. This product provides an attribute-based approach to identity and access with automated provisioning, workflows, and self-service. The right levels of access are delivered based on their identity, enabling users to continue to be productive, while the business remains secure.
For Vulnerability Management, Ivanti's Endpoint Manager and Endpoint Security for Endpoint Manager won the Leader designation. The integrated console and workflows of this solution enables actions and policies to be applied to any mix of device types, enhancing security response and remediation.
Congrats to all the members of these winning product teams here at Ivanti!