Ivanti User Workspace Manager Update: 2020.2 Release
Today (September 17th, 2020) heralds the release of Ivanti User Workspace Manager (UWM) 2020.2 – a significant release for our UWM customers.
16 Feature Enhancements
47 Customer Bugs Resolved
IT organizations have faced a year like no other in 2020. The pandemic triggered a 180°degree shift in working habits and patterns for many, in some cases overnight. Thankfully Ivanti UWM 2020.2 is here and brings with it a set of tools and remediations tailored to conquer the challenges of delivering an ambient user experience on the modern, 2020 workspace….
Ambient Windows 10 and Edge Chromium Experience, Regardless of Location
Windows 10 Start Menu Builder
This release introduces the Environment Manager Windows 10 Start Menu Builder - a great new feature that provides a matchless solution to deployed Start menu customization. This solution enables the delivery of a customized, productive Start Menu across both single user (Windows 10) and multi-user operating systems.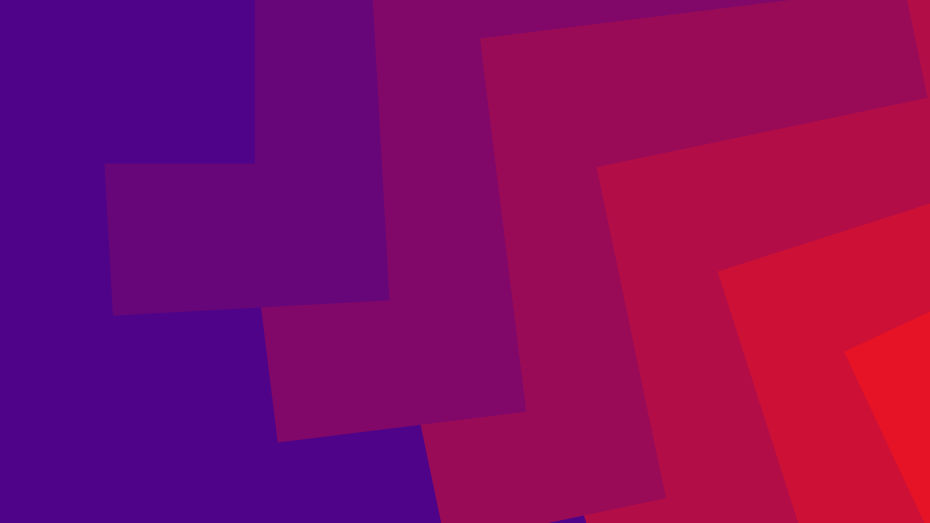 Edge Chromium Personalization Template
This Marketplace template enables the capture and persistence of user preferences inside of the most rapidly adopted browser in 2020.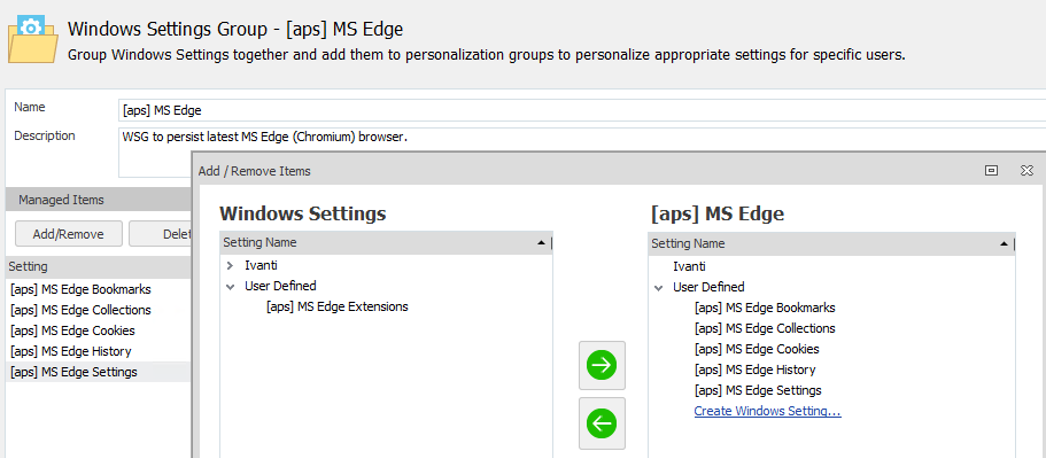 File Type Exclusions for Windows Settings Groups
Custom Windows settings enable you to personalize registry keys, folders, and files by specifying which of these are to be included (or excluded) from the personalization database. Environment Manager 2020.2 provides a greater depth of Administrative granularity, introducing the ability to exclude specific file types without having to specify their folder path.
Sync of Windows Settings over VPN
At logon, a sync of the user's Personalized Windows Settings preferences is attempted. The result of this sync is dependent upon a stable connection having already been established with the Personalization Server.
As of Environment Manager 2020.2 an Engineering Key is available which - when configured and enabled - ensures the timings of the sync and the VPN connection are in harmony. The result… a consistent delivery of a familiar, personalized user desktop regardless of location.
Privilege Management – Secure session with zero disruption
UAC Replacement
A complement to the existing Self-Elevation functionality, UAC Replacement enables the configurable bypass of the prompt and request for credentials where elevation is required. Where configured, the benefits include a reduction in the distribution of Admin credentials and a lighter weight administrative effort in discovering and remediating requests for on-demand elevation.

URL Redirection – Edge Chromium Support
A secure and seamless browser experience. The autonomous redirection of URLs as configured by the Administrator is now supported in conjunction with the Edge Chromium browser: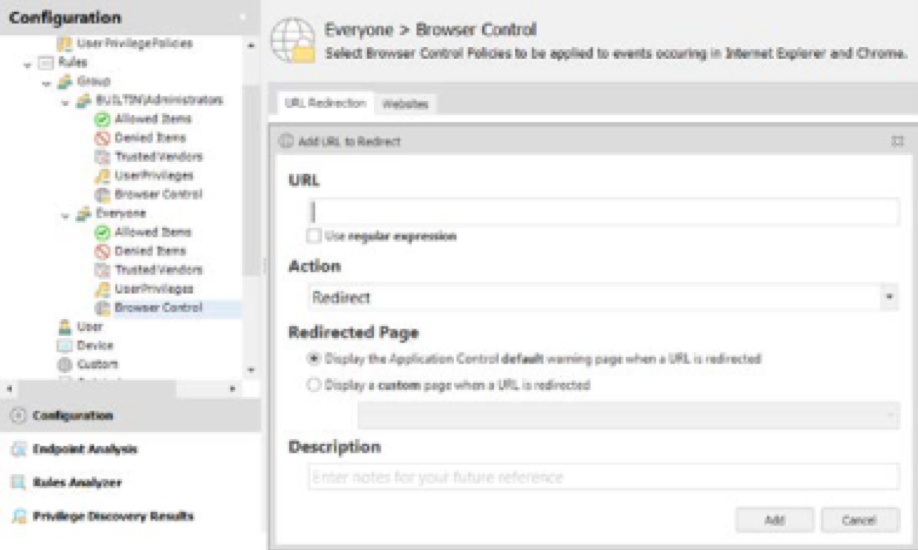 On-Demand Elevation of the 'Add/Remove' Windows 10 Settings Application Component
As of 2020.2, there is no longer a requirement to elevate the user token for the duration of the sessions to meet a user requirement for uninstalling and modifying programs. You can now empower standard users to uninstall and modify programs on Windows 10 via the Windows 10 Settings application (via Application Control component elevation functionality).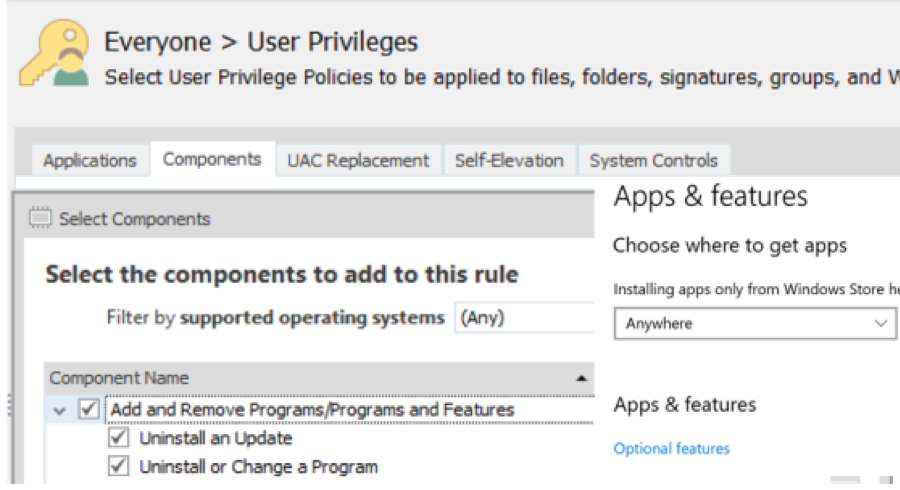 Global Style Update
The 2020.2 release introduces a design update for default global styles. The new style uses a larger message box format to accommodate more detailed information; and the default messages no longer use a logo, instead they feature a color-coded banner.
The update is backwards-compatible, enabling you to continue using the previous classic styling, or to apply the style update to your existing configurations as required.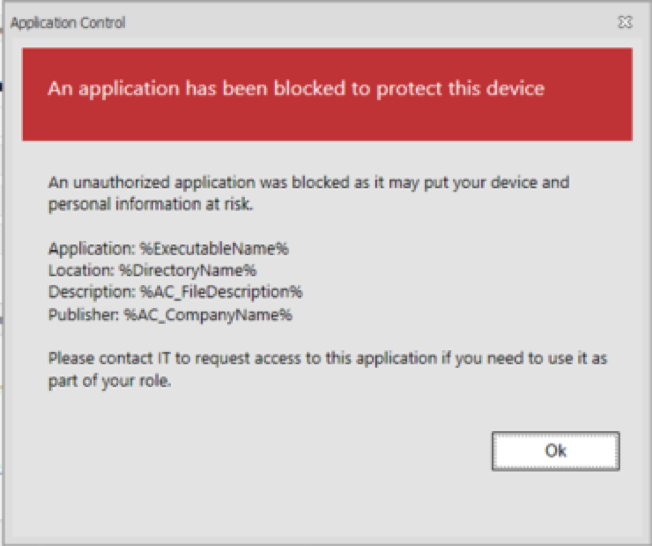 Extended Auditing Events
Two additional event IDs have been added: 9060 and 9061. By default, both events are disabled. If required, they can enable organizations to differentiate execution requests blocked by Trusted Ownership from those blocked explicitly by a Rule Policy.

User Data Management – Cloud storage enablement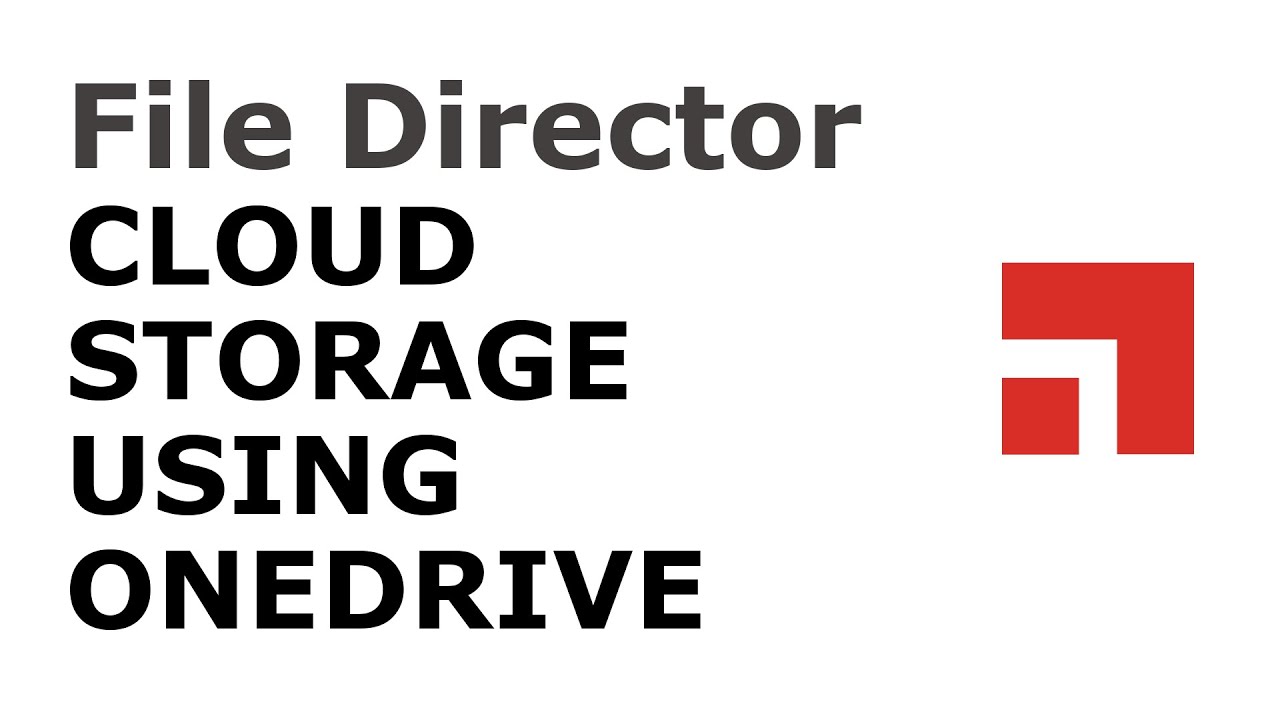 OneDrive Storage – OneDrive Delta API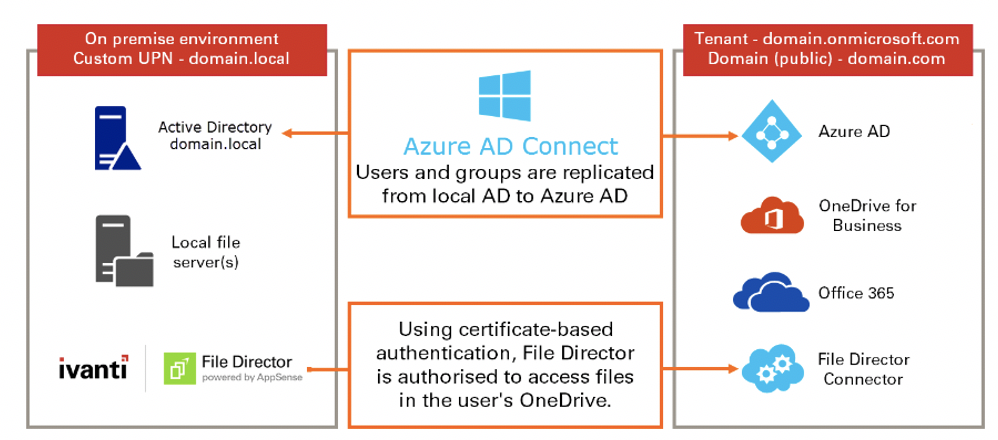 As of 2020.2 File Director utilizes the Microsoft OneDrive Delta API to ensure the most efficient, response sync experience for the end user. Benefits include a lighter touch logon and autonomous detection and application of out-of-band changes between devices and platforms.
Web Proxy Support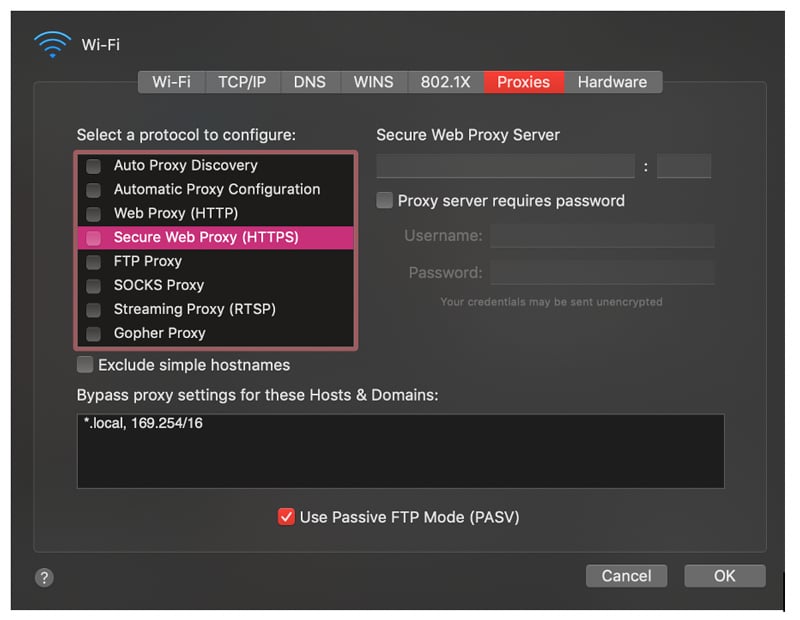 File Director can now be configured to use a web proxy for external services connections such as OneDrive, Google Drive and Box for example:
OneDrive Storage – Additional Character Support
Paths containing the characters # and % will successfully sync with OneDrive storage as of the 2020.2 release.
Cluster Wide Maintenance Mode Activation
A cluster of File Director Appliances can now be disabled simultaneously with a single click, reducing the time and effort previously demanded when performing environment wide maintenance or troubleshooting.
Also included….
A huge focus on performance and experience in this release of Management Centre. 16 customer bugs addressed including several targeting the responsiveness of the Console when navigating between deployment groups.
Explore User Workspace Management Here
Learn more about the 2020.2 release in the Ivanti Community Forum - User Workspace Manager.