Ivanti T-Shirts Spotted In Kenya: One Son's Service Project
Here at Ivanti, we understand the importance of giving back to the community. We offer our employees the equivalent of two full days volunteer time in support of a local cause.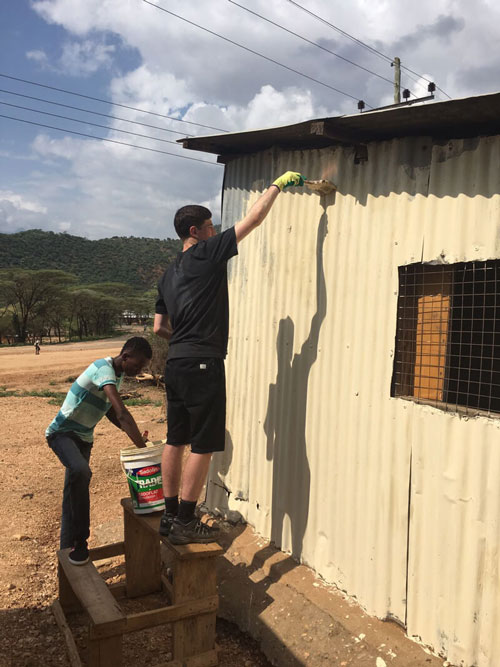 This culture of giving back has not only positively influenced our employees, but also their families.
Meet 16-year-old Josh Swindells—Ivanti Product Manager Andrew Swindells' son—who recently went to Kenya for two weeks. We asked him a few questions about his trip. Here's what he had to say.
Q: What made you decide to go to Kenya?
Josh: I made my decision to go to Kenya because I felt it was important for me to give something back, while also helping others who are less fortunate than we are in this country.
Q: What was your service project?
Josh: We helped out in three schools while we were in Kenya. For the first school, we built a flight of stairs up to the library and then painted the library as well as the classrooms. In the next school, we painted the inside and outside of the classrooms. In the third school, we painted blackboards and borders around the classrooms, varnished desks, and whitewashed stones.
Q: What is the education system like in Kenya?
Josh: Since most classrooms lack electricity, it forces them to be very traditional in the way they teach. It's all very basic. The teacher uses a blackboard and students copy it almost verbatim.
There is no comparison between this and my high school where we all have access to iPads and interactive whiteboards. Every student we met was very enthusiastic about school and gave all their effort to gaining a good education.
Q: What did you learn?
Josh: They make the most of everything they have and nothing gets wasted. I also learned how hard they have to work just to get basic items to help them survive that I know I take for granted. For example, ladies must walk to the top of a mountain twice a day for a week to get the grass and sticks to help build their home.
It was amazing just how friendly all of the people were! Everyone made you feel welcome straight away from landing to when we left. In our busy lives, it is very easy for us to forget to do the simple things such as being polite.
Q: Would you go back and do it again?
Josh: Yes, I would definitely like to go back again as it is a unique country and I would like to see how the projects look when they are finished!