Ivanti Neurons for Healthcare Expands Visibility and Security into the Internet of Medical Things (IoMT)
From my perspective, today's an exciting and important day for healthcare organizations around the globe. Why? Ivanti just announced the release of the new Ivanti® Neurons for Healthcare solution, designed to help healthcare customers improve asset visibility and security-risk mitigation for medical devices—in order to boost IT performance, strengthen security, and improve compliance across the estate with a smooth experience virtually unnoticed by clinicians, nurses, or hospital staff.
Visibility and Security – Key Challenges for Healthcare Organizations
According to research firm Frost & Sullivan's Internet of Medical Things (IoMT) "Forecast to 2021" report, 20 billion to 30 billion connected IoT and medical devices were projected to be a part of the healthcare ecosystem by the end of last year. Cyber-attacks continue to be directed at healthcare facilities, and there is an average of 6.2 vulnerabilities per medical device. The rapidly growing number of devices and lack of visibility—combined with security threats and ransomware increasingly targeted at healthcare—make it very challenging for healthcare organizations to manage and protect their medical devices and IT environment efficiently.
Ivanti Neurons for Healthcare – A Complete Picture of IT
Ivanti Neurons for Healthcare delivers the complete picture of IT across healthcare facilities by intelligently discovering and profiling IoMT devices, assessing risks, reporting threats, and reconciling device information across data sources.
What's more, customers can know more about the various healthcare-specific devices across their facilities, including device classification and usage information, with the details to reduce risk or attend to anomalies. Customers can also collect and reconcile vendor data, creating a single source of truth for all their medical devices.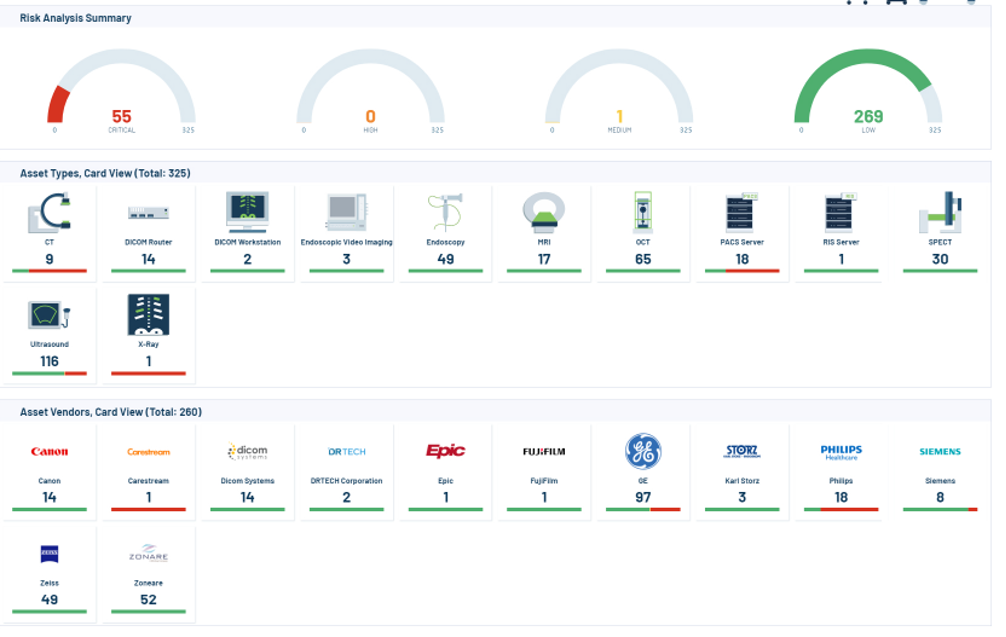 With the Ivanti Neurons for Healthcare solution, you can:
Discover and gain visibility into all healthcare devices and Internet of Medical Things (IoMT), such as PACS servers and X-ray, CT, and ultrasound machines
Gain a complete picture of your medical and IT devices in a single view
View medical-device analytics such as seeing which devices have default passwords
Avoid vendor sprawl and reconcile medical-device information across multiple data sources
Classify medical devices for a clear picture into the health and performance of these devices
Integrate your medical device data efficiently with your Ivanti® Asset Management
Assess and mitigate security risks quickly and effectively to secure, remediate, and configure your medical devices
Take a few minutes to learn more about Ivanti Neurons for Healthcare.