Ivanti Endpoint Security Now Integrates with Ivanti Neurons for Patch Intelligence!
Ivanti Neurons for Patch Intelligence (https://www.ivanti.com/products/ivanti-neurons-patch-intelligence) helps organizations reduce the time-to-patch and to meet or exceed their service-level agreements (SLAs) for patch management. It does this by delivering automated insight into your risk exposure and helps you to prioritize, based on adversarial risk. In particular, it provides real-time intelligence on vulnerability exploits that are actively trending in the wild, and those that have ties to ransomware.
Ivanti Neurons for Patch Intelligence combines this risk-based prioritization with patch reliability data to help you focus your testing efforts and reduce the overall time to patch. This combination enables you to get a clear picture of how compliant the devices are within your environment and to identify which devices and patches need prioritizing based on your specific SLA timescales and dates.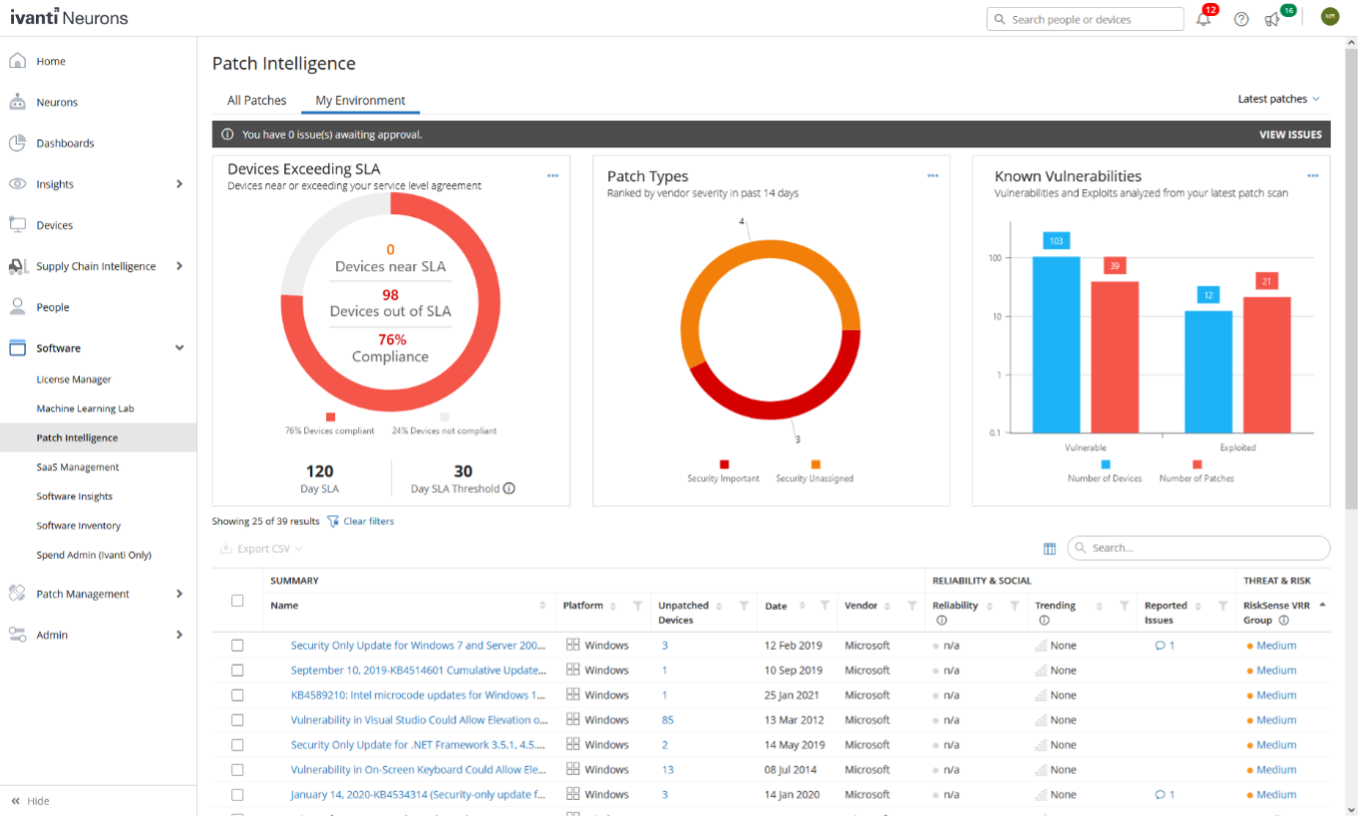 We have now integrated Ivanti Endpoint Security with Ivanti Neurons for Patch Intelligence. With this integration you can populate the endpoint and patch content information from Ivanti Endpoint Security into Ivanti Neurons and then you can leverage the risk context and threat insights that we have in Patch Intelligence to ensure that you are taking that risk-based, prioritized action for patch management.
This integration enables you to see the vulnerability risk associated with your specific environment and help you understand where you need to focus your attention to reduce that risk.
This integration has been developed as part of the Ivanti Endpoint Security 8.6 Update 2 release, but the integration actually works on any currently supported version of Ivanti Endpoint Security!
We've also implemented some other enhancements in the 8.6 U2 release. These include:
SIEM integration for Device Control
Many organizations use Security Information and Event Management (SIEM) platforms to aggregate and analyze activity from different solutions in their environment.
To help you integrate with your SIEM of choice, we have developed a plug-in solution for Device Control events.
This solution is an agent-side implementation which enables you to forward events from Ivanti Endpoint Security Device Control agents directly to the SIEM solution. The following KB article (https://forums.ivanti.com/s/article/Ivanti-Endpoint-Security-Device-Control-SIEM-Integration?language=en_US) provides sample code and further documentation to enable you to integrate with your SIEM solution.
Microsoft Silverlight Removal / Additional Browser Support
Customers will be pleased to know that we have removed Microsoft Silverlight which reached end of support recently.
We've replaced Silverlight by a SignalR-based solution and the necessary component changes will happen in the background as part of the upgrade process to 8.6 U2.
In addition to updating the underlying technology to a supported platform, this change also means that you will no longer need to use Internet Explorer 11 to run Install Manager. You can now use your browser-of-choice to install new components.
OS Support Updates
We've also added support for the, just recently released, Windows Server 2022 and Windows 11 platforms. Note that in the case of Windows 11, this support applies to the Patch & Remediation, Application Control and AntiVirus modules only. Device Control is not yet supported on Windows 11, but we will add that shortly.
For more information about these and other important updates, check out the 8.6 U2 release notes.