Ivanti Neurons for Patch Intelligence
Achieve faster and more effective vulnerability remediation​
Remediate Vulnerabilities Faster
Intelligence with threat-context, patch your highest vulnerability risks today​.
Read the Infographic
Identify Non-Compliant Systems
Track via feature-rich compliance reporting.
Watch Now
Deliver Actionable Intelligence Automatically
Act on threats faster and reduce your time-to-patch.
Read the Whitepaper
Ivanti Neurons for Patch Intelligence
Vulnerability and threat insights for risk-based prioritization
Ivanti Neurons for Patch Intelligence delivers automated insight into your risk exposure by providing remediation prioritization based on adversarial risk. Quickly understand which remediation actions to take first with Vulnerability Risk Rating (VRR). Threat-context for vulnerabilities via supervised and unsupervised machine learning provides the real-time intelligence on vulnerability exploits that are actively trending in the wild, and those that have ties to ransomware. Act faster against risk exposure prioritizing where to patch with Ivanti Neurons for Patch Intelligence.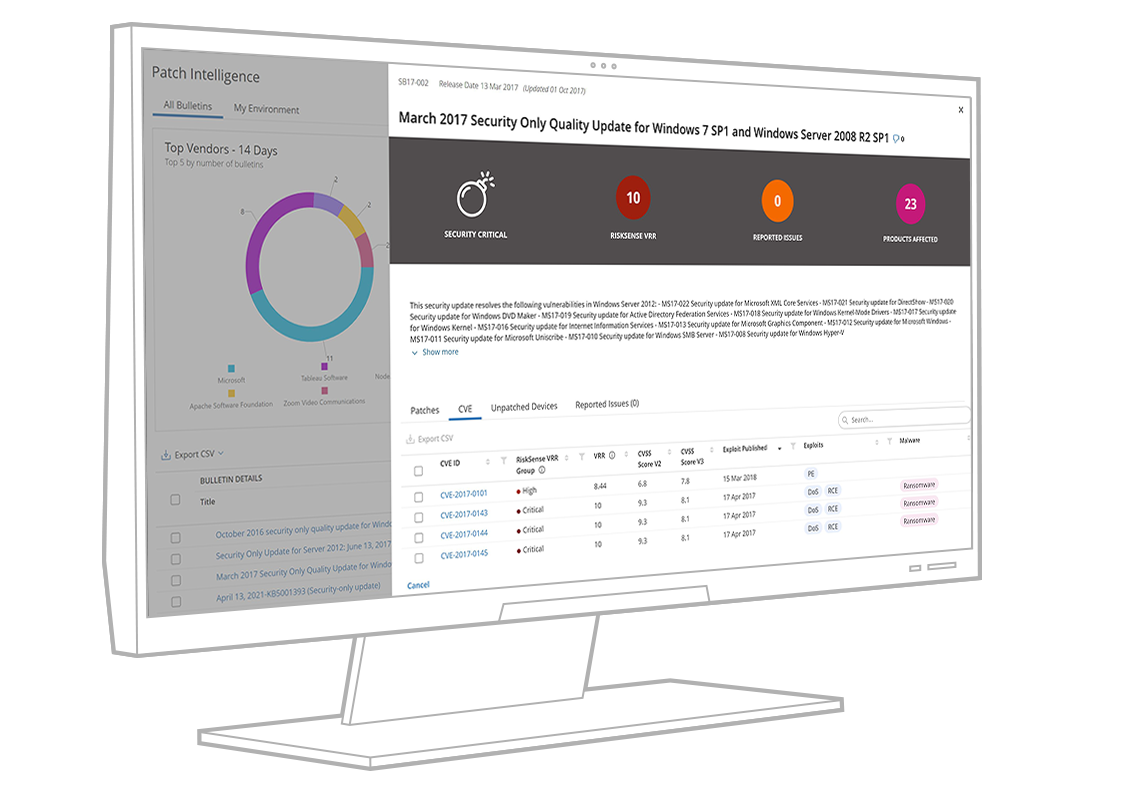 Intelligence to address today's highest exposure risks
Prioritize vulnerabilities based on active risk exposure, reliability and compliance.
Focus on Risk
Understand your vulnerability exposure with threat-context and actionable insights.
Speed
Achieve faster SLAs with patch reliability and trending insight to focus testing efforts and reduce time to patch.
Compliance
Identify non-compliant systems with feature-rich compliance reporting.