Ivanti and Parallels Remote Application Server – Better Together, Pt. 2 of 3
The first blog in this three-part series provided an introductory overview of the benefits of Parallels Remote Application Server (RAS), with Ivanti solutions running alongside it.
Parallels RAS, from Parallels, Inc., is the first application and desktop-delivery solution engineered to be as flexible and simple to configure and maintain for both IT Administrators and end users alike. Organizations can deliver applications and desktops to any user employing any device, anywhere.
In this Part 2 of the series, we first touch upon some of the security aspects of Parallels RAS, followed by details about the features and capabilities of Ivanti Environment Manager and Ivanti Environment Manager Policy. Part 3 in the series discusses features and capabilities of Ivanti Application Control and Ivanti Performance Manager.
Increased Security
Alongside Active Directory or workgroup authentication, Parallels RAS supports other robust authentication mechanisms, such as two-factor authentication support with Deepnet and Safenet, and via any generic Radius server. In addition, users can authenticate via smart card from Windows, Mac, and Linux devices. With the granular filtering capabilities, the right resources can be shared to the right user or security group also depending on client name, Mac address, IP address range, and location through the use of Parallels Gateways. Administrators can manage, control, and restrict users' activities in a variety of ways using Parallels RAS policies to lock down Windows devices, restrict clipboard redirection (copy/paste), USB redirection, and even ports.
Today, IT departments continuously seek less complex and more cost-effective ways to deliver virtual applications and data to users. They are looking to deliver these to any user that's employing any device from any location, through device-specific features and security configurations—and this is how Parallels RAS is helping many businesses today. In scenarios such as environment management with persistent profiles, increased application security, and application performance control, Ivanti's Environment Manager, Application Manager, and Performance Manager solutions can be the right tools respectively that plug into your RAS environment.
Ivanti Environment Manager
Ivanti® Environment Manager decouples user settings and manages them separately from the desktop, allowing portability across devices. The result? Faster logons and personalized workspaces that users love, with less work for you.
Environment Manager is a unique solution that enables standardized workspace environments to be fully personalized, all centrally controlled without the need for cumbersome Group policies, profiles, or scripts. Full desktops can be configured and business rules applied on demand, enabling compliant, personalized virtual workspaces to be delivered quickly to thousands of users.
Environment Manager self-heals files, registry items, services, and processes automatically in real time to prevent user-introduced actions from compromising system integrity.
You can lock down, secure, and control specific applications. When migrating to the latest Microsoft Office release, policy control functionality can be applied, preventing users from connecting outside the corporate network when unnecessary (such as printing and distributing documents outside the network). You can also eliminate lengthy logons, corrupted profiles, and poor application performance on your Parallels RAS environment.
Ivanti Environment Manager Policy
Ivanti® Environment Manager Policy simplifies IT management, makes users more productive, and improves user experience by enabling IT to control every aspect of the desktop at a highly granular, contextual level. For organizations using virtual desktops and sessions with Office 365, Environment Manager Policy eliminates user-acceptance and performance issues related to Outlook and OneDrive.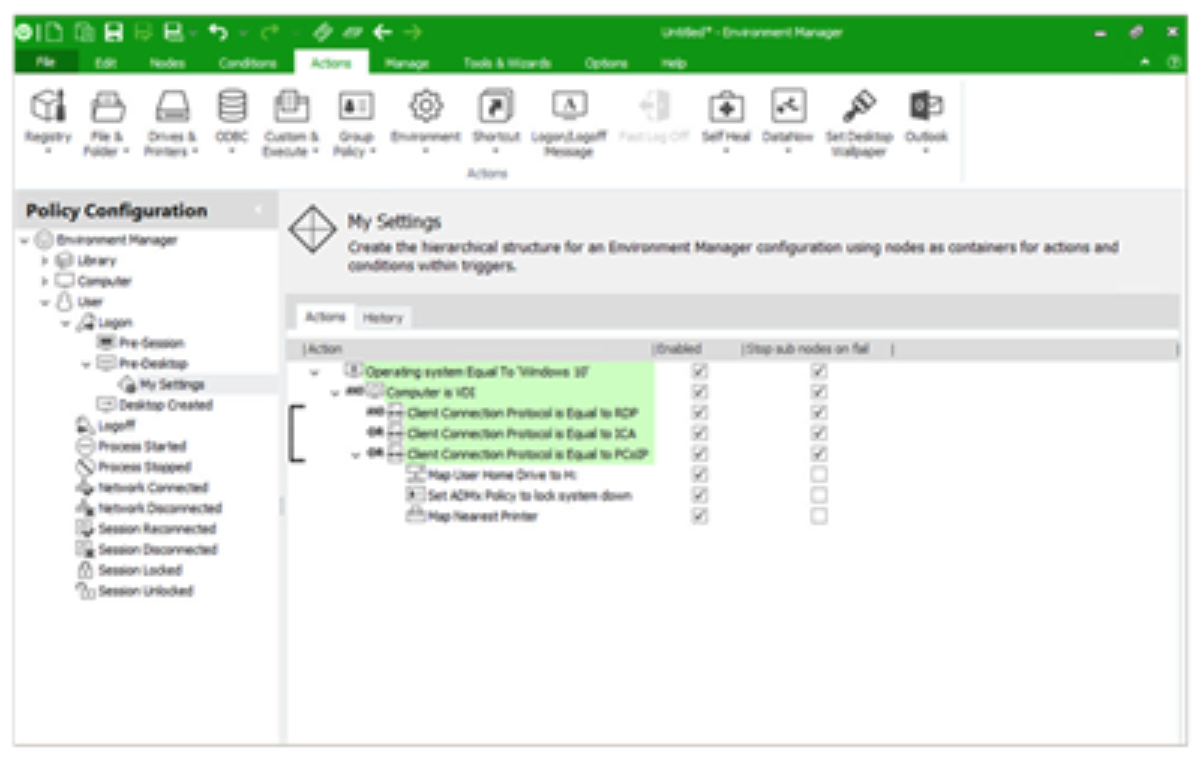 Parallels and Ivanti Together
With Parallels RAS, organizations can deliver applications and desktops to any user employing any device, anywhere. With Ivanti, this digital workspace experience is extended, providing persistent and additional users' personalization with the aim of enhancing users' productivity. This can be achieved by removal of lengthy logons, allowing fully personalized environments that are controlled centrally without the need of Group policies, profiles, and scripts—while also mitigating corrupted profiles and poor application performance. User settings are roamed and applied on every Parallels RAS server with the ability to control application shortcuts inside the Parallels RAS virtual desktop.
Please see here a short video of Parallels RAS and Ivanti Environment Manager for Personalization
Choose your trial experience for 50 concurrent users, ranging from: 1) trial in the cloud (on Microsoft Azure or Amazon Web Services); 2) trial in a box with a single, all-in-one virtual machine readily configured; or 3) a traditional trial that can be installed on your servers in your own data center.
BLOGS IN THIS SERIES: