IT Leadership Summit FAQ: What You'll Get From Ivanti's First Virtual Event
Ivanti is participating in an incredible virtual event next week: The IT Leadership Summit. We're pretty excited to sponsor this educational event aiming to help attendees unify their IT strategy and empower them to take their seat in the boardroom.
What are the basics I need to know?
The virtual event is October 2 and 3 from 9 a.m. to 3 p.m. PT each day. There are a total of 12 sessions hosted by IT thought leaders from companies across the world. It's a virtual event, plus it's free. You can register here.
Why a virtual event?
Because budgets are tight and legroom on flights is even tighter. We don't want you to worry about shelling out the big bucks to travel, stay in a strange hotel room, and endure painful networking hours just to get a free drink.
You said "thought leaders from companies across the world." Care to name drop any of the presenters?
We have IT professionals from some of the biggest universities in the world – think Swinburne University in Australia, the University of Cambridge, and the University of Oxford in the UK. You'll hear from the former VP of Infrastructure at Mattress Firm, not one but TWO Forrester analysts, speakers from the biggest independent school district in Texas (which is impressive, since everything's bigger in Texas), and so many more.
What if I can't attend all 12 sessions live?
You can't sit for six hours straight two days in a row? You're weak. Just kidding, you're fine. Still register so you can watch the sessions on-demand after the event.
What is the agenda?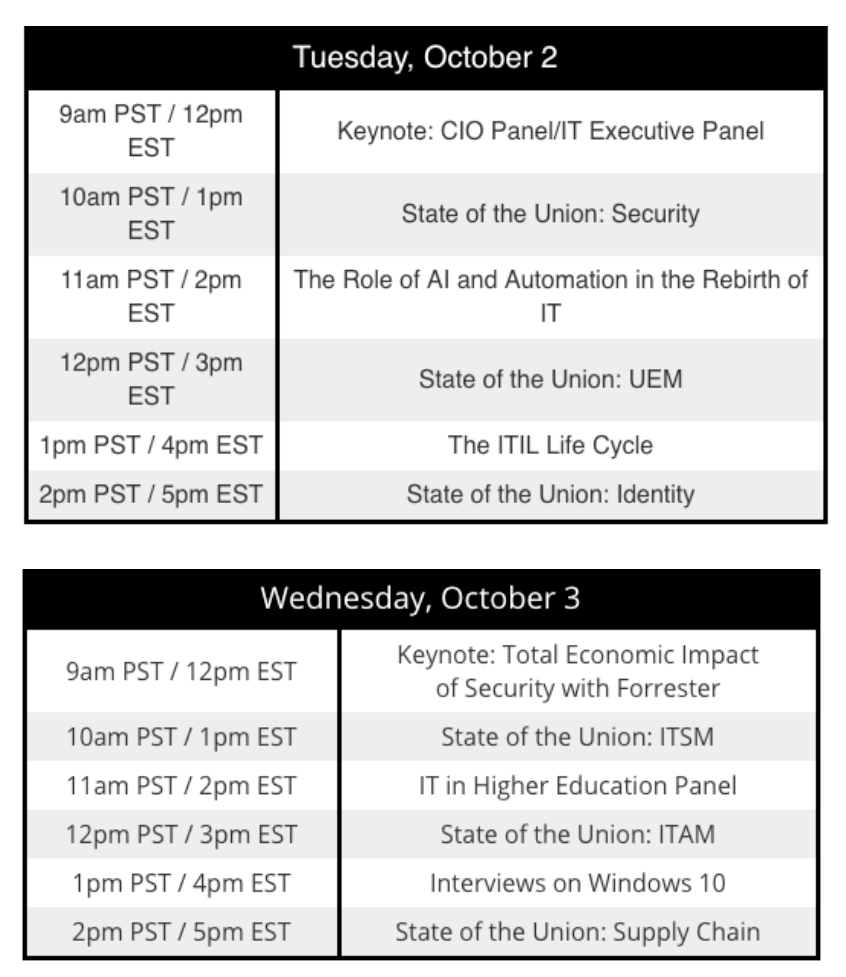 Wait, hold the phone. What am I getting myself into here? Is this going to be a 12-hour sales pitch?
Nope! In fact, we and the other sponsors are keeping this event product-free. It's all about education and helping you grow as an IT leader.
But don't act like you're above a 12-hour sales pitch. We've all spent more time than we'd like to admit rewatching that Magic Bullet infomercial. (Seriously, any task in the kitchen done in 10 seconds. TEN SECONDS.)
What type of presentations can I expect?
There will be a keynote each day, one where we interview a panel of IT executives and another presentation from Forrester about the Total Economic Impact of Security Report. There are six "State of the Union" addresses, which basically give you an overview of where the industry is at and where it is going. The last four sessions are a combination of hot topics in IT – from AI and automation to ITIL to Windows 10 Migration.
Tell me more about the IT Leadership Summit grand prize.
If you've never been to Ivanti's Interchange event, you're really missing out. Ivanti puts on an event like none other, where keynotes feel like latenight talk shows and product experts actually want to hang with you and hear about your experience. During the IT Leadership Summit, we're giving attendees the chance to win one of two tickets to Interchange 2019, your choice between Nashville and Madrid.
I heard something about the Interchange IT Podcast live streaming the event?
Wow, your questions are so informed, it's almost like you work in the Ivanti marketing department. You are correct, the Interchange IT Podcast will be live streaming during the event both days. Join McKay and Steve as they report live on the event and interview presenters after their sessions, like they're on SportsCenter. This is the big leagues, folks.
What's the dress code?
This is virtual baby, so wear what you want. No shirt, no shoes, no problem! A few ideas:
The ratty pajama bottoms that your girlfriend (or mom) has been begging you to throw away. For bonus points, wipe Cheeto fingers on the front for a lovely orange streak that really completes the look.
A full tuxedo, because you're serious about becoming an IT leader.
Your go-to jeans from college that don't quite fit, worn unbuttoned and unzipped.
Regular office attire because this event is in the middle of the day on a Tuesday and Wednesday and you'll probably be sitting at your cubicle.
Follow @ITLeadershipSum to stay on top of virtual event updates. Can't wait to see you next week!