Crossing the Finish Line: What I Learned at SITS 2019
Last week I attended my first ever SITS conference. For those who don't know, SITS is the Service Desk and IT Support Show hosted at ExCel London. It is a two-day event focused on IT Service Management and IT Asset Management.
To be honest, I was a little nervous going in, since IT conferences can notoriously be a bit boring. But the moment I saw the crowds queuing at the entrance, I knew this conference was going to be buzzing. The live band welcoming the attendees added to the electricity in the air. And when there's music, dancing is usually quick to follow.
SITS19 visitors are being welcomed in style #Sits19 #itsm @SITS_UK pic.twitter.com/ECS4HIXKZH

— SITS Insight (@SITSInsight) May 1, 2019
In Ivanti's case, we were handing out dancing bots to everyone who visited the booth. The retro toy was a big hit, although some members of our team made sure the cute red bots didn't upstage them by engaging the little guys in a dance off!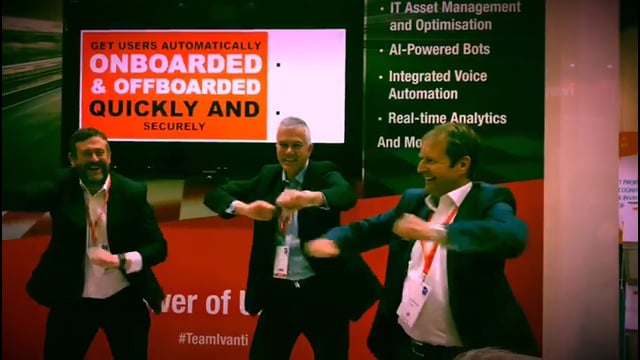 Honestly, I think we can call the event a success because no one threw a hip out when showing off their moves…
The fun didn't stop with the music; we kept the excitement up in the booth all day. Our main focus at the event was to help organizations supercharge their business with world-class ITSM and automation. The racecar themed booth staffed by Ivanti's friendly pit crew included one-on-one customised demos and six presentations throughout the conference.
You know your sales team is committed to the @GoIvanti #SITS19 race car theme when they show up with these cufflinks! 🏎💨 pic.twitter.com/orRsnXZFcv

— Erica Azad (@EricaAzad) May 7, 2019
The on-stand presentations included a focus on Ivanti Cloud and Automation. The Automation presentation showed examples of how unified IT improves the user experience. We showed a demo on how on-boarding and off-boarding can be fully automated with Ivanti solutions to take the new hire process from manual and time consuming to immediate and simple.
"Automation was a key theme at SITS. All of the on-stand presentations about automation were full, with many delegates specifically planning to attend because of this topic," Peter Durrant, Ivanti Area Sales Director said.
"Customers expect everything to happen automatically. Automation is the new expectation." - Peter during presentation #3 at #SITS19 pic.twitter.com/rxqAzfhbR7

— Ivanti (@GoIvanti) May 1, 2019
The Ivanti Cloud presentations were also a big hit. We dove into Ivanti Service Manager and Ivanti Cloud, addressing the requirements for a modern ITSM tool and how Ivanti Cloud can help you discover, provide insight, and take action. We finished with a helpful demo on Ivanti's new cloud technology.
Standing room only during our first automation presentation today at #SITS19 pic.twitter.com/wioghkgMu0

— Ivanti (@GoIvanti) May 1, 2019
One of the best parts of these events is the opportunity to talk to different IT professionals. We sat down with many professionals from various industries and chatted with them over a coffee at our in-booth café about their current focuses, projects, and challenges.
"Self-service was a major focus of the event. It has become something everyone needs in order to reduce workload for the IT Service Team, allowing the team to focus on more strategic initiatives. There is a big push for automation, educating users, and enforcing processes," Umar Naeem, Sales Development Representative said. "Another theme I noticed was how ITAM and ITSM are being used in conjunction to maximise the performance of IT assets and gain insights into key metrics."
Service desk analysts have a bright future in store according to Nigel Seddon of Ivanti #sits19 @GoIvanti #itsm pic.twitter.com/lPXNybfUIx

— SITS Insight (@SITSInsight) May 1, 2019
Overall, the event was a great way for IT professionals to learn about different IT service management technologies and find ways to solve their IT challenges. Tradeshows and events are a lot of work, but the Ivanti team did an incredible job creating a comfortable, welcoming stand full of insights and examples of ways you can power up your IT processes.
I also learned that if you give Vijay Mistry, Ivanti's Channel Marketing Manager, a dancing robot and a video camera, he might just get a little too excited about it. Presenting, An Unlikely Hero.