Gartner Magic Quadrant for ITSM Tools 2018
It's August, which means it's that time of the year again.
No, we don't mean the last days of summer here in the Northern Hemisphere. We're talking about the new 2018 Gartner Magic Quadrant for IT Service Management tools has just been published and ready to view!
If the Gartner Magic Quadrant is a new concept to you…
Gartner's Magic Quadrant:
Read Gartner's analysis of the top vendors in the IT service management marketplace, including
Advice When Seeking An ITSM Solution
Gartner's Vision of The ITSM Landscape
Strengths & Weaknesses For Each Vendor
Here's the visual summary of the Gartner Magic Quadrant for ITSM 2018: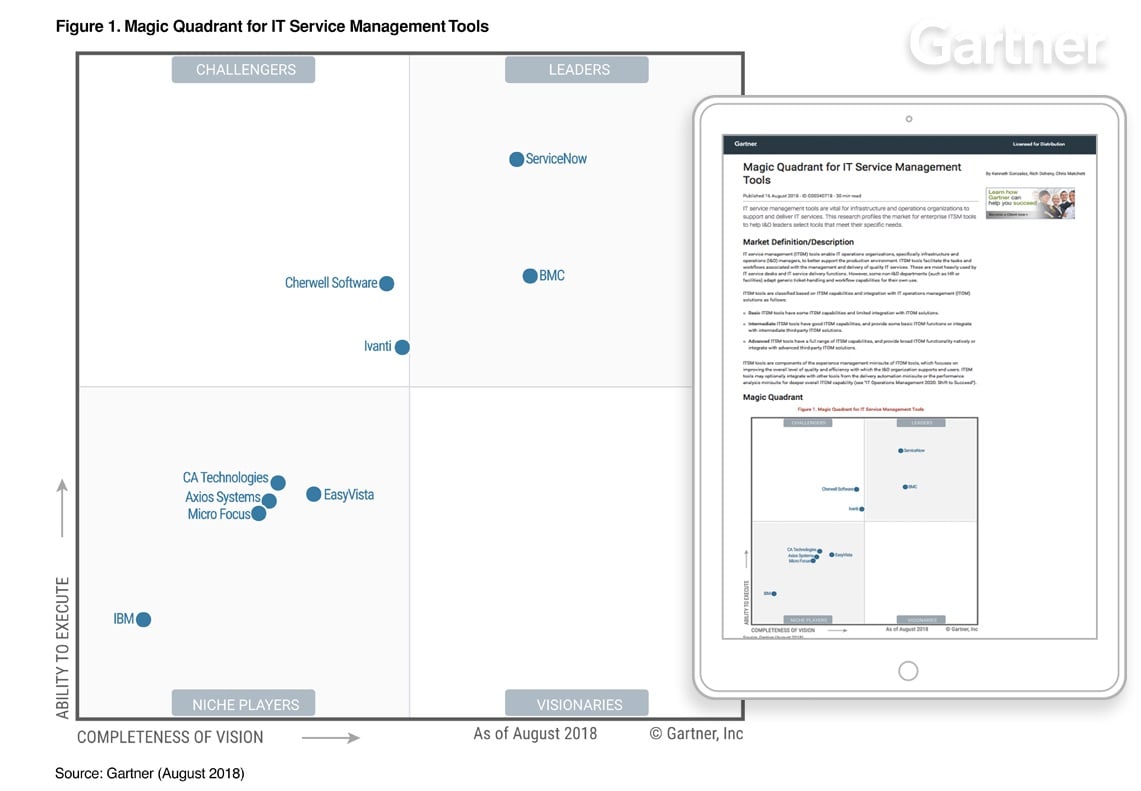 Ivanti on The Gartner Magic Quadrant:
In last year's report, Ivanti achieved a milestone when Gartner squarely placed us in the Challengers quadrant. Our team is proud to say this year we continued our progress "up and to the right" with Ivanti now touching the line for the Leaders quadrant. We can talk about what "touching the line" means in your favorite sport but we're excited by our improvement in the Magic Quadrant and recognition by Gartner for both our execution and vision in the ITSM market.
In the past year since the last Magic Quadrant report, we've released several notable enhancements to make life for IT service management teams and their users better and more engaging. New capabilities like our new Virtual Support Agent, the Hub and Bot, enhanced dashboards and reports, and more integration and automation options to other IT tools are just some of the highlights that Gartner recognized. And we're not standing still as we continue building on our vision for modern ITSM and Unified IT.
"Our continued focus and investment are reaping rewards," said Ian Aitchison, Senior Product Director, Ivanti. "We balance innovation in close partnership with our customers while supporting the principle that modern ITSM tools should be easy to purchase, simple to implement and offer a clear path for all organizations to mature in service management. While others in the ITSM market may be remaining stagnant, Ivanti is clearly on the move."
We see the Gartner Magic Quadrant report as a trusted resource to help IT leaders select tools to meet their specific needs. We invite you to access the full report and see what Gartner has to say about the ITSM market and the top vendors.