Better, Faster, Cheaper, More: Why Your Warehouse Needs Modern Mobile Solutions
Your organization is likely already modernizing its core IT resources, to improve cybersecurity, asset management, user experiences, or all of the above. Recent survey findings from respected market watchers VDC Research Group offer significant incentives to extend these modernization efforts to your warehouse systems as well.
Your Warehouse: A Critical Customer Connection
Whatever you manufacture, distribute, or sell, if it spends time in a warehouse, that warehouse is a critical link between your enterprise and your customers. Warehouse operations basically determine the speed and accuracy with which every customer's order gets fulfilled. Since people prefer to do business with those they trust, and everyone wants everything immediately all the time, warehouse operations directly affect your organization's perception, performance, and profitability.
The recent VDC Research white paper, Taking Advantage of Apps and App Modernization in Warehousing, puts it this way. "Today's warehouses are more complex than they were 10 years ago. Products and channels have proliferated, late-stage customization requirements have increased, the number of temperature environments has grown (e.g., cold chain, frozen etc.), and warehouse employee turnover remains high. Customer service requirements have increased; as a result, a greater percentage of products are picked by either the 'each,' the 'case,' or the 'layer' in the modern warehouse. Optimizing warehouse performance is becoming critical for organizations involved in the manufacturing, distribution, or sale of goods as they must find new ways to improve on-time shipment and receipts."
Mobility: A Key to Successful Warehouse Modernization
For its white paper, VDC analysts surveyed 143 professionals in North America and Europe "responsible for the selection, purchase, and/or support of mobile solutions in warehouse deployment environments." The top investment priorities identified by those respondents are illustrated below.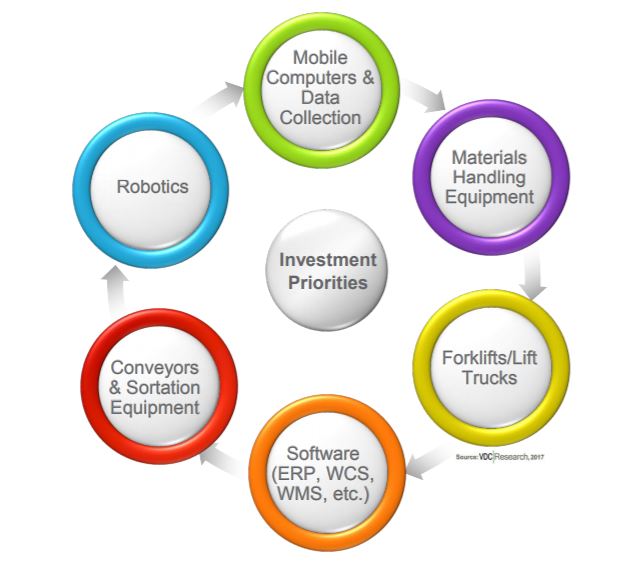 "The move towards omnichannel transactions has forced organization to make investments in a variety of technology to improve their inventory control, be more flexibility and faster, and achieve more accurate fulfillment. These factors are contributing to the need to convert warehouses and distribution centers into assets for competitive differentiation; VDC's data shows that mobility will be front and center in this shift."
Legacy Solutions Must be Modernized – Carefully
"Our discussions with warehousing professionals revealed that they remain laser focused on cost reduction; however, what is changing is the reliance on modern mobile platforms and data collection technologies. Technology must play an important role in helping to improve efficiency and accuracy in supply and distribution chains."
However, current technologies will not suffice, VDC found. "More than half (56%) of the warehousing professionals we surveyed plan to upgrade their existing fleet of mobile devices because these devices are nearing their end of life and/or the old age of their existing devices. In addition, the motivation to upgrade applications to a more visual and modern user interface was cited by one in four respondents as a critical factor influencing their upgrade decision. This is notable, as many ruggedized mobile deployments used in warehouse deployments are text-oriented and keyboard-centric solutions."
Warehouse technology decision makers can't just "rip and replace," either. "Mobility solutions for warehousing can either be a part of an overall IT strategy or a warehouse-focused engagement. Irrespective of the approach taken, deploying mobile solutions in a warehouse requires special care across numerous aspects due to its process-intensive nature, coupled with the fact that it is a core component of the manufacturing value delivery mechanism. Thus, it is imperative that the deployment blends in smoothly with day-to-day activities and causes minimal disruption."
Ivanti: Modernization Without Madness
Ivanti has the solutions you need to modernize your warehouse applications with maximum business benefit and minimal operational disruption. With Ivanti Velocity, you can import legacy applications and emulate them on modern hardware, controlling the pace at which you replace incumbent systems and evolve your users' experiences. Ivanti Speakeasy can voice-enable warehouse applications quickly and economically. And Ivanti Avalanche can give you granular control over up to hundreds of thousands of mobile devices.
Get your copy of the VDC white paper with our compliments by clicking on the link below. Check out our supply chain solutions online. Then, contact Ivanti, and let's get started helping you build your warehouse of the future, today.